Saturday night's Super Rugby Trans-Tasman final will be the first time the Highlanders and Blues have met in a final. But they have had plenty of memorable encounters. Jeff Cheshire looks at five of the best between the sides before their battle at Eden Park.
1998 - Blues 37, Highlanders 31
The Highlanders came agonisingly close in the only other playoff match between these teams. They had never got close to the Blues, who had dominated the early years of Super Rugby. On this occasion, they trailed 30-26 with 15 minutes to play in the semifinal at Eden Park, when Jeremy Stanley was taken out by Joeli Vidiri — which went unnoticed by Otago's favourite referee from the 1990s, Colin Hawke. It allowed Adrian Cashmore to score the softest of tries, the pivotal moment in the Blues reaching their third final in as many years.
2002 - Highlanders 20, Blues 13
It had been 26 years since an Otago-based team won in Auckland — and there had been plenty of near misses. Finally the curse was broken in the inaugural Gordon Hunter Memorial Trophy game. Tony Brown kicked the Highlanders to a 15-3 halftime lead, which became 20-3 when Jeff Wilson drove Willie Walker over for a try. Wilson made the defining defensive play too, coming off his wing to beat Carlos Spencer to the ball near the posts and deny the Blues what would have been an equaliser.
2003 - Highlanders 22, Blues 11
It was the win that denied the Blues an unbeaten season in 2003. The Highlanders lost six players to injury — a broken leg to Paul Williams causing a long break in play and halfbacks Byron Kelleher and Danny Lee picking up head knocks, leaving Tony Brown to fill in at nine. But somehow they held a lethal Blues side scoreless in the second half. Willie Walker kicked five penalties, before Anton Oliver crashed over to create breathing space eight minutes from the end.
2012 - Highlanders 30, Blues 27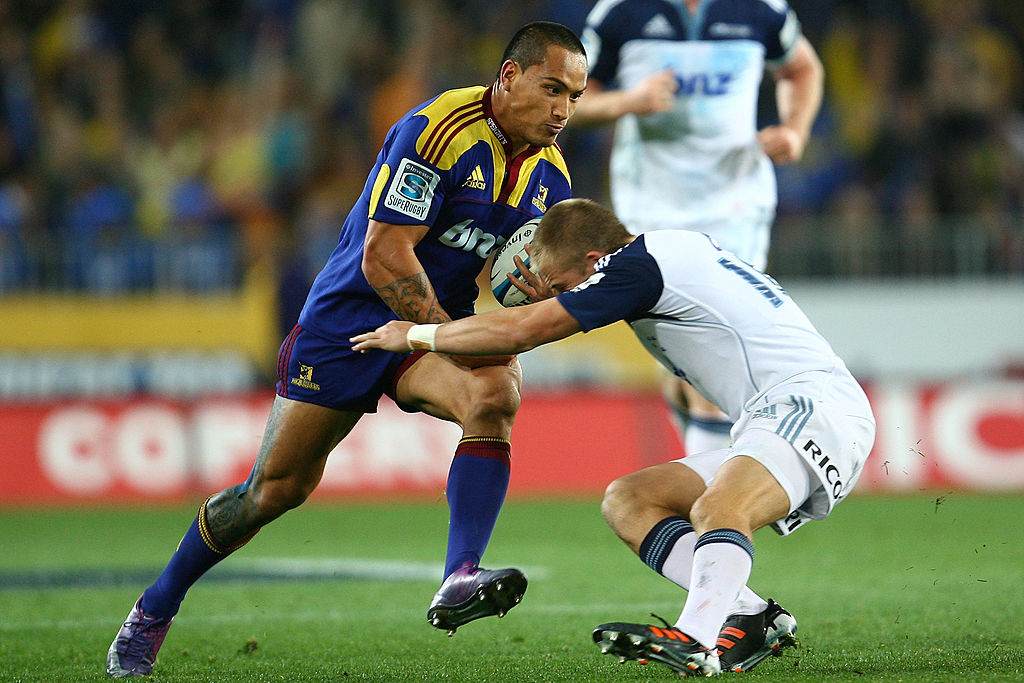 Hosea Gear was at his devastating best as he set up two Highlanders tries in the first meeting between these sides at Forsyth Barr Stadium. The Highlanders had not beaten the Blues since 2006 and, in a penalty-dominated game, Gear and some steely late game try line defence got the Highlanders over the line.
2021 - Highlanders 35, Blues 29
Of course the most relevant of these is the last time the sides met. The winner on that occasion — the Highlanders. The Highlanders bullied the powerful Blues forward pack around Forsyth Barr Stadium. That helped the home team to a 22-17 halftime lead, which it extended after the break, before the Blues threatened a late comeback. It was one of this year's signature wins, but more importantly shows these Highlanders can beat this Blues side.