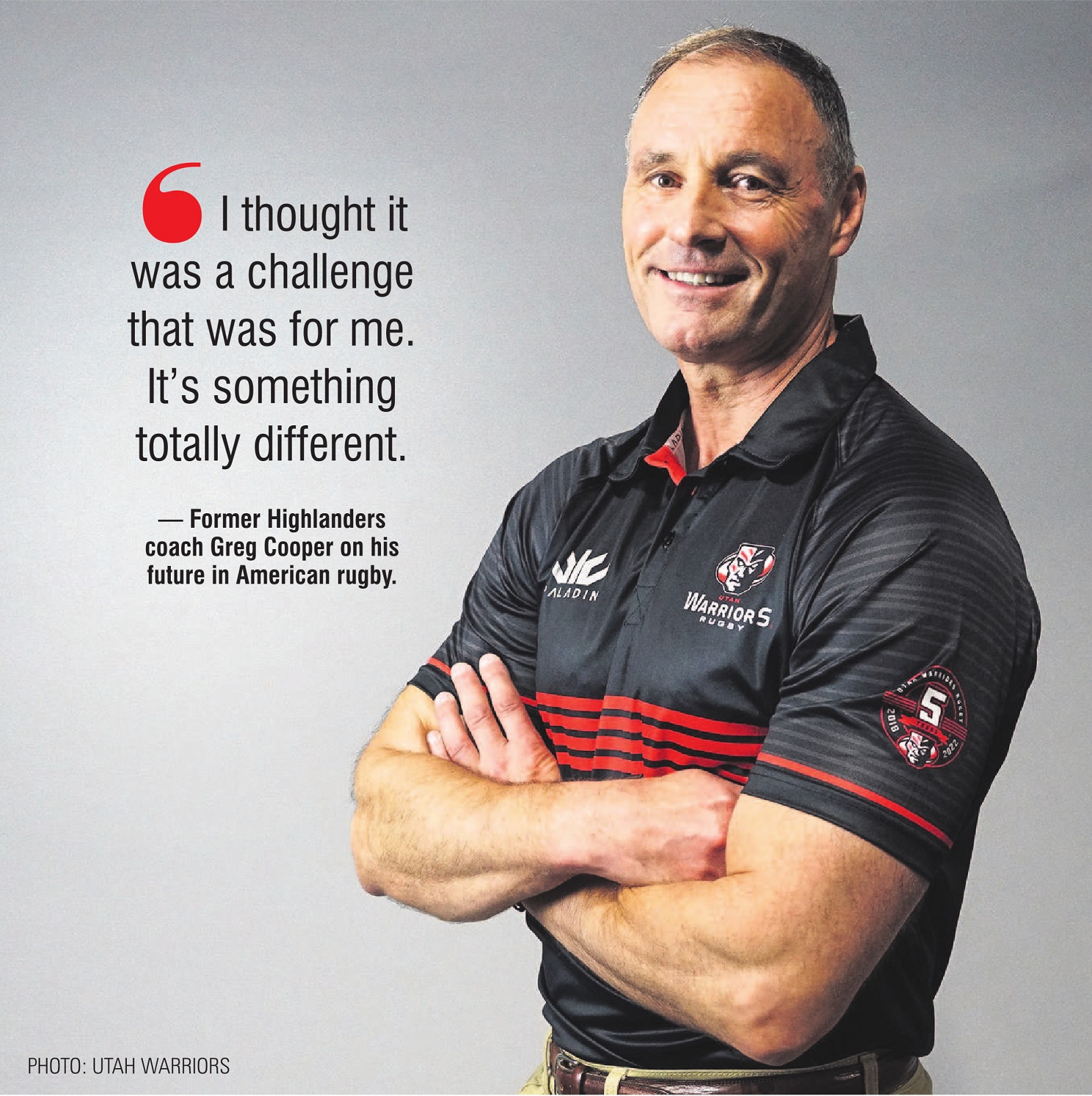 Greg Cooper thought he was a reasonable skier.
Then he saw his son, Ben, skiing backwards while filming the old man and realised he made a much better rugby coach than a winter athlete.
Happily, Cooper will be spending more time on the field than the slopes at one of the world's great winter playgrounds.
He will continue his fascinating coaching journey when he heads to the United States later this year to take the head role at the Utah Warriors, part of an ambitious Major League Rugby competition.
The former Highlanders coach is eagerly awaiting the chance to spread his (eagle?) wings after stints in Super Rugby, France and Japan.
"I've done a lot in coaching over 20 years and I've got a lot of rugby experience," Cooper said yesterday.
"I thought it was a challenge that was for me.
"It's something totally different. I hadn't really thought about it all until the last year or two."
Cooper had decided to move on after his second stint in Japan, heartened by his efforts in getting Mitsubishi Dynaboars promoted back into the top division.
He was casting his eye around for opportunities and talked to some friends, including former Highlanders captain Jamie Mackintosh, who had spent time in the US.
A big carrot was the chance to get an American rugby team cranking before the US hosts the World Cup in 2031.
"I think, with my experience, I can probably fast-track a bit of development."
Cooper will be the most experienced coach in Major League Rugby, and the "Warrior Nation" has excitedly been promoting his appointment.
The Utah team is based in Herriman, in Salt Lake County, and shares an outstanding training base with the Real Salt Lake Major League Soccer team.
"It's a very young competition, but Utah is very well organised with a very strong business mindset, and Utah actually has a reasonably strong history of rugby.
"They've got some bold plans. They want to be the epicentre of North American rugby and they're working hard to make that happen."
Still, life with the Warriors is bound to be just a little different than coaching the Highlanders or Stade Francais.
Cooper has rolled with the highs and lows of professional rugby, and is keen to see what he can do to help Utah develop into a top-notch team.
"I think you change and develop as a coach every year.
"I'm used to change, and I'm used to things not always being as linear in the pathway forward.
"I think that's part of the experience I can bring - understanding you've got to change and adapt, and that's what I have to do."
He will head to Utah in October-November once the visa process has been sorted.
The Major League Rugby season starts in February.