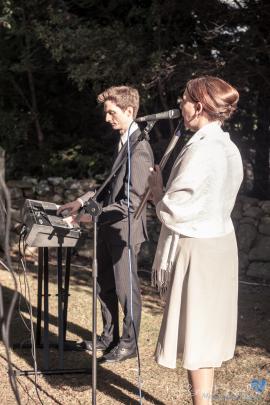 Vicki (Nee Flack) and Martin Bruns

When and where did you meet?
We met at the University of Western Sydney. To be more precise, we both lived on campus and were actually neighbours! Martin is from Germany and had come to Australia on student exchange. I'm from Dunedin but have been living in Sydney for the past few years in order to do my PhD. We got together at my farewell party (I was heading to New Zealand to do field research for seven months) so it wasn't the greatest of circumstances! We decided that what we had was something special and so would just have to endure the time apart. This wasn't the only long-distance stint we had either, as Martin had to return to Germany for nine months to finish his master's. It was all worth it though and we are now living together in Sydney with a fur Grandpa!
The proposal
Martin had my ring custom made by designers from his village. My understanding of the German language is fairly basic but a bit better than he realised at the time! He would Skype his mum about the ring while I was in the room and unfortunately for him I know the word for ring! I knew it was coming but not quite sure when. We were pretty much the equivalent of poor students at the time and had a voucher for dinner at a really nice restaurant in Circular Quay. After dinner (which was delicious) he suggested we go for a walk. We ended up in a secluded spot across the water from the Opera House and he dropped to one knee! We returned home and I discovered that he'd had a back-up plan if the weather had turned nasty. He'd made German pretzels into the shapes of intertwined rings and a question mark. It was really sweet.
Where was the wedding?
The wedding was at Grandview Gardens, Outram.
Why did you choose the venue?
From the outset we planned to have two weddings, one in Germany and the other in New Zealand. Martin is in charge of the German wedding (still to come!) so the New Zealand one was a bit more my choice. I knew I wanted to get married somewhere meaningful and so it had to be Dunedin. Grandview Gardens is gorgeous, rustic, and it has the indoor-outdoor option (Dunedin's weather isn't the most reliable!). It was also great because Jo (the owner) is known as a bit of a wedding planner. My family lives in Dunedin but I didn't want to inadvertently make them have to plan our wedding for us! Having Jo on board was fantastic. She had all sorts of helpful tips for us and worked so hard to make the day what we wanted.
The dress
My dress was navy as I wanted to feel like myself on the day. I got it from the Australian store Review and loved it to bits.
The bridesmaids' dresses
As I was wearing navy, I thought it would make the most sense to put the bridesmaids in more of a wedding dress colour. I wanted them to feel gorgeous on the day so got them to choose the colour. They also chose the dresses, which I then ordered online. The flower girls were in navy tutus with white tops.
The flowers
The paper bouquets were made by Leanne Kirk, who is an amazing family friend. The bridesmaids were all wearing different shades of blue for their shoes, so I asked her to include a variety of blues in their bouquets. My flowers had an extra-special touch as she used paper that had the Wedding March on it. The flower girls' bouquets were made by Eden Flowers and even contained plastic butterflies, much to the girls' delight!
The caterers
We used bbcatering and they were brilliant. Fantastic company, fantastic food, and service! Tara went the extra mile to make sure that all the guests were well catered for and that we were happy with the menu. My sister-in-law, Natasha Flack, made our wedding cake. It was three flavours (vanilla, chocolate and banana) and she even managed to incorporate our dog on the day by making a fondant beagle to go on top!
Highlight of the day
There were so many highlights on our day so to pick one is near impossible. One of the great moments though was when we were about to sign the marriage licence. Two of our wedding party had learned to play Ed Sheeran's Kiss Me on the flute and piano. They played this while we were signing the licence and it was just so lovely.
Your photographer and favourite photo
Our main photographer was our friend Holger Kiewe,l who does wedding photography as a side job. My brother, Chris Flack, is also a fantastic photographer so I asked him to take the photos of the girls getting ready. It was lovely having the photos taken by loved ones and seeing their different styles. My favourite photograph is the one where Martin and I are standing in the outside bar and a friend of ours has used a sparkler to write ''love''. It was pouring with rain and we had these two wonderful friends of ours doing everything they could to make this beautiful picture.