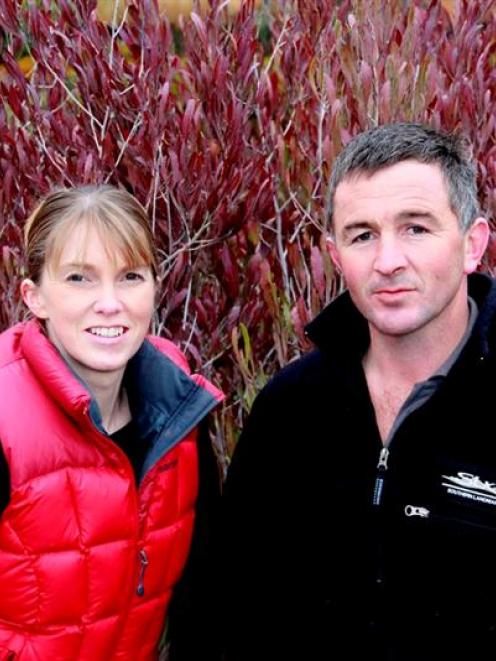 Creating landscape designs for the challenging Central Otago climate is a passion for Joe and Jaye Nutting.
The couple established Queenstown-based landscaping company Southern Landmarx in 2003, combining Mr Nutting's landscape architecture degree from Lincoln University with his wife's experience in marketing.
They could see the potential of such a business, having identified a "small gap" in the market, and thought they would "give it a go and just run with it", taking into consideration what they had learned over the years, Mrs Nutting recalled.
Southern Landmarx has been named a finalist in three categories in the Landscaping New Zealand Awards, which will be presented at a function in Hamilton on July 28.
Its work on a Bob's Cove property has been recognised both in the soft landscaping (over $40,000) category and the garden maintenance category, while a Lake Hayes Estate property is in the soft landscaping (under $40,000) category.
Not only is the company represented by its projects, but it also has employee Andrew Rae in the young landscaper of the year award.
Mr Rae, who has a national certificate in landscaping from Otago Polytechnic, has a broad range of practical experience including landscaping work in Otago, grain harvesting in Australia and grounds work on a large estate in West Sussex in the United Kingdom.
It is the first time the company has entered the awards but not the first time it has been associated with award-winning properties.
Southern Landmarx carried out the landscaping at Remarkables Primary School, in Queenstown, which won commercial project of the year (southern region) in 2011 for builder Naylor Love.
It has also been associated with other Registered Master Builders House of the Year winners since 2006, most recently a Crown Range property which won the regional awards last year.
Mr and Mrs Nutting, who both grew up "in the outdoors" environment, met when they were in Europe.
As well as working in tourism and marketing, Mrs Nutting's broad previous work experience included farm work, tractor driving, shed hand, ski resort and tour guiding work, and working in a construction crew building grain silos in northern Europe.
Mr Nutting had worked as a shepherd on stations and as a shearer and travelled widely overseas building and expanding his landscaping experience.
The couple attributed much of the company's success to the level of expertise within the team at Southern Landmarx and the collective knowledge of which plants would thrive in the region.
"We create landscapes that are based on more than just good looks. We really focus on what is going to grow well, and what will ensure long-term pleasure for our clients," Mr Nutting said.
It was all about knowing what to plant and where to plant it and, and having established their plant nursery, Burn Cottage Nursery, at Cromwell, they were growing plants they knew were optimised to Central Otago conditions.
While the nursery was wholesale only at this stage, they were looking at opening it to the public in the future, Mrs Nutting said.
It was a challenging environment to work in, especially in July "when everything freezes" and diggers could not get into the ground, she said.
As well as their clients, staff were "extremely important" to them and they tried to work as one team "all going towards the same direction". They had quite a focus on employing industry-qualified staff.
Mrs Nutting described the business as a "one-stop shop" for clients, offering design solutions through to construction and maintenance.
Asked about the impact of the economic downturn on their business, Mrs Nutting said, rather than "battening down the hatches" and spending less, they had probably spent more on marketing.
It was a time to catch breath, step back and look at the company structure and where they wanted it to go, tidy up areas identified as not performing to full potential and start moving forward again, so as to be "all ready to go" when the situation improved.
Their target market was the higher end of the market and, while that market had "definitely tightened up", there would always be people in the world with disposable income, she said.
The couple were "rapt" to be a finalist in the awards, which are held every two years, and were looking forward to the awards function.
Unlike the building industry, there was a much longer lead-up time to when they could enter properties and they were already looking as far ahead as the 2016 awards.