Three diverse Southern businesses are among the entrants in this year's Rural Women New Zealand Enterprising Rural Women Awards. Agribusiness reporter Sally Rae finds out a little more about them.
A line-up of work boots outside Riversdale accountancy firm Hammond Davidson is not an unusual sight.
''There's boots out there at the moment,'' partner Kylie Davidson laughed yesterday, as she glanced at the front door of the business, where about 80% of the client base are farmers, farming support businesses or contractors.
Since the business was established by Mrs Davidson and Emma Hammond, three and a-half years ago, there has been growth, not only in the number of clients - it began with a handful of farming clients - but also staff numbers and their own family sizes.
The two women, who had previously worked in large accounting firms, had not long had their first babies and were coming back from maternity leave when they made the decision to go out on their own.
They loved their work and ''being in the accounting world'' and they wanted to balance that with their new family life, Mrs Davidson said.
Much consideration was put into their location and in talking to people around the Riversdale area, where they both lived, they knew there was opportunity there.
It had turned out to be the ''perfect place'' to establish the business which had ''really grown'' since 2011 and they were continuously taking on more clients.
Since opening for business, both women had also had a second child, while numbers had grown to six in the office, plus a contractor based in Arrowtown.
She believed the firm offered quality service at an affordable price. It was not all about compliance work; they had a passion for helping clients reach their goals, using their business as a vehicle to do that.
''That's what we get most excited about,'' she said.
The two women often commented to each other that they were very lucky to have found each other as partners. Neither would have done it on their own, Mrs Davidson said.
With different strengths, skills and experiences, bringing those all together ''just works'', ''and our personalities just work as well'', she said.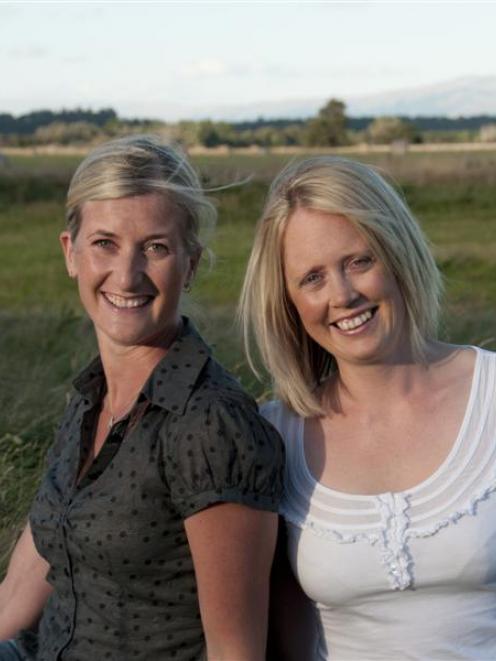 She had a tax background and experience in business structuring and succession planning, while Mrs Hammond specialised in accounting systems, profitability analysis and succession planning.
Asked how they juggled work and family commitments, along with other community involvement, Mrs Davidson said they had always been busy people and it had never just been about work.
''When you're used to being busy, that's just the way that life is. I think the busier you are, the more organised you have to be. We prefer to be busy. We like being busy,'' she said.
A devastating snowstorm in 2010 was unwittingly the catalyst for the formation of a small business on a Southland farm.
The Robinson family, from Glenham, near Wyndham, were in the midst of lambing when their property was hit with a September snowstorm, dumping 30cm on their lawn and 45cm on surrounding hills.
It was the same storm that caused Stadium Southland's roof to collapse and damaged other large Invercargill businesses.
Every year, Brent and Ann-Maree Robinson would buy rolls of plastic lamb covers in preparation for lambing and any adverse weather.
In early August that year, they discovered the covers they had been using, which had been manufactured since 1975, were no longer being extensively made.
While they had enough covers for that season, they were concerned about where the next year's supply would come from.
Following the storm, Mrs Robinson was digging deep for old rolls of covers, while her husband and their three sons were using them about as fast as she was finding them.
One roll had a cellphone number on it and she rang the number and, during the conversation, asked if the man in Christchurch who answered the phone would sell the machine to manufacture the covers.
At that point, she had not seen her husband to tell him of her plan, which was initially just to make them for their own use.
Two days later, the machine arrived and was unloaded at 8pm, followed by about 30 minutes of ''staff training''.
Among their visitors the following day, keen to see how it worked, was a staff member from the local vet club who had some mechanical knowledge.
He worked the machine for two days while the Robinsons were still in the thick of lambing, shepherding 6000 breeding ewes farmed intensively on 747ha.
As the rolls of covers were made, Mrs Robinson packaged them up.
Vetco Ltd delivered the covers, free of charge, into sheep farmers' letter boxes in the southern Southland area over the next few days.
It was a''wonderful morale boost'' for those farmers to not only receive something free but to have the covers to use on their lambing round the next morning and knowing there were more available when required, Mrs Robinson said.
Following interest from farmers, Robinson Raincoats was subsequently born, with son Jeffrey now manufacturing all the covers.
In his last year at Menzies College, he intended studying at Lincoln University next year and would continue to make the covers in his holiday breaks.
Mrs Robinson looked after the rest of the business, which she acknowledged was small but rewarding, describing it as a service to farmers.
''We just love doing it,'' she said.
They were sold throughout New Zealand and had even been sent to Tasmania.
As well as being a useful farming tool, there were economic benefits.
If one roll of covers saved five lambs from perishing, then Mrs Robinson estimated the covers had put an additional $2.5 million into the New Zealand economy over the past four seasons, based on a $100 lamb price.
That was calculated on the 5054 rolls sold from 2011 to 2014.
The covers worked ''like a tunnel house'', holding the heat from the lamb and allowing water to run off the side.
''When we go outside, we put a woolly jersey on and a raincoat. God gave them [lambs] a woolly jersey, we just provide them with a raincoat,'' she said.
The covers had always been an essential part of the Robinson family's lambing kit and were used in their farming operation for as long as Mr Robinson could remember.
His father Bill used them for many years in his farming days prior to Brent and Ann-Maree taking over in 1987.
The property has been in the family for nearly 110 years and the couple's three sons all inherited a love of farming.
Glenorchy woman Bobbie Mulgrew is passionate about helping people enjoy the mountains.
Mrs Mulgrew runs Easyhike, a car-relocation business which provides a transport alternative to a shuttle bus for people walking the Routeburn Track, among others in the area.
While walkers tackled the three-day 32km track over the mountains, the Easyhike team drove their client's vehicle 324km from car park to car park and then walked or ran back over the track, often encountering their customers.
Working in the outdoors was something that Mrs Mulgrew loved and the business offered the type of lifestyle she enjoyed, along with a chance to ''meet a lot of amazing people along the way''.
After growing up in rural Taranaki, Mrs Mulgrew joined the air force as an aircraft technician, due to her interest in helicopters and machinery.
That was the start of a varied career which included peacekeeping in the Pacific, ski patrol, both in New Zealand, and many other outdoors-type roles.
Moving to Glenorchy happened when her husband started work as a driver-mechanic with Dart River Jet Safari.
Several years later, a friend connected her with a Wanaka woman who wanted people to take cars from Routeburn Shelter to the Divide and run back.
Next thing she knew, she was the woman looking for drivers to help relocate cars.
She was also busy with a full-time ground operations management role at Skydive Paradise.
The best, but also ''most scary'' thing Mrs Mulgrew did, was leave her job and see how far she could go with an opportunity to grow the business.
Easyhike was a unique business, as it offered a particular purpose for locals to be active outdoors as they assisted visitors by saving them ''time and hassle''.
''I am passionate about helping both locals and visitors enjoy our mountains and am continually building a network of trustworthy driver/runners for this purpose,'' she said.
Like any business, there were many challenges, one of the biggest the lack of cellphone coverage in the rural area.
''Between variable mobile phone signal and no mobile coverage at all on or near the walking track or car parks, I need to be proactive and clear with instructions for customers, especially those who don't realise there are still places with no wireless or mobile coverage in New Zealand and or how much they rely on their iPhone connectivity.
''My systems are simple and secure - and they need to be,'' she said.
This year, Mrs Mulgrew introduced self-guided hiking packages, which were ideal for people who wanted to walk the track independently without the hassle of planning the details themselves.
Easyhike worked with clients to plan their walking experience, which included an easy-to-prepare, lightweight hiking menu.
• Seventeen businesses from throughout New Zealand are in this year's awards line-up.
It was encouraging to see the diversity of businesses being run by women in rural areas and the significant contribution they made to the wider economy, RWNZ national president Wendy McGowan said.
''Each year we see a greater sophistication in the marketing and presentation of rural businesses that enter the awards,'' she said.
Four category winners will go on to compete for the title of supreme winner, to be announced at a special function on the opening night of the RWNZ national conference in Rotorua on November 15.