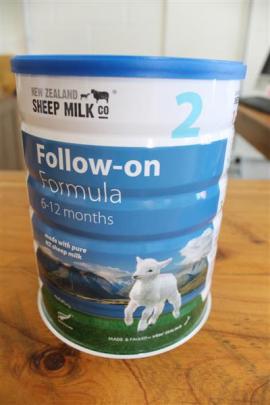 A decade ago, Southland businessman Keith Neylon did not know the first thing about sheep's milk.
Now his company, Blue River Dairy, milks more than 10,000 ewes daily; runs a factory turning out butter, five cheese varieties, ice cream and milk powder; exports products to seven countries; and has just launched sheep's milk infant formula on the New Zealand and Chinese markets.
Reporter Allison Rudd spoke to the agricultural innovator.
Keith Neylon nurses a cup of coffee in the cafe and tasting room at the Blue River Dairy factory, formerly the Invercargill town milk supply plant. He's in the middle of an interview, but he still has his eye on his customers.
He spends a few minutes discussing the merits of sheep's milk butter with a man who turns out to be a chef who has heard about the butter in a magazine and is keen to try it.
Soon after he is offering sheep's milk butter on a cracker to a slightly bemused Asian tourist.
''You'll like this,'' he says.
''Very good butter.''
The tourist obligingly eats the butter and cracker and comes back for more.
Sheep's milk has become big business for Mr Neylon, although he deflects questions about capital investment, turnover, market volumes or export earnings as commercially sensitive.
What he will say is that Blue River is doing nicely these days - reward for the millions of dollars he and others, including a wealthy Indonesian friend, have invested.
He calls Blue River a ''vertically integrated'' operation. It owns and runs three farms in Southland, breeds its own high-yielding ewes, refined its milking machines, set up its factory, developed its products and does its own marketing.
Blue River is the hardest ''sunrise industry'' project he has ever been involved with, he says.
A qualified pilot since the age of 16, Mr Neylon was involved with deer farming and live-deer recovery before moving on to mussel and salmon farming and dabbling in kiwifruit and asparagus.
His introduction to sheep's milk was inauspicious. He was asked by PPCS (now Silver Ferns Farms) boss Robbie Burnside if he was interested in doing something with sheep's milk - already widely used in European and Mediterranean countries.
Soon after, he and his Air New Zealand pilot son visited small producer Les Donald at Edendale.
Mr Neylon says he shunned the offer of a cup of tea with sheep's milk.
''That was the last thing I wanted to taste. I'd had to shear enough of the bloody things to earn money to become a pilot, so sheep and I didn't really mix.
''Then Mrs Donald bought out a two-litre ice cream container of sheep's milk cheese - yellow, pus-y-looking stuff - and I thought: `There's no way in hell I'm eating that'.
''She put in the knife and out came a perfectly shaped wedge of feta cheese. My son couldn't stop eating it.''
Mr Neylon wasn't convinced until he took a container of milk to Zookeeper's cafe in Invercargill.
''Paul Clark used it in a latte, a flat white and a cappuccino. I sat down to drink it and bang, it was the Spanish Steps in Rome and a little coffee shop in Paris and the best coffees in the world I had ever tasted.
''I realised it was the sheep's milk. It was so creamy, so nice. The very next day I went back to Robbie and said I would have a crack.''
Mr Neylon worked initially with former Invermay director Dr Jock Allison to develop a high-yield ewe based on the East Friesian dairy breed imported from Germany, before developing his own composite.
Production of cheese began out of Balclutha before the move to the Invercargill factory and product diversification about six years ago.
But he says the company wasn't formed on a whim and its success is not an accident.
''We had a plan before we started. We looked at what was happening in the industry worldwide and applied it to New Zealand.''
Apart from some exporting assistance from the Ministry for Primary Industries, Blue River has achieved its success on its own, he says.
''We've had no industry support at all because we don't fit the traditional meat and wool sheep farming model.''
While he says New Zealand promotes itself as an innovator with a venture capital market, he does not believe that is true in the rural sector.
''I have been involved in four sunrise industries ... and the reality is the trip's been exactly the same. It's innovation that gets us home, but you can directly point to the system and ask: `What chance have we got to get major developments home?'.''
''No-one wants to know, until the time something is proven and becomes low-risk. Then everyone is quick to say: 'Me too'.''
Last year, Mr Neylon presented a briefing paper on the sheep milk industry to Parliament's primary production committee. In it, he said an expansion into sheep milk production could be a game-changer for sheep farmers in the grip of depressed returns for meat and wool.
He highlighted the economic benefits of sheep's milk: it sells for about four times the price of cow's milk, has a higher solids content which enables twice the amount of cheese to be made from each litre of milk, has superior freezing and drying qualities, and has much smaller fat globules than cow's milk, making it easier to digest.
He promoted its huge potential as a bulk milk powder for the food, infant formula, pharmaceuticals and cosmetics industries, as well as the useful economic sideline for farmers from selling lambs.
Blue River's growth and expanding export markets could be a model for the industry's development, he said in the report, stating he hoped to see the industry build to at least two million milking ewes in the next 10 years.
So far, nothing in the report has been progressed, and that doesn't surprise him.
Then there is sheep farmers' reluctance to change.
''Farmers are hardwired in to the meat and wool model. Show me one sheep farmer who's prepared to say: 'I'll try and do this differently'. Where's his sense of adventure?''.
Mr Neylon has not lost his sense of adventure. Blue River will soon advertise for outside suppliers and will provide them with stock and help them build milking platforms.
He has targets in mind for the number of suppliers he wants on board in the next five years but says the information is commercially sensitive.
The company has also just branched out in a new direction with the launch of infant milk formula in New Zealand and China.
Even though production will be small initially - about 1000 tonnes annually - Mr Neylon says the tonnage will make Blue River the largest producer of sheep's milk infant milk formula in the world.
It will be made in Invercargill but Mr Neylon has spent much time in China recently liaising with potential retailers.
He says Fonterra's cow's milk infant formula problems were at the back of everyone's minds, but he found excellent support for his product.
''How have we done it? By forming relationships and talking. It's all about promotion. Infant formula is a very personal thing to mothers ... they have to know it is safe.
''But in China you also have to get the grandparents on board too, as many mothers work and it is grandmothers who look after the babies. They have to be 100% comfortable that what they're putting down their treasures' throats is safe and very good for them.''