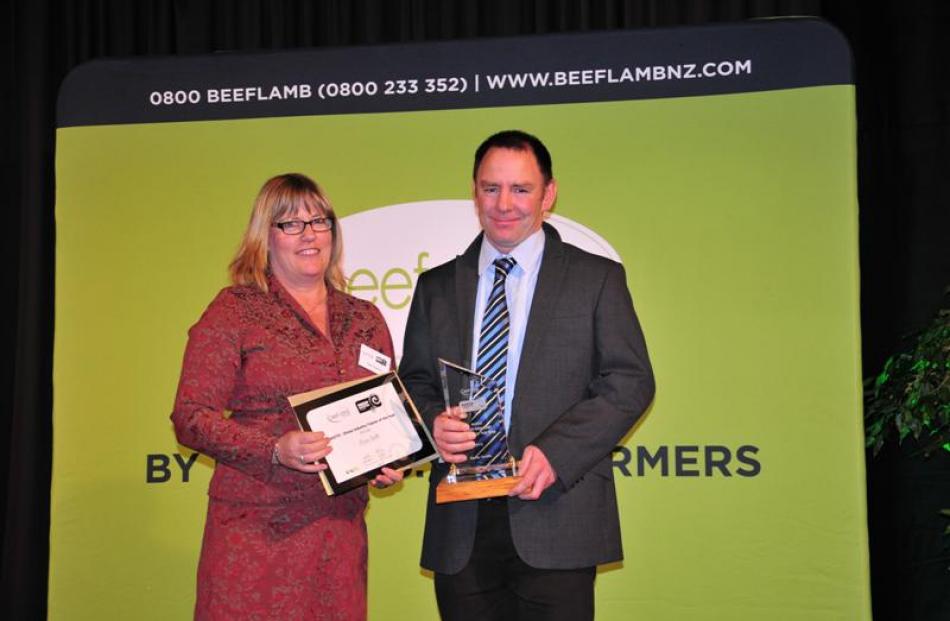 George Davis, who spent decades working at Invermay, has been acknowledged by the sheep industry for his contribution to sheep industry science.
Now retired, Dr Davis received the Silver Fern Farms sheep industry science award at the second annual Beef and Lamb New Zealand sheep industry awards in Invercargill last week.
It was both a very nice occasion and a nice surprise to receive the award and it was also special to be recognised by the industry, Dr Davis said.
The award acknowledged his contribution to New Zealand's significant international profile in sheep genomics research.
He was a pioneer in the field of new technologies that saw animals selected using laboratory-based genetic diagnosis.
He discovered the Inverdale X-linked fecundity gene and made a major contribution to the breeding, international supply and pioneering research on the Booroola fecundity gene.
All the work that was recognised in the award would have been ''impossible'' if he had not been at Invermay, Dr Davis said.
AgResearch is now controversially proposing to centralise its operations on Lincoln and Palmerston North, while cutting staff at Invermay and Ruakura.
Originally from a mixed farm at Maheno in North Otago, Dr Davis had his first connection with Invermay in 1970.
He spent several months there preparing him for three and-a-half years at the Tara Hills research station near Omarama.
He worked at Invermay from the end of 1973 through to 2010 with a two and-a-half year break in South Korea, from 1976 to 1978, establishing a beef cattle development farm.
His return from South Korea coincided with the appointment of Dr Jock Allison as director of Invermay, and he ''inherited'' his Booroola project. That got him started on sheep research, which dominated the remainder of his career. He also led an alpaca programme.
The major highlights of his career were finding the Inverdale and Woodlands genes and there were ''lots of nice moments along the way''.
He worked alongside some very good colleagues and there was also an opportunity to work with some very progressive farmers who were ''very stimulating'' to work with.
That enabled the Invermay team to do things they could not do in the confines of the research station, he said.
The involvement with farmers was something that he really enjoyed.
A lot of his work was done on farms in Otago-Southland and it was nice to be able to catch up with some of those farmers at the awards.
Dr Davis and his wife Ruth live at North Taieri, where he enjoyed his 4ha lifestyle block and running a few sheep.
''Surprise, surprise, there's the odd Inverdale gene amongst them,' he said, laughing.
More than 300 people attended the sheep industry awards and Beef and Lamb chairman Mike Petersen said it was great to see the sector embrace the awards ''so enthusiastically''.
''Last year's awards were the result of a great idea from within the Southern South Island Farmer Council.
''We thought it was important to carry on celebrating the outstanding progress by breeders and commercial farmers in pursuit of sector excellence in the sheep industry,'' Mr Petersen said.
The AgITO sheep industry trainer of the year was won by Kevin Smith, from Middlemarch, who manages three properties for corporate farmer Greenfield Rural.
He has employed a steady stream of graduates from Telford, Lincoln University and AgITO programmes and trained more than 30 young people as shepherds.
Southern-based Alliance Group won the Beef and Lamb New Zealand sheep industry innovation award with its ''long history of building on incremental innovations at every level of the value chain''.
The company initiated the Central Progeny Test 11 years ago, which now supports across-breed comparison SIL-ACE.
It introduced Market Choice in 2002- an industry-first carcass quality-based payment system - and the associated 2-D imaging system VIAScan. More recently, it co-developed Hoofprint, an environmental and farm performance benchmarking product.
The Blackdale sheep industry supplier of the year was won by Hugh and Judy Akers, from Broadlands Station, near Ashhurst, Manawatu, who supply ANZCO.
The station was the inaugural national winner of the Waitrose supplier of the year award and has twice featured in the top five suppliers for the North Island during the past seven seasons.
The Allflex award for an individual or business making a significant contribution to the New Zealand sheep industry was awarded to New Zealand Animal Breeding Trust general manager Clare Callow.
The Alliance Group gold award for terminal sire overall went to George and Kathryn Smith, of the Tamlet Texel stud, near Wyndham, while the Telford - a division of Lincoln University - dual-purpose overall award went to Edward Dinger and his Cambridge-based MNCC Coopworth stud.