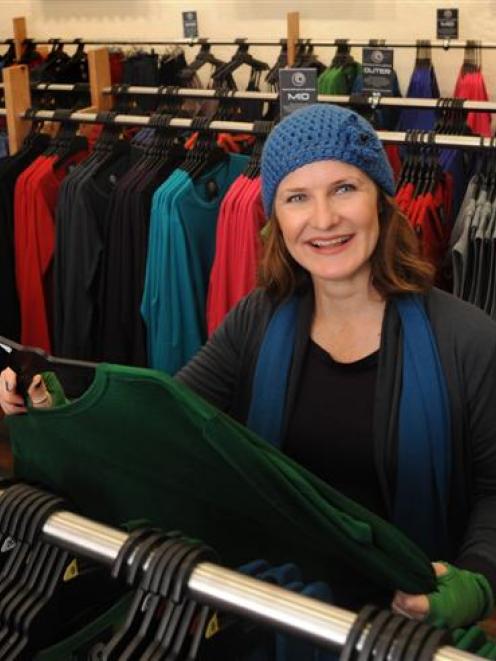 If you had told former Stewart Island fisherman Dil Belworthy that he would end up owning a chain of clothing stores, he would have said being abducted by aliens was more likely.
Mr Belworthy is not kidding when he says the path he and his wife, Catherine, have taken to owning five Glowing Sky Merino stores, as well as a manufacturing facility, is "quite bizarre".
But business is "booming" as the Southland couple stick passionately to their key points of difference - producing quality, New Zealand-made merino garments for a growing market.
They now employ 30 staff, have stores in Stewart Island, Waiheke Island, Invercargill, Dunedin and Wanaka and a manufacturing facility in Temuka - a far cry from the days when they ran their business from the basement of their house on Stewart Island.
The name Glowing Sky comes from the Maori name of Stewart Island - Rakiura, land of the glowing skies.
The story started when Mr Belworthy was working as a fisherman on the island and met a visiting Englishwoman, who turned out to be his future bride.
He got an idea to hand-print T-shirts to sell to visitors on the island and they started hand-printing tops in their kitchen sink. After several years, he got the "grand idea" to sell to other shops around the country.
He cheerfully admitted he was so green that when he set off on a selling trip, he had to stop in Invercargill and buy shoes and a shirt "because I only owned gumboots and a Swanndri".
Describing himself as always having had a touch of arrogance - "you do have to back yourself" - he approached what had been described as the best shop at Auckland airport.
Coincidentally, he discovered it was half-owned by a woman from Southland. She happened to be working one of her rare days in the shop and she ordered $20,000 worth of products on the spot.
The couple's garments ended up being stocked in 50 shops around the country. They hand-signed every T-shirt.
They had a shop in their basement, then opened a shop in the town centre in Halfmoon Bay. From their studio, they could see "albatrosses sweeping across the ocean".
But they realised that when they were selling to other shops they were giving away a big margin and did not have any control over how their product was displayed and sold.
Right from the start, when they opened their basement shop, they valued direct contact with customers above everything else.
About six years ago, the Belworthys shifted to Invercargill for schooling purposes. They decided to withdraw from selling to other shops and concentrate on selling themselves. And that was when merino came into the equation.
The couple bought cotton from Designer Textiles, an Auckland company which also produced superfine merino fabric.
The company had wanted the couple to take on merino fabric but the Belworthys did not want to compete with the likes of Icebreaker.
But soon after moving to Invercargill, the Belworthys became aware Icebreaker had shifted its manufacturing to China, so Mr Belworthy contacted Designer Textiles to see if they could "hook into" merino.
At that stage, they had been printing their garments with New Zealand designs. There were a few technical aspects to printing merino so they embroidered a logo on to some garments and put them in the store, while they figured out how to print on them.
That was six years ago and they never got around to printing on merino.
"We've always struggled to meet demand," Mr Belworthy said.
There was continued growth in the market for merino as people realised the benefits of wearing the fibre.
A couple of years ago, Mr Belworthy wondered if it was a trend item but it had now become a staple, he said.
Quality did vary quite dramatically, and there were merino fabrics now available that were clouding the market.
Popular in New Zealand, merino was just starting to take off in North America and Western Europe. The potential for farming and manufacturing in New Zealand was "massive", Mr Belworthy said.
The Belworthys were in England last year and noted the rise of "ethical shopping", with customers making choices that were not purely based on cost, and that was happening here, Mr Belworthy said.
The couple loved retail - "we flatter ourselves we do it well" - and Mr Belworthy loved the fact he was close to customers.
"To be honest, we're a bit old-fashioned. We love service. We don't set sales targets but we set service targets. Our goal is that every person that comes into our shop thinks, 'That's a beautiful shop'."
Mr and Mrs Belworthy, who owned 100% of their company, liked the idea of having many more shops through New Zealand "and potentially elsewhere".
Mr Belworthy likened business to sport, saying the two had a lot in common.
It was a really good game, involved juggling many complex factors and being in competition, and there were always challenges.
But he loved challenges and risks, "and trying to make things work where it isn't obvious".
He was full of praise for Southland - "you couldn't have a better place to do business" - saying the support had been "just absolutely fantastic".