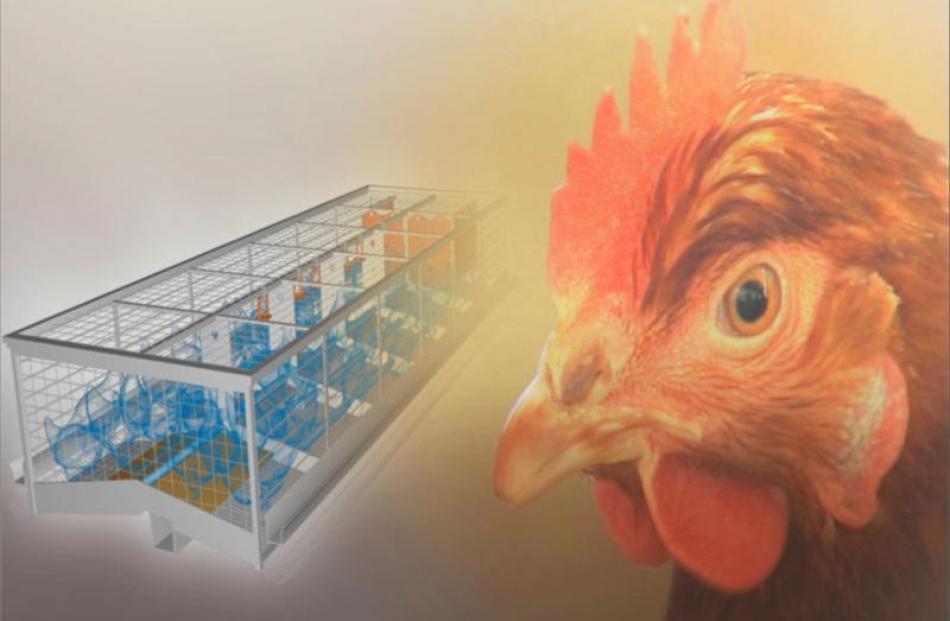 The phasing out of battery cages for hens from 2016 is set out in a new code of welfare for layer hens, but some producers fear the move will cause major disruption to the egg industry. Sally Rae reports.
Egg Producers Federation chairman Michael Guthrie fears New Zealand's egg farmers may have been ''set up to fail''.
He believes a ''punitive'' phase-out period for conventional cages for layer hens will mean a significant number of farmers could quit the industry.
The Animal Welfare (Layer Hens) Code of Welfare 2012, released last week, will allow layer hens to be kept in colony cages - a larger cage system that meets the requirements of the Animal Welfare Act - or in barn or free-range systems.
The Egg Producers Federation (EPF) has told Primary Industries Minister David Carter that the phase-out programme outlined ''simply cannot be achieved'' and warned the result would be ''major disruption'' to the egg supply.
When contacted, Mr Carter said the Government acknowledged the phase-out period would be ''challenging'' for industry, but believed it was possible to achieve.
Mr Guthrie, who is also managing director of Otago-based Mainland Poultry, stressed the EPF did not have a gripe with the code itself. Farmers had come to terms with the scale of the change and had accepted it.
Phasing out controversial conventional, or battery, cages meant the industry would be able to leave behind the ''negative connotations'' of cages and operate in a modern environment of colonies, barn and free range.
But the EPF assessed the phase-out period, in practical terms, to be more like four to six years, not the 10 years suggested.
That was ''impossible'' to achieve, both in practical and financial terms, and would have an enormous, possibly even crippling effect, on many in the industry, Mr Guthrie said.
The industry had recommended a gradual phase-out over 17 years designed to minimise disruption and in which the majority were transitioned in 10 to 12 years.
The phase-out timetable in the code involved the first set of cages coming up for replacement in 2016. By 2018, the proportion of cages required to have been replaced would have moved up to 50%.
The federation expected ''chaos'' in 2016 which was likely to continue for some time. Budget-conscious consumers would lose an affordable source of ''excellent nutrition'' and, for most farmers, it would involve the loss of their livelihood, he said.
Mr Carter said he, the Ministry for Primary Industries and the National Animal Welfare Advisory Committee (Nawac) were very aware the move away from battery cages would impose costs on farms and the decision to phase out the cages was not taken lightly.
''Public opinion and scientific evidence have made it clear that we need better alternatives to battery cages. The overall cost to producers is reasonable when weighed against the welfare gains of the new code.''
There was a welfare benefit to managing the transition in stages because birds were removed from the oldest cages sooner, and farmers could change their systems over time. Banning battery cages completely on a single date would create ''huge disruption'' to the egg industry, Mr Carter said.
Mr Guthrie did not believe those behind setting the phase-out programme had quantified what was required.
Farmers using conventional cages, which in volume terms was more than 80% of the industry, would have to rebuild their operations ''from scratch'',most on a different site andthere would be very little ofmost current operations that could be salvaged.
That involved acquisition of land, gaining of consents, site preparation, supply of equipment - which with international demand could take a minimum of two years - and supply chain implications such as rejigging the rearing process.
Most poultry farms were built on intensive farms, not on large tracts of land.
''They can't cut a hole in the barn and say `go free','' he said.
Assuming most cage farmers moved to colonies, the EPF's preliminary estimates of the cost of transition to farmers would start at $150 million ''and go up from there''. That cost would be spread across just 42 farmers.
A transition to free range would involve an estimated 70% more capital cost, topping $250 million.
The industry was unable to assess how many farmers would move to the new colony system and how many would adopt free-range or barn farming.
Mr Guthrie described it as ''harsh and punitive'' for an industry that had been actively working with the Government, had invested significant money and effort in research into modern farming systems, and actively sought to modernise its welfare practice.
Even if financial constraints were not an issue - which they were - then it was a ''whole paradigm'' shift in how people farmed.
It was ''not the industry screaming and saying we want to have more time before we change''. The industry wanted to change - ''you show me a farmer that doesn't want to improve the way they farm'' - but needed more time to sustainably manage the change, he said.
He quoted a report from Nawac chairman Dr John Hellstrom, released in June this year, that said a transition period of less than eight years was considered neither feasible nor practical.
Mr Guthrie questioned where the industry was going to borrow money from, saying banks were not lending and the low profitability record of the industry exacerbated that situation.
Farmers had never asked for compensation or a subsidy and it was an industry that was willing to reinvest in itself. It had engaged with the ministry over the five-year period of the review and constantly talked about the transition. Farmers wanted to work with the ministry, not against it, he said.
With more than a billion eggs eaten annually in New Zealand, they were a vital part of the national diet.
Obesity and health issues were highlighted in the media on a regular basis. Eggs were a ''perfect food'' and as far as Mr Guthrie was concerned, not a discretionary spend.
''Egg to me is a God-given right,'' he said.
For Mainland Poultry, the new era was a ''step change''. While the time frame was ''impossible'', the company had ''no intention of packing our bags at all''.
The company was bringing out a family of products, such as liquid egg white, for people who wanted protein but could not consume fat.
Liquid egg white had been selling in Australia for more than a year and has just been launched on to the New Zealand market, in Countdown supermarkets. About 80 tonnes of egg product was produced a week from plants in Waikouaiti and Auckland.
The company also had a feed division and it was the biggest supplier of layer poultry feed in New Zealand.
A by-product of the poultry operation was manure, which was very high in NPK and a natural fertiliser. In the future, the company was looking at turning that into generating gas and possibly electricity.
While the future was exciting, the company's core business was egg production, he said.