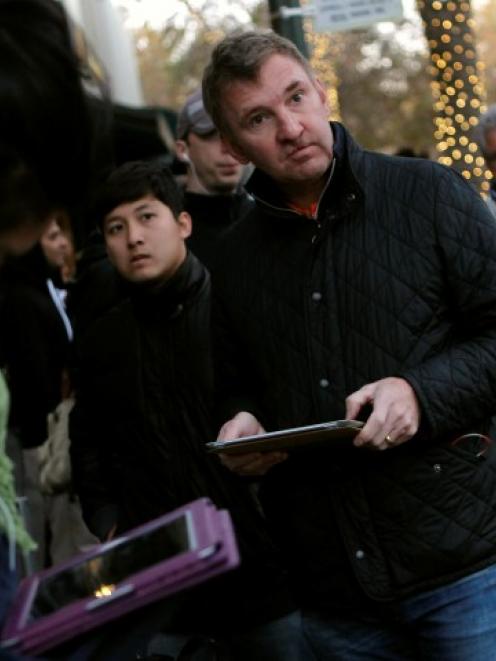 Apple Inc sold 3 million of its new iPads in the first three days the tablet computers were available, driving optimism for a strong holiday quarter despite intensifying competition.
Sales of the 7.9-inch iPad mini and fourth-generation 9.7-inch version, both Wi-Fi only models, were double the first-weekend sales of the Wi-Fi iPad sold in March, Apple said on Monday.
Apple did not break out numbers for the crucial iPad mini, a smaller version of the original tablet designed to spearhead its foray into a segment now dominated by Amazon.com Inc and Google Inc.
Analysts estimate that about 2.3 million of the new iPads sold over the weekend were the mini-tablets, surpassing expectations of 1 million to 1.5 million.
Wall Street, which was disappointed with Apple's latest quarterly earnings, had been looking to the iPad mini to boost demand during the crucial year-end holiday shopping season as competition reaches a fever pitch. Microsoft Corp became the latest major entrant to the market last month with the Windows-driven Surface.
While lines for the new iPads appeared lighter than usual when they began selling at stores on Friday, the company said demand was so strong that it "practically sold out of iPad minis."
Apple had never before introduced two different iPad models in one quarter. Raymond James analyst Tavis McCourt said that while the sales number looked good, the company would need to sell another 20 million iPads this quarter to meet his estimate.
"There's still a lot of wood to chop in the quarter," McCourt said.
The company said it had shipped many of the new iPads ordered before the release date, but would not send some out until later this month.
Apple had sold 3 million iPads in March, including those with cellular connections as well as Wi-Fi only models.
"We set a new launch weekend record and practically sold out of iPad minis," Apple Chief Executive Tim Cook said in a statement. "We're working hard to build more quickly to meet the incredible demand."
Apple shares were up 1.7 percent at $586.50 in morning trading on Nasdaq, still down more than 16 percent from a record high set in September.
The 7.9-inch iPad mini marks Apple's first foray into the smaller-tablet segment and is the company's first major new device since the death of co-founder Steve Jobs last year.
Versions of iPads with both Wi-Fi and cellular connections will not ship in the United States for another few weeks. And both will hit more countries later this year.
The iPad mini takes aim at Google's Nexus 7 and Amazon's Kindle Fire. At stores around the world, the product's debut drew sparser crowds than previous launches did, dampening initial optimism for sales. Still, the mini attracted hundreds of people in many locations.
Apple heads into the current quarter after refreshing almost all of its product lines, from Macintosh computers to tablets.
"We believe the iPad mini has the opportunity to surpass the sales of the regular-sized iPads over the next several years," said Topeka Capital analyst Brian White.