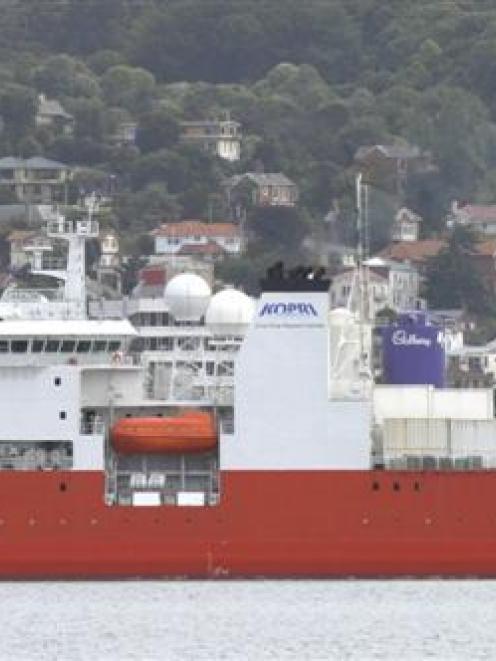 Icebreakers are a type of vessel that we do not see here often. The last to call was the South Korean
Araon
, built in 2009. It had been at Lyttelton during the February 22 earthquake, and came to Dunedin from there three days later.
So it is something of a bonus to have another of this type of vessel calling at Port Chalmers today. This time, it is the Australian-built and owned Aurora Australis, which is towing the disabled New Zealand fishing vessel Janas.
To recap, it was reported on July 26 that Janas experienced an engine breakdown while it was fishing in the Southern Ocean, about 965km south of New Zealand. The engine failed again after emergency repairs were carried out.
Janas, with a crew of 21, then requested assistance. Aurora Australis, on lease to the Royal Australian Navy, responded.
The icebreaker towed the vessel overnight to Macquarie Island, where repair work was to start. The outcome is that the icebreaker has had to tow the disabled vessel here.
Janas is a 1079gt , long-line vessel completed in April 1993 by the Soviknes Verft A/|S shipyard at Sorvik, Norway. It commenced its career as Kapitan Kartashov, owned by the Vladivostok Trawler & Refrigerator Fleet Base.
It was renamed Tawhaki in 1998 and then Janas later that year as a unit of the Sealord fleet. The vessel has made more than 30 visits since December 1998.
The all-red, Hobart-registered Aurora Australis is a 6574gt, 3911dwt vessel built for operation by P&O Polar Australia Pty Ltd.
Designed as a multipurpose, research and resupply vessel, it was launched at Newcastle, NSW, by Carrington Slipways Pty Ltd on September 18, 1989, and completed in March 1990.
Propulsion machinery in this geared, single-screw vessel is an interesting combination of four-stroke, Vee-cylinder diesels supplied by the Wartsila works at Vaasa, Finland.
One 16-cylinder unit develops 7477bhp, while the other, a 12-cylinder model, produces 6118bhp. The vessel has a service speed of 13.5 knots, but a maximum speed of 16.8 knots.
It can break ice up to six metres thick while steaming at a speed of around one to two knots.
The speed for breaking thinner ice can be up to six knots.
The vessel has an overall length of 94.91m, an extreme breadth 20.35m, a loaded draught of 7.850m and can also carry 29teu. It is regularly chartered by the Australian Antarctic Division for research cruises in Antarctic waters.
Another vessel in trouble last week with machinery trouble is the fully cellular container ship JRS Pegasus.
It had been lying in the Inner Anchorage at Brisbane awaiting parts.
The vessel entered the Forgacs shipyard dock last Thursday and is expected to return to service next Friday, upon completion of repairs.
The 9983gt Cypriot-flag vessel, built in China in 2009, was employed in the Maersk Southern Star service that has now ended.
JRS Pegasus called here for the first time on August 30 last year, and for the 12th and last time on July 4.