For at least 44 years there has been a call for a bed tax in the Queenstown Lakes - a call that is getting louder by the day given each resident in the district is now supporting 95 visitors and its council is facing a $990 million spend over the next decade on infrastructure the area needs to cope.
Tracey Roxburgh talks to Mayor Jim Boult about the issue.
Queenstown Lakes Mayor Jim Boult says he's "going for the doctor" to enable the district to implement a bed tax.
Mr Boult, elected in October 2016, campaigned, in part, on introducing a visitor levy.
The previous government gave him a  "flat no".
Now, he is "very" hopeful the Government will allow a legislation change that would enable the district to introduce the mechanism, which he believes is the most effective way of ensuring residents and ratepayers do not have to continue to foot the bill for visitors.
Figures released this week to the Otago Daily Times show Queenstown alone hosted 3.3 million visitors - both domestic and international - to the year ended June 2018.
Based on a district-wide population of 34,700, that equates to 95 visitors for every resident.
To the year ended June 2017, there were 1.17 million international visitors - 34 to every resident.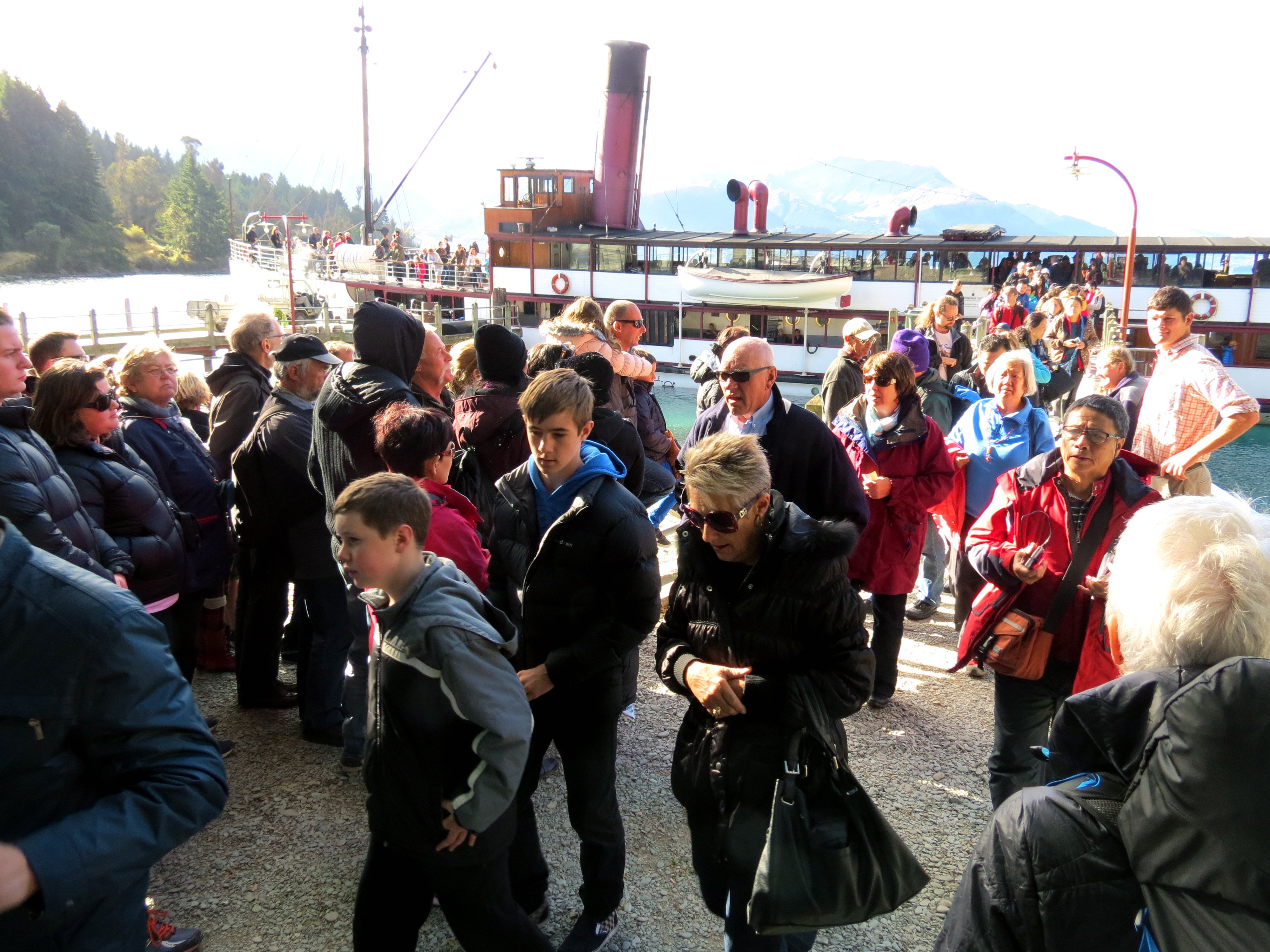 The bed tax conversation is not new.
In March 1974 Mountain Scene, now owned by Allied Press, published an editorial calling for a 10c-per-night bed tax to support requirements for the 200,000 visitors a year Queenstown was hosting.
That was because the Lakes District, and the resort in particular, had a small population trying to support requirements "generally taken for granted by visitors".
It remains the case.
While there are central funding options which may provide some financial assistance, they were contestable, and applications were not guaranteed.
"All of those things require us to go cap in hand, begging bowl, up to Wellington to say 'please, can we have some more money?'," Mr Boult said.
To date, the council has been overlooked for the Provincial Growth Fund, which could provide some relief, and Mr Boult said a return of GST to the region was "off the table".
"I've asked that question [about GST] on numerous occasions and had an unequivocal 'no'."
The proposed International Visitor Conservation and Tourism Levy would collect up to $80 million a year, however, that would be split between conservation and tourism nationally and the amount which may come to the district "is just not going to cut the mustard for us".
There remained three viable options for Queenstown Lakes to raise sufficient funds to invest in the required infrastructure - a regional fuel tax, a commercial rates hike or a bed tax.
The former, Mr Boult said, would further increase the cost of living for residents and a rates increase would be "really unpopular".
But a bed tax, targeting domestic and international tourists staying in commercial accommodation, including Airbnb, "solves our problems".
"The bed tax is a permanent solution - put it in place, it automatically increases as numbers increase and it's there permanently, so we know exactly what we're going to get."
While Mr Boult had previously quoted $10 per bed per night, he said he was "not married" to that.
"I ...  accept that somebody paying $30-a-night bill in a backpackers, it's probably not fair to ask them to pay $10.
"There needs to be a graduated scale."
According to a Sapere report, visitors to the Queenstown Lakes spent about $2.6 billion in the year ended March 2017, 67% of which was attributed to international visitors.
It accounted for 9.8% of New Zealand's total tourism expenditure.
While that kept the district's economy vibrant, the infrastructure required to support the visitors - and an increasing resident population - came at a cost.
Exponential growth in recent years, combined with the global financial crisis when "council didn't spend on infrastructure" meant the district now had a backlog of work to complete as well as providing for the growth.
"So suddenly it's come upon us as a double-whammy."
The council's budget in its $990 million long-term plan was predicated on the NZ Transport Agency approving everything it applied for - a total of $279,394,749 over the next 10 years, more than $239 million of which was in capital subsidies.
However, the council had to leave projects worth about $400million on the table "simply because we didn't have the funding for them," Mr Boult said.
One was a new bridge at Arthurs Point, because  the single-lane Edith Cavell Bridge, over the Shotover River, was reaching capacity.
"As our numbers increase, these issues become more and more imperative.
"We are behind the eight ball in what we need to spend and we need to get ahead of it."
Mr Boult believed it would be "suicidal" for the district to take the foot off the infrastructure accelerator now - to do so would impact not only the area's economy, but New Zealand's.
And the bed tax, he believed, was critical.
"Look, I'm not backing off on this.
"The current Government have indicated an open mind and are willing to discuss the issues and we continue to have worthwhile discussions."
And if the Government's answer is no?
"I'm going to make it very clear that New Zealand's economy is going to suffer," Mr Boult said.
"They cannot expect our residents to go further into hock to support the rest of New Zealand."
Queenstown Lakes
• Ratepayer base: 24,000
• Residents: 34,700
• 1.17 million international visitors (year end June 2017)
• 3.3 million visitors in total (year end June 2018)
• Almost 5.4 million guest nights (3.6million commercial) in Queenstown (year end June 2018)
• 4226 Airbnb* listings (September 2017), up 65% on previous year* not captured in commercial bed night figures
Funding options
• Housing Infrastructure Fund:  A $1 billion fund providing 10-year interest free loans to high-growth councils for core infrastructure to support housing development and increase housing supply.  Queenstown Lakes District Council (QLDC) has been offered $52 million for new infrastructure at Quail Rise South, Ladies Mile and Kingston.  The money must be repaid.
• Tourism Infrastructure Fund:  Up to $25 million a year to develop tourism-related infrastructure, e.g. car parks, freedom camping facilities, sewerage and water works and transport projects.  QLDC made an application, but failed to meet qualifying criteria.
• Provincial Growth Fund:  A $1 billion a year fund aimed at lifting productivity in the provinces.  Priorities include enhancing economic development opportunities, creating sustainable jobs and enabling Maori to reach full potential.  Queenstown Lakes has made one application and received no funding to date.
• International Visitor Conservation and Tourism Levy:  To be charged at the border, the government anticipates collecting between $57 million and $80 million per annum, to be split between conservation and tourism infrastructure nationally.  Queenstown Lakes alone needs about $40 million per annum.
• GST return:  Finance Minister Grant Robertson told a recent Queenstown Chamber of Commerce business lunch this was "not current Government policy".  Queenstown Lakes Mayor Jim Boult says he has asked if that policy will change on "numerous occasions" and in response "had an unequivocal no".
• Regional Fuel Tax:  Would need central government approval and would be applied to residents and visitors across the Queenstown Lakes.  Auckland's regional fuel tax saw an 11.5c lift - applying the same principal in Queenstown would see the price of 91 increase from $2.36/L to $2.47/L based on present pricing. Wanaka would increase from $2.49/L to $2.60/L.
• Commercial Rates Increase: Would be applied across all commercial ratepayers in the district and would become an added cost to business.  The rates increase would vary depending on the capital value of a business.
• Local Visitor Levy:  Also known as a bed tax, the proposal would see an additional fee being added to every commercial bed night in the district, including Airbnb.  It requires the government to make a change to legislation, as was the case for Stewart Island in 2012.  That visitor levy took effect on October 1, 2013 and has since raised more than $650,000.