After more than a decade of searching, the Otago Regional Council expects to make an announcement about a new headquarters soon.
The council's draft long-term plan 2021-31 indicates its staff in Dunedin will relocate to a single head office site within the first three years of the plan.
Last week, chief executive Sarah Gardner said the council anticipated having news to share "in the near future" about its work to accommodate its growing number of staff.
The council's spending on investigating sites for a new headquarters has been somewhat controversial.
The Otago Daily Times reported in 2018 that the regional council's decade-long search for new headquarters had cost $10million.
Figures requested by Dunedin man Chris Shaw under the Local Government Official Information and Meetings Act showed it spent $9,715,000 on land purchases, site assessments and temporary office space.
Since then, a further $524,000 was spent in the 2018-19 financial year in regard to a proposed Anzac Avenue site.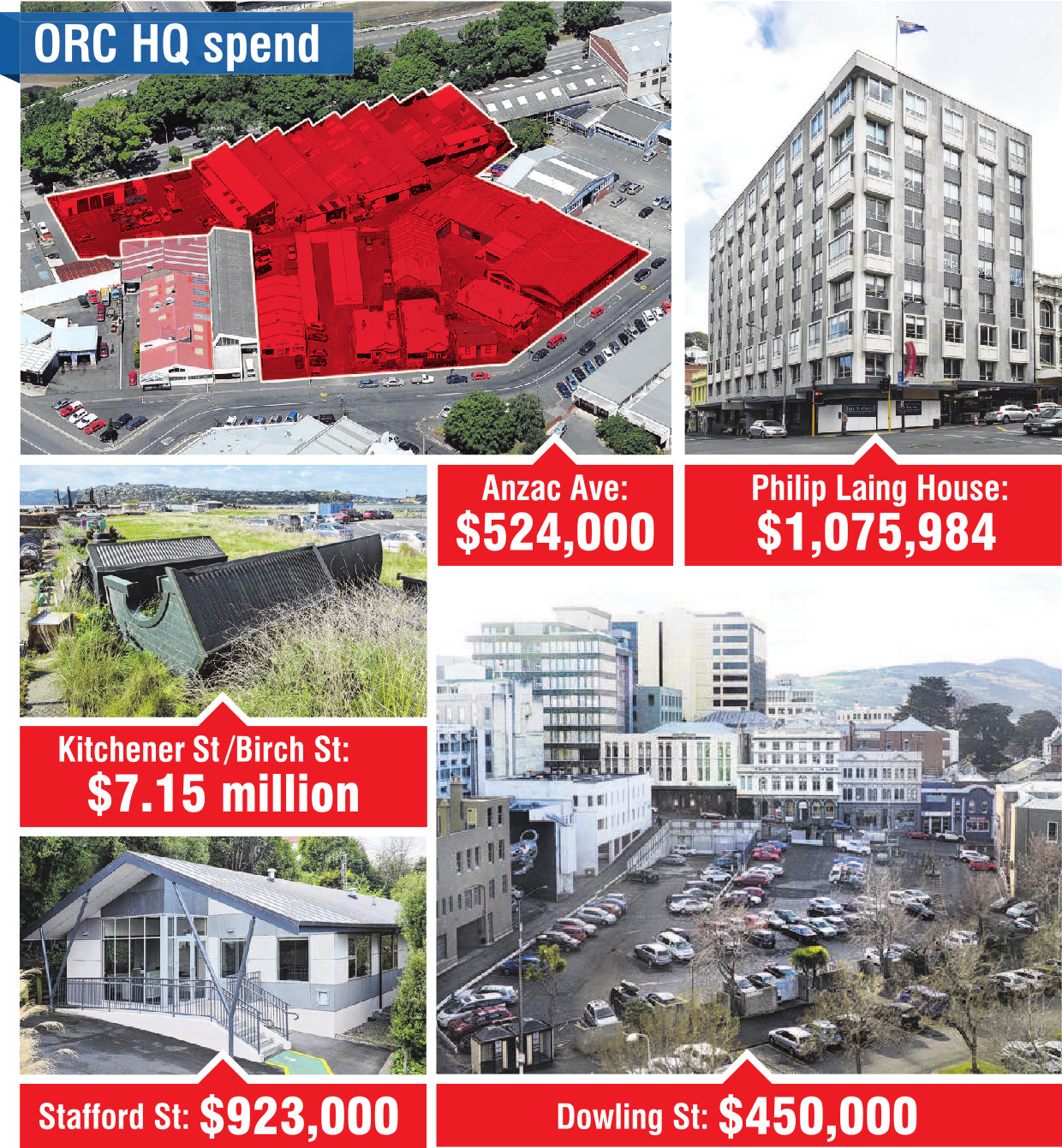 However, Ms Gardner said there had not been one continuous process to find a new site for staff accommodation, but rather "separate efforts around various sites as options have been considered".
The council purchased a site in Birch/Kitchener Sts in 2007 and spent a total of $7.15million, including purchase costs, architectural plans, engineering, and planning costs.
The preliminary estimated cost of the headquarters it intended to build at that site was about $28million, which was met by push-back from some councillors at the time, who felt it was extravagant.
It was decided against in 2010-11, but the council still owns the site.
Ms Gardner said the Birch/Kitchener site was not being used and the council's long-term plan indicated it would be sold once the council's Dunedin staff had relocated to a single head office site.
No further sites were considered until 2015-16, when the council began investigating the Dowling St and Anzac Ave sites, she said.
The total spend also included $923,000 in constructing an annexe at the council's Stafford St headquarters and $1,075,984 on outfitting the council's leased second floor of Philip Laing House.
Those spaces are still retained and being used by the council.
"Finding an appropriate site to accommodate staff is not an easy process, and with our continued growth, the scope of our needs has changed over time," Ms Gardner said.
Regional council staff are spread between the Stafford St headquarters and the leased space at Philip Laing House.
The council recently leased another floor at Philip Laing House to accommodate its growing staff numbers, which were due to the council's obligation to national direction and Otago's environment increasing "significantly".
Ms Gardner said, because of that, a new fit-for-purpose premises was needed.
"We anticipate having news to share about the Otago Regional Council's work to accommodate growing staff numbers in fit-for-purpose premises in the near future."
She said the work to secure accommodation was not a factor in the rates increase signalled in the proposed long-term plan, as that work was funded through a building reserve.