Million-dollar houses are now the norm in two Dunedin suburbs as newly released sales figures reveal the first suburbs in the city with seven-figure median sale prices.
Both Maori Hill and East Taieri cracked the million-dollar mark as median prices for suburbs across the city were an average of 20% higher than the corresponding period in 2020.
The soaring figures were revealed in a report released by property data and analytics company CoreLogic, which compared median sale prices on September 1, 2021, with those on the corresponding day in 2020.
The median sale price in Maori Hill was now $1,024,500, up 17.6% from $871,200 on September 1 last year, while in East Taieri it was now $1,021,600, a 24.2% increase from $822,750.
At the other end of the table, South Dunedin was the cheapest suburb, showing a median price of $445,800.
It was one of three suburbs, along with Caversham ($493,650) and Waikouaiti ($495,900), under the $500,000 mark.
The 26.6% rise in Waikouaiti from $391,850 in 2020 was the largest percentage increase in the city.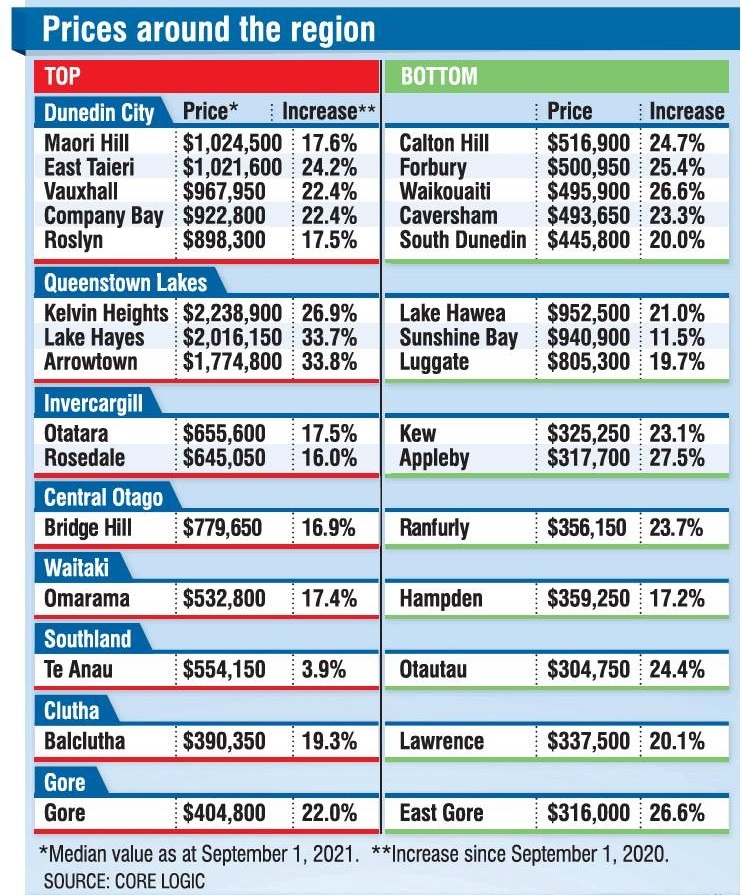 Prices were up across the southern region, the Queenstown Lakes district continuing to sport some of the most expensive houses in the country.
Kelvin Heights ($2,238,900) and Lake Hayes ($2,016,150) were the two most expensive suburbs outside Auckland.
Only three areas in the district had median house prices below $1 million. Luggate was the cheapest, at $805,300.
It was a different story in the Southland district.
While Te Anau may have been the most expensive place for properties in the district, it had the lowest price growth in the entire country, both by percentage and in dollar terms.
Its median price of $554,150 represented an increase of 3.9%, or $20,550.
There were only eight suburbs from the 983 included in the national report with growth of less than 10%, and Te Anau was the only one below 5%.
Otautau, in Southland, had the cheapest houses anywhere south of the Waitaki River, at $304,750.
The most and least expensive suburbs in Invercargill remained Otatara ($655,600) and Appleby ($317,700).
However Appleby also posted the largest growth in the city, prices in the south Invercargill suburb ballooning 27.5%.