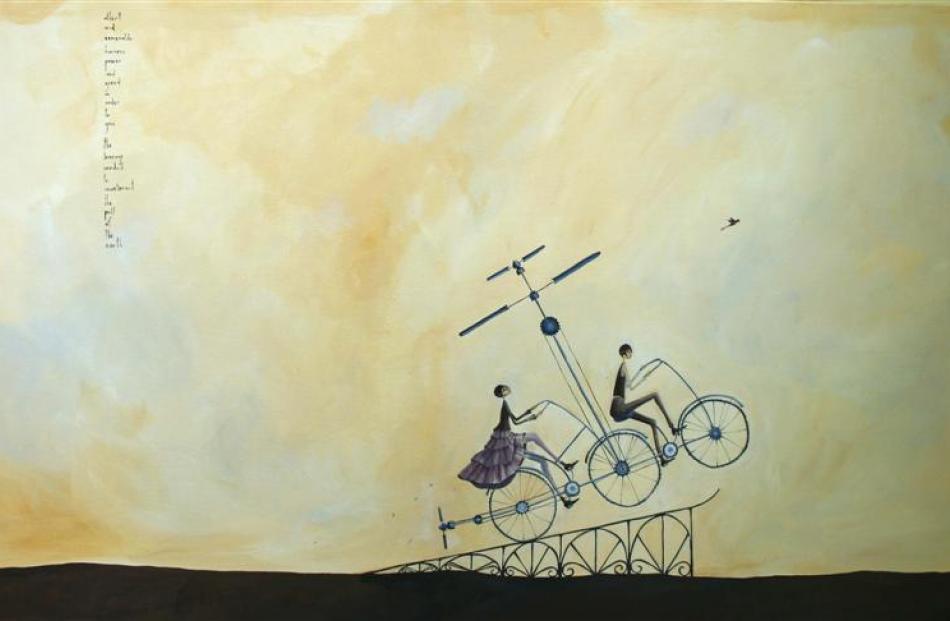 Wellington artist Crispin Korschen has a simple explanation for her art - an "odd brain". Nigel Benson meets a painter of gothic fantasia.

"I just have a very odd brain," Crispin Korschen laughs, when asked where her art comes from.
"I see things and these odd images just start to come out of my mind. Sometimes, even reading a book there will be a phrase that brings an odd image to me," she says.
"Painting gives me the opportunity to bring to life the characters and images roaming in my head. The stories told by my artworks are either my own, inspired from observations and experiences, or expressions of my restless curiosity."

Korschen is a inveterate studier of her fellow human beings.
"I'm always watching and listening to people. And people say the oddest things, without even thinking about it. I like to watch people and their relationships with each other.
"I like to tell stories about the extraordinary lives of ordinary people. If people can find something in my art-works that they can relate to or laugh about, I know I've reached them."

Her acrylic paintings are characterised by colour, texture and an understated quirkiness. Dali-esque creatures roam impossible landscapes.
Her latest exhibition, "Looking Skywards", opens at The Artist's Room in Dunedin this weekend.
"This show is the story about Esmeralda and Albert and their search to find the means of flight. The means to lift themselves upwards and to soar the skies," Korschen says.
"It's a lot of a fun playing with flight, but it's about more than flying. It's also about how we spend so much of our life running around like crazy things.
But does it really achieve what we want to achieve?" she muses.
"Do we find our wings through perpetual motion or through stillness?"

As Leonardo da Vinci put it so well: 'Once you have tasted flight you will forever walk the earth with your eyes turned skywards, for there you have been and there you shall long to return'."

This exhibition is the first time Korschen has run a themed vein through a show.
"I wanted to play around with a set of characters and carry that through a whole range of paintings. I wanted it to be old and Victorian, somehow, and to play on the inventions from that time.
"Like the bicycle with all of its gears and cogs," she says.
"I like the idea of making things. I like the idea of making something that could almost be real, but it's not. It's almost possible, but it's pushing the boundaries just a little bit too much."

Korschen is well known for her artblocks, cards and magnets, which she sells to craft shops around the country through her Barking Mad company.
"I like the idea of making my art accessible to people who can't afford a painting," she says.
"We supply shops all over New Zealand and we're also moving over to Sydney this year."

Korschen graduated from the Wellington School of Design in 1988, before embarking on a career as a freelance illustrator.
In 1991, she went to live in Kenya, returning to New Zealand and the Kapiti Coast in 2000. She picked up a paintbrush again in 2003.
"It's amazing how quickly time goes," Korschen says, almost wistfully.
"Looking Skywards" is a joint exhibition with fellow Wellington artist Jan Kerr.
"We're old friends and we've always wanted to do a show together.
We've both got that quirky, whimsical, off-beat thing happening," Korschen says.
"Our work looks really good together, I think. I've got a lot of her work at home and she's got a bit of my work at her home."

Korschen and Kerr have contributed six pieces each to the exhibition.
"Looking Skywards" opens at The Artist's Room on Saturday and runs till February 14.