It is the Royal New Zealand Ballet's Joseph Skelton's first role as Romeo and he is discovering it is a roller-coaster ride. He tells Rebecca Fox about his lead role.
He has a metal pin in his leg, but no-one would ever realise as he lifts dancers high and leaps across the stage.Joseph Skelton, a senior dancer with the Royal New Zealand Ballet, also barely gives it a thought, unless the weather is bad and he gets a slight ache.
The pin has not held back the career of the Gisborne-born and Pukekohe-raised dancer who has the lead role in the RNZB's new production of Romeo and Juliet.
''The music is amazing. When you listen to it, you hear the story. It's a draining role, full on, as you don't stop for three acts.
''It's a roller-coaster, but a lot of fun.''
The fight scenes were the most fun, he says.
''It's good fun; we just go for it. Throw it all into it.''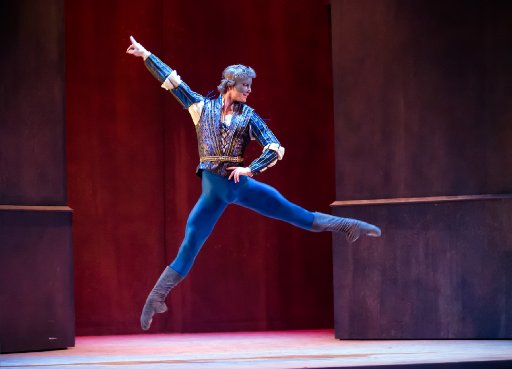 The role also had its physical challenges, such as lifting a dead Juliet (Madeleine Graham) and dancing with her.
''You have to really concentrate on that. When you put her back down, it's such a relief. It's an intense scene.''
Skelton also danced the role of Don Jose in Carmen earlier this year.''They're incomparable, really. Very different,'' he says.
He describes the past two years as being ''non-stop'', having had the opportunity to be a guest dancer performing  in Giselle with the Australian Ballet and the Greek National Opera Ballet.
''It's the same ballet, but different versions. So it's the same character [Albrecht], which helps a lot. The people are really supportive of you.''
It was a great experience working with other companies and having the opportunity to visit some of Athens' historic sites.
But things could have been quite different. Skelton was living in England when he was hit by a bus while skateboarding. He was 18 and training at the Elmhurst School of Dance.
''It smashed my leg, my right shin. So I ended up with a metal rod and screws. I was told I wouldn't be able to walk without a limp.''
The thought that he might not dance again never crossed his mind.
''I just thought, 'I'll be fine in a couple of months'.''
Luckily, his older brother, also a dancer, was working in Birmingham at a ballet that had a physiotherapy centre attached. Skelton returned to New Zealand to join the Royal New Zealand Ballet in 2011.
He went on to perform in the Pas de Trois from act one of Swan Lake, in the historic surroundings of the  Legislative Council chamber in Parliament Buildings in Wellington to celebrate the RNZB's 60th birthday.
In 2015, he performed as Lysander in A Midsummer Night's Dream and made his debut as Albrecht in Giselle during the company's tour to the United Kingdom and Italy.
He admits his leg is not the same as it was before the accident, but it has had one positive: his foot is stronger.
''It puts things in perspective, how amazingly lucky I was. It would be a lot worse if it happened now.''
Skelton followed his brother and sister into ballet and started to dance as a 4-year-old.He recently married fellow RNZB dancer Katherine Skelton, who he has known since they were children learning to dance.
The ballet
RNZB's Romeo and Juliet, August 13 and 14, 7.30pm, Regent Theatre, Dunedin.