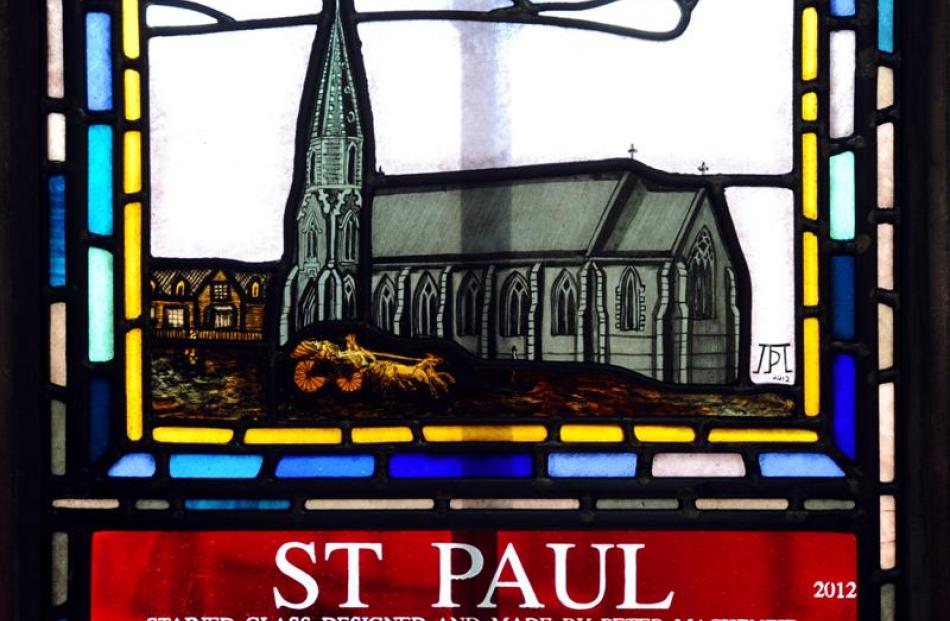 Dunedin's faces, places, flora and fauna are captured in a stained-glass work installed this month inside St Paul's Cathedral. Artist Peter Mackenzie explained the relevance and technical process behind each intricate detail to Rosie Manins.
To accurately depict real people, buildings, animals and landscapes on glass, artist Peter Mackenzie employs a range of techniques.

He ordered thousands of pieces of custom French glass for the window, which he painted, etched, exposed to chemicals and heated.

Photographs taken and supplied by Otago Daily Times illustrations editor Stephen Jaquiery proved invaluable for Mr Mackenzie when it came to incorporating birds and animals into his work.

He also took the opportunity for a closer look upon discovery of a sleeping sea lion at Aramoana.

"I was able to get really close to it and realised for the first time that sea lions have residual toenails on their flippers, which I could add in," he said.

Upwards of 10 layers of paint was used on many of the creatures to do justice to their textured bodies.

Each layer was "baked" on to the glass at 1200degF (650degC) and at times Mr Mackenzie painted both sides of the glass to achieve a "soft" lifelike aesthetic.

For the penguins, Mr Mackenzie used "flashed glass" which had a layer of colour over a clear background.

"The glass is about 3mm thick but the top .5mm or so is a very fine layer of rich colour," he said.

Mr Mackenzie used acid to etch through the fine colour layer in parts, by masking other areas.

He achieved hue variation by exposing the glass to acid for different lengths of time.

On top, he used paint layering as well as scraffito, in which a layer of paint was applied and parts scratched off to create texture such as feathers.
Fine yellow details on the penguins were created by painting silver nitrate on glass then heating it to 1050degF (560degC), which allowed the glass to absorb some of the chemical compound, turning it golden in colour.

A Garrick Tremain drawing of a mid-1800s goldminer's cottage at Arrowtown provided the detail Mr Mackenzie needed to portray the lifestyle of those who pioneered during the early gold-rush era.

He used up to 16 layers of paint on the cottage, working the stone texture and applying different stains.

Mr Mackenzie, of Maia, said the window was a once-in-a-lifetime project and the most complex he had done.

It took two years and regular input by benefactors Stella and Donald Cullington, of Company Bay, who were thrilled with the result.

"Peter has interpreted it brilliantly, in the style we wanted," they said.