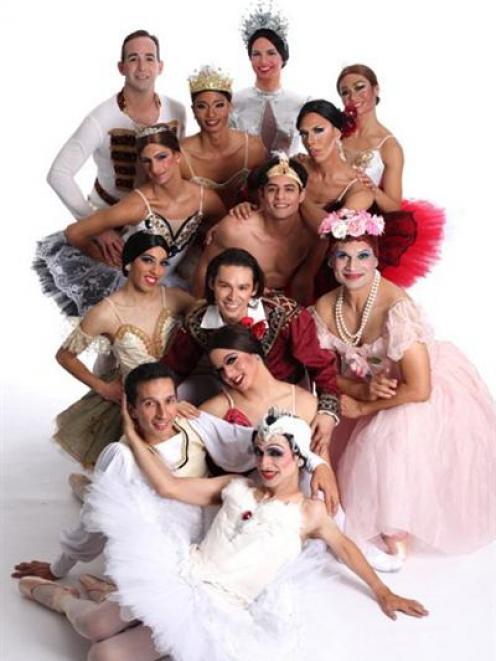 Need a good laugh? Then head for the ballet, reports Tom McKinlay.
In the Marx brothers film A Day at the Races, the anarchic comedy pauses for a time to allow ballerina Vivien Fay to take centre stage.
Harpo and Chico sit spellbound on a diving board (the comedy is never completely extinguished), as Fay transports the film, briefly, to some other plane, finishing with a whirling-dervish set of pinpoint-perfect pirouettes. It is less a case of scene-stealing than one of grand larceny.
Although, of course, the three victims are clearly complicit.
Indeed, Chico and Harpo constantly undermine their own buffoonery with demonstrations of musical virtuosity. In the same film, Harpo muscles his way into the remains of a grand piano he has just destroyed to rescue the plate and play it as a harp - beautifully.
High art and low slapstick.
It's seldom been done better, although there are pretenders.
One is due in the South next week, the New York-based Les Ballets Eloelle and their show Men in Tutus, which involves, as the name suggests, men dancing as ballerinas.
Fay might blanch.
But this is no clumsy Selwyn Ballet. These are not smelly boys fresh from the football field, but dancers of genuine class and ability who have assimilated a little of the Marx Brothers' arts in the service of ballet.
Founder and creative director Victor Trevino is clear that he is bringing a company of dancers.
"The thing about what we are doing is through comedy we are trying to get people to give classical dance, or live dance, an opportunity, to come and see it and see what it is about," he says.
He means it, too. They have just toured Australia.
"I think the comedy helps break down the barriers. I think more people are willing to try comedy than just a serious evening at the dance. So hopefully what we are doing is something that will eventually lead to bigger audiences for traditional companies.
"Our primary mission is to make you laugh and entertain you, but primarily we are a dance company."
Trevino, who originally trained at Ballet Florida, is a veteran of the genre, having danced with the pioneers of men en pointe, Les Ballets Trockadero De Monte Carlo, before founding the cross-dressing ballet companies Les Ballets Grandiva, in 1996, and Les Ballets Eloelle, last year. In his time he has danced most of the female classical lead roles. In the end, he was best suited to them.
His slight frame meant lifting a ballerina high over his head was not an option.
"Once I started doing comedy, I never went back. The interaction between the audience and the performer is unique in this genre of dance," he says.
"What's wonderful about it is that you are able to present yourself seriously for short periods of time and then all of a sudden surprise an audience, the ability to explore a character and do a lot with it is almost greater." Do a lot with it he does.
Trevino's feather-shredding dying swan is legendary.
It all presents as a radical departure from classical ballet's image of uncompromising discipline and ram-rod rectitude.
Trevino is comfortable with that.
"I think a lot of people assume that if you are not expressing something serious, it cannot be classical dance. What we do, by showing that you can do comedy with dance, is demonstrate that it is an art form that lends itself to doing a lot of different things."
In order to pull it all off, the men in the company must be able to dance convincingly as women, which takes a little retraining. The company features more than 50 ballets in its repertoire, after all.
"There are a couple of steps that women do that men don't do very often, and then there are a couple of steps that men do that women rarely do but other than that, most of the training is the same," Trevino says of the standard ballet syllabus.
"What is different, though, is that women dance on the tips of their toes and men do not. So that was something that we really had to go ahead and explore and learn how to do. So that is a big adjustment to learn how to work in pointe shoes, because women start at a young age doing that and men generally don't train in them at all.
"So that takes some time. Luckily for men, the muscles develop much quicker than in women, so we are able to gain the strength that it takes women years to gain in a short period of time. But the control that women have in the shoes, it basically takes us as long as it takes them. So it takes a long time to master working on the tips of your toes," Trevino says with a wry chuckle.
These are the ballet disciplines that put the body on the rack.
"It is not a forgiving artform. At a professional level, any athletic thing that you do at a high level is not going to be very kind to your body."
But he loves what he does, the dance, and the freedom his unconventional company has to try new things.
"I think that with a lot of great art what you want to do is take people on a journey that is unexpected, take them in a new direction. What hopefully we do is not just make people laugh but give them some unexpected moments of theatre.
"After the first five or 10 minutes you are really going to forget that you are looking at a bunch of guys in tutus. I mean, we will continue to remind you throughout the evening, but still, I mean the whole point is that it is not two hours of us telling you we are guys in these tutus.
"There are moments when the characters interact, and how they are interacting together is very funny. But you forget the actual genders of the people on stage - the gender underneath the costumes shall we say - and you just start to believe the gender that your eyes see."
---
The programme
• Pas de Quatre, with music by Cesare Pugni, is based on a producer bringing the four greatest ballerinas of the time together for a special performance, thinking it would be the greatest performance ever. Unfortunately, he didn't see the problems that would arise.
• Le Corsaire is a duet that shows both the comedy and technical skills of the company.
• Go for Barocco was choreographed by Peter Anastos and is a parody of George Balanchine and the New York City Ballet's neo-classical style. The name is derived from a piece called Concerto Barocco made famous by George Balanchine.
• The Dying Swan is a parody of the solo made famous by Anna Pavlova. The music is a special arrangement created by Victor Trevino and Philip Carroll.
• The second act of Swan Lake takes up the story of a princess who is turned into a swan by an evil magician and must remain in that form until she can get a prince to pledge his love to her and promise to marry her. Music is by Tchaikovsky.
---
Les Ballets Eloelle
In which "El" is the Spanish word for him, "o" is or, and "elle" is the French word for her. Correct pronunciation is "LOL".
The company has 13 dancers, some of whom have been soloists and principals in other companies or danced for national companies, drawn from the Philippines, Colombia, Chile, Argentina, the UK, South Africa and the US.
---
See it
Men in Tutus. -
• Alexandra, Memorial Theatre, Wednesday, August 1
• Dunedin, Kings and Queens Performing Arts Centre, Tuesday, August 7
• Oamaru, Oamaru Opera House, Wednesday, August 8
---