Nicola Hansby's ''Exquisite Corpse'' exhibition may have fallen victim to the Covid-19 closures  but it provides us with a clever idea for filling a few hours of isolation, writes Rebecca Fox.
Exquisite Corpse is the unusual name of a drawing game.
Dunedin artist Nicola Hansby discovered the game while travelling in Europe last year and used the concept to create an art show for the Dunedin Fringe.
However, she says it is a concept that is also great for families.
The game involves folding a piece of paper into halves, thirds or quarters depending on the number people playing.
Then each person draws or creates an image up to the fold line, all the while keeping it a secret from the others. The next person does the same and so on until everyone has had their turn. The paper is then unfolded to reveal the image.
For her exhibition, Hansby brought together 15 artists from around New Zealand and divided them into five groups of three and set them to creating an image. Prior to the exhibition going up, none of the artists, excluding Hansby, had seen the finished drawings.
Hansby discovered the name of the game came from Surrealism, a 20th-century art movement which sought to release the creative potential of the unconscious mind. Games were a favoured method of investigation because playing them enabled concepts or artworks to develop freely and in a more random manner.
So she got together a group of artists, some new and some experienced. No-one was required to sign the works.
''That gave people more freedom, a chance to play.''
She also tried the concept on her partner's family while they were visiting the Solomon Islands over the summer.
''The children loved it. We all had heaps of fun — you don't have to be an artist.''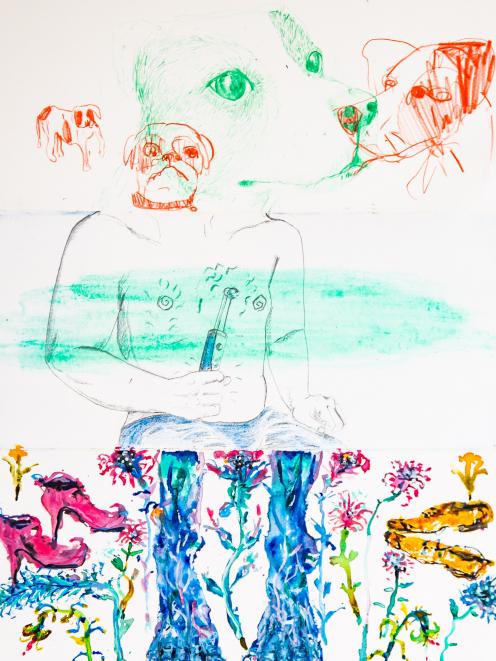 Any material can be used to create images on the paper — crayons, felt tips, pencil, paints even collage.
''You can use an old pile of magazines and cut them up and glue them on. You could do potato prints and draw around them. There are a variety of ways to go.''
The only important thing in the process was to draw lines down to the next folded part to enable the next person to follow the image.
Hansby, who graduated from Dunedin Art School in 2006 and splits her time between painting and her part-time job as a dental assistant, loves how the process brings people together.
''People can let their imaginations run riot and then come together for the big reveal.''