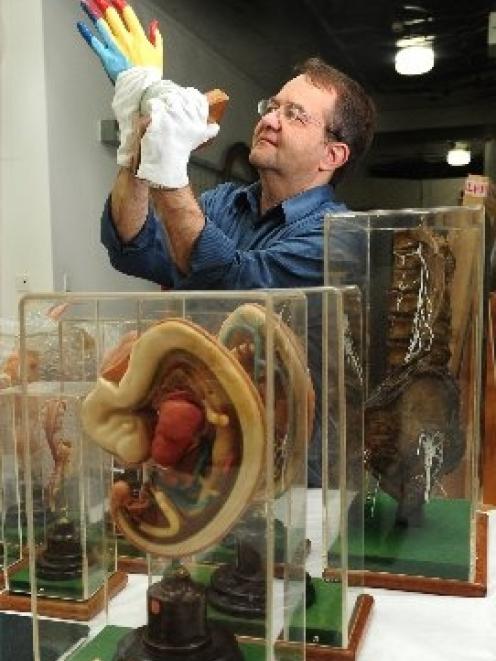 A new exhibition at the Dunedin Public Art Gallery reveals some of our innermost secrets. Charmian Smith talks to Dr Paul Trotman about "Still Life: The Art of Anatomy".
Paul Trotman is a busy man.
Between making and editing films, he has found time to arrange an exhibition on the art of anatomy with the help of Robyn Notman, of the Dunedin Public Art Gallery.
Anxious to save time by doing two things at once, he leafs through early books to select images for display while talking to the ODT, to the consternation of conservator Jenny Sherman, who worries that he is not concentrating properly on them.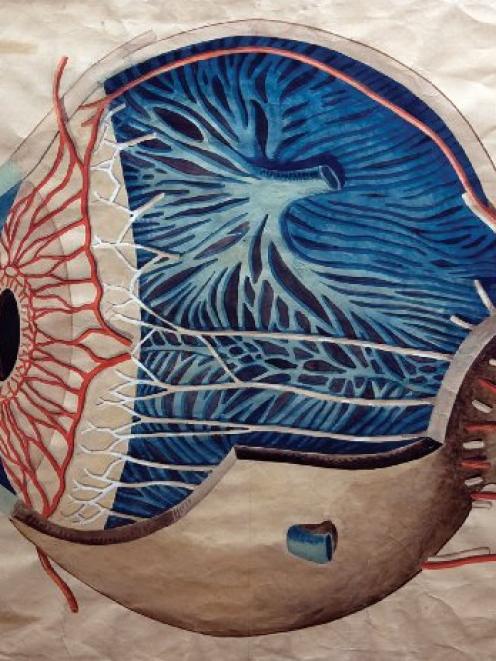 His conversation about the exhibition is interspersed with comments about illustrations that he finds in these treasures from the Monro collection of the Medical Library at the University of Otago.
The idea for the exhibition came from one he saw in London some years ago, he explains.
It featured anatomical models and art inspired by anatomy, and he realised an equally good exhibition could be done here, using items in Dunedin public collections.
Models and historic and contemporary works have been selected from the public art gallery, the university's W. D. Trotter Anatomy Museum, Medical Library and Hocken Collections, and the Otago Settlers Museum.
There is a long history of the links between art and anatomy, Dr Trotman says.
Anatomists needed artists to draw their findings and Renaissance doctors employed assistants of famous artists of the day.
Vesalius, known as the father of modern anatomy, is thought to have had Jan Stephen van Calcar, a pupil of Titian, illustrate his book De humani corporis fabrica.
A copy of the second edition of this work is in the exhibition.
Another treasure is Johann Remmelin's Pinax microcosmographicus which features detailed engravings and fold-out flaps that successively reveal the layers within the body.
A copy of the 1667 edition from the collection of Dr George Wherry was recently donated to the Medical Library by his granddaughter.
"I realised that to get the best pictures for anatomy through the ages they'd used the most cutting-edge techniques for making the art, so in the Renaissance period they were using beautiful Renaissance drawings and prints.
"As people got better at making models they were using wax and plaster models, and as we've moved into the computer age, they've started using beautiful colour photographs and high-tech computer reconstructions," Dr Trotman says.
However, the scientific study of anatomy only dates from Vesalius (1514-1564).
For more than 1000 years the study and teaching of medicine, including anatomy, had relied on the writings of Galen (129-c199) because human dissection was forbidden by the Church.
Vesalius, at the University of Padua in Italy, managed to acquire bodies of executed criminals for dissection, and discovered Galen's mistakes.
"They discovered stuff about circulation and what was connected to what and how it all worked together.
"The prevailing theory of the day about the four humours and all that stuff was completely wrong," Dr Trotman says.
Visitors to Padua can still visit the anatomy theatre with its tiers of circular galleries for observers above the dissection table.
Dead bodies for scientific purposes were hard to come by.
Most were unclaimed bodies from poorhouses or mental hospitals, executed criminals, or from grave robbing.
Even in Otago, until about the 1950s or '60s, before the medical school moved to body donation, unclaimed bodies were used for study, Dr Trotman says.
Artists have also been fascinated by anatomy.
Caravaggio attended executions to observe dead bodies and study anatomy.
Dr Trotman tells a story about Leonardo da Vinci interviewing a 92-year old man on his deathbed, watching him die a peaceful death, then dissecting him to find out why he had lived such a long time and had such a peaceful death.
Ms Notman explains artists' fascination with anatomy as part of the way they look intensely at the world.
Artists might draw, paint or sculpt a body in all its complexity, or they might make poetic, decorative, psychological or symbolic use of the body and its anatomy, she says.
Some, like contemporary Dunedin artist Nicola Jackson, combine both in their work.
She makes an intense study of organs, painted in her colourful way, which she combines with a psychological component, Ms Notman says.
One of her best known pieces, Sympathectomy, a model of an operation or dissection but also reminiscent of paintings of the Last Supper, will be on show.
Prof John Scott (1851-1914), dean of the medical faculty at Otago and also an artist, made detailed paintings of various parts of the anatomy to teach his students.
Some of these will be on display.
Today, anatomy is often taught using computer graphics, and fewer medical schools teach students how to dissect bodies, Dr Trotman says.
"It's almost like we've come full circle from when nobody ever did dissection through everybody doing dissection and it being part of medicine, and now a few medical schools are moving away from dissection again, saying we can teach this just as well with models and computer graphics.
"I just hope we don't forget the lesson that Vesalius learned, that if you take everything on blind hearsay you are likely to get it wrong.
"Anatomy is more than knowing what goes where.
"It's how it tracks, how it feels, how it looks, and also knowing that every body is slightly different.
"If everybody looks at the same model you are going to think that every body is identical, whereas in fact every body is slightly different, just like everybody's face looks slightly different.
"You need to know about these variations."
Dr Trotman's recent documentary, Donated to Science, which will screen during the exhibition, shows that medical students dissecting a body learn a lot more than what connects to what within a body.
"It's essentially their first patient, so they learn a lot about the human condition, about themselves and about death.
"Students learn far more than anatomy by doing anatomy," he says.
See it
"Still Life: The Art of Anatomy" is at the Dunedin Public Art Gallery from Saturday until September 12. Donated to Science screens tomorrow and Saturday at 1.30pm. After the screening on Saturday, Dr Paul Trotman will talk about the film and the exhibition.