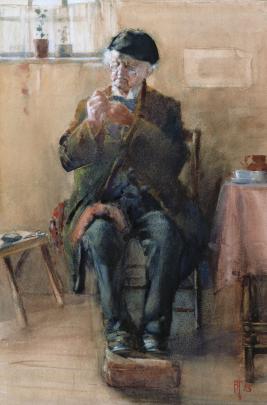 A plea to all Otago residents who own a Frances Hodgkins work has drawn some unknown and unseen works out of the region, Dunedin Public Art Gallery curators Lucy Hammonds and Lauren Gutsell tell Rebecca Fox.
A search to find unknown Frances Hodgkins works hanging in private collections in Otago homes has resulted in some surprising finds.
The Dunedin Public Art Gallery set out earlier this year to develop an exhibition on the Dunedin-born artist's supporters and connections to the city when she lived here and also to look for works that are still in private hands.
''The hope was to bring some work forward that people might not have seen,'' curator Lucy Hammonds says. ''And how the artist continues to have an important role in art collecting in the Otago area.''
It also acknowledges the tentative beginnings of the gallery's own Hodgkins' collection 113 years ago, and its subsequent development.
''She is an artist so strongly associated with Dunedin and the region.''
So they put the word out through the gallery's networks and the Otago Daily Times' art pages.
''We had a great uptake. It's been very successful; there were some surprises,'' Hammonds said.
As a result, 21 works will hang in ''Southern Selections: Collecting Frances Hodgkins in Otago'' exhibition, including a couple from the gallery and Hocken Library collections and one from Olveston.
''We received a number more works than we have displayed. We had to select them based on how they represent the period of time she was in Dunedin and the stories behind them.''
Some of the works which have been lent for the exhibition come from the wider Otago area and have passed through generations, while others have been collected more recently.
''It's an exciting mix of work. Everything from small-scale preparatory studies through to major paintings.
''They come with histories of why they were bought.''
The private collectors and families want to remain anonymous regarding the works.
''They're all in great condition. I think those families have a strong sense of the importance of the works and look after them.''
One work provided, a small portrait of a soldier killed at war, was thought to have been destroyed by fire so it was great to discover it still existed in the family collection it was originally done for.
''It was thought to be lost, so its excellent it's been found.
Another, Bird Bath, was last shown at the old gallery at Logan Park more than 20 years ago.
''We're thrilled to be able to show it.''
It was not listed in the catalogue of Hodgkins' work being put together by Auckland Art Gallery of all known art works of the internationally-acclaimed artist.
''It's exciting for us.''
The works also run the gamut from her early Dunedin works to her more modern works.
They include a work The Old Bachelor - A Stitch in Time 1898, which was held in the collection of Sir George Fenwick, an editor and manager of the Otago Daily Times in the late 1880s.
He was a supporter of Hodgkins, purchasing two of her works, and Old Bachelor later entered the collection of Very Reverend Percival James and was bequeathed to Dunedin Public Art Gallery in 1959.
Another work Maori Picnic (1900) has been donated into the collection during the development of the exhibition.
''It highlights how the gallery is committed to the artist and helping build and hold more representations of her work.''
The works from her time in Dunedin depict scenes showing where she was living and working in the city before she headed overseas.
As well as the hanging works, material will be included in draws from the collections of the gallery, Hocken Library and Dunedin City Council archives.
''We found a catalogue from 1898 listing the sale of the Fenwick work,'' curator Lauren Gutsell said.
''It provides the chance for people to get a clear understanding of what and why people supported Hodgkins.''
All of the owners to came forward with works had allowed the gallery and Auckland Art Gallery to build a better picture of Hodgkins' works.
''It's helped build an understanding of how the artist is represented.''
The exhibition has been co-curated by Hammonds, Gutsell and Dr Roger Collins.