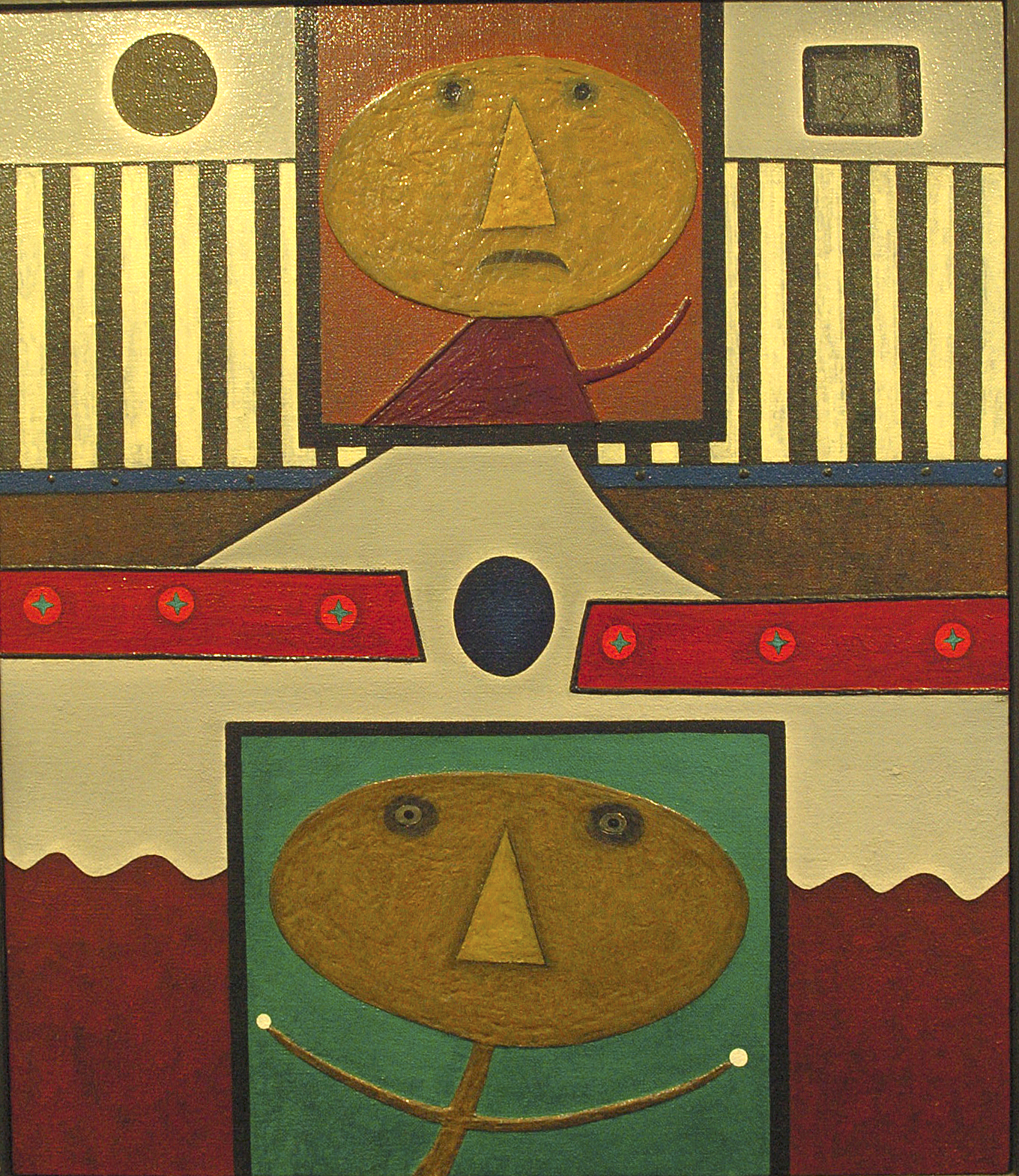 One of three works by Michael Illingworth (1932-1988) in the Hocken Pictorial Collections is
The Painter and the Poet
, from 1965.
Painted in glossy oils on hessian, the surface is a richly textured field of scumbled and smooth brushwork, tonal modulation and flat colour. Clean lines define form, and in some areas, thickly impastoed paint creates an edge of raised relief.
Jewel-like colours of emerald green and ruby red, set alongside subtle shades of maroon, blue and soft grey combined with a structured and dynamic composition make this an eye-catching work.
The dazzling variety of shapes and forms choreographed within the painting — including circles, ovals, rectangles, squares, curves, stars, dots and lines and their horizontal and vertical arrangement — possibly reflect Illingworth's interest in textile design, a subject he studied at the Shipley Technical Institute in West Yorkshire before arriving in New Zealand.
Within two squares outlined in black, communicating a sense of urgency with arms raised, are the figures of the painter and the poet. Like specimens in an alien zoo, each looks at us with unblinking eyes set into an oversized horizontal egg-shaped head. It is difficult to determine who is who, and perhaps it does not really matter in any case, because the figures in The Painter and the Poet are symbolic depictions of humankind which encapsulate the artist's views and concerns. The direct gaze and gestures of the figures may reference Illingworth's belief that the arts are too often undervalued and ignored in our materialistic society. His development and use of the characteristic egg-head shape was a response to contemporary environmental and political issues such as the 1962 Cuban Missile Crisis.
Illingworth said: "The shape of my heads I take from that which nature has drafted as the shape for protection [seen in such as the egg]. My bodies come from the pyramid. The head I make is often to act as a canopy against nuclear fallout. The pyramid seems a sensible fallout shelter also. An Egyptian deity lay safely for a long time in such a structure until pillaged by barbarians."
Born in 1932 in Yorkshire, England, Illingworth came to New Zealand in 1952 with his parents. He spent his early 20s exploring the country and for a year lived with the local Maori community at Matauri Bay in Northland. This experience deepened his respect for Maori and enhanced his aversion to European colonialism, materialism and disregard for the environment.
In the late 1950s, Illingworth left for Europe — travelling, working and absorbing the art and culture of Italy, England, France and Greece. Re-invigorated, he returned to New Zealand in 1961 determined to work as a full-time artist. His selection as the University of Otago's first Frances Hodgkins Fellow in 1966 was an acknowledgement of his artistic significance, an assessment confirmed by a sell-out solo exhibition at Barry Lett Galleries the following year. In 1971, Illingworth turned his back on the art world. Rekindling his love for the land and desire to return to nature, he and wife Dene and their children Seba, Hana, Kuika and Tama, moved to a remote scrub-covered farm in the Coromandel which they slowly transformed into a model sheep farm. Balancing the demands of farming and art was difficult, although Illingworth continued to paint until his death from liver cancer at age 55.
One of the most individualistic painters to have emerged from New Zealand's artistic flowering of the 1960s, his life and work continues to inspire contemporary artists. As a gesture of respect, The Painter and The Poet was selected for display in the Hocken's upper foyer space by 2019 Frances Hodgkins Fellow Imogen Taylor, whose exhibition of new work "Sapphic Fragments" is on show in the Hocken Gallery until March 28.
Robyn Notman is head curator at the Hocken Pictorial Collections.