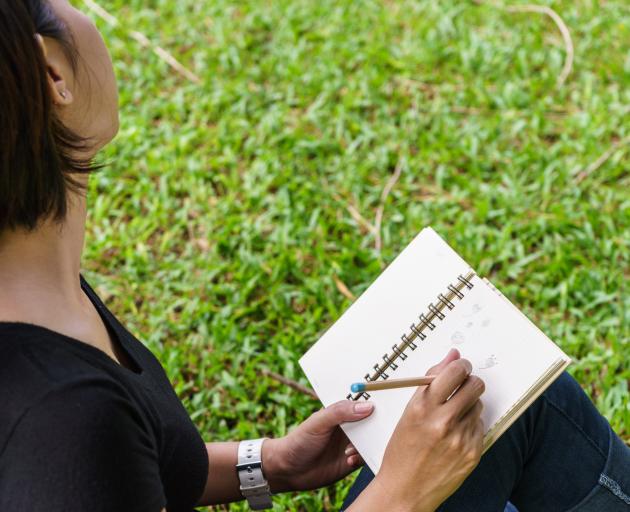 Thursday is National Poetry Day and the New Zealand Young Writers Festival, featuring three of the country's most promising young poets, is coming up. Rebecca Fox discovers why Dunedin is a hotbed  of poetry.
Dunedin is the most literary centre in New Zealand, Dr Paula Morris says. ''It is ground zero, especially for poetry,'' she said.
And she should know. She is a novelist teaching creative writing at Auckland University and a member of the New Zealand Book Awards Trust, which oversees the Ockham New Zealand Book Awards, the New Zealand Book Awards for Children and Young Adults and Phantom Billstickers National Poetry Day.
With some of the best events in the country planned to celebrate National Poetry Day being held in the city, and the New Zealand Young Writers Festival being held in the city early next month, Dunedin's status as a Unesco City of Literature remains in good stead.
''Dunedin has the greatest literary history and tradition and has a really strong association with so many important writers over the years.''
And that had not changed, the line-up for tonight's Poetry Day preview highlighting that, she said.
Ten acclaimed Otago poets are getting together at Dunedin City Library, including novelist, memoirist and poet Diane Brown; multiple award-winning poet Emma Neale; Lynley Edmeades, whose debut collection was published in April; Alexandra-based poet Michael Harlow; co-editor of Glottis: New Writing Richard Reeve; and past Poet Laureate Vincent O'Sullivan.
Events like these highlighted the place poetry played in people's lives, Dr Morris said.
''Whether you realise it or not a lot of us read poetry at key times in our lives like funerals and weddings.
''Lyric poetry speaks about our lives in a very personal way and is very popular here in New Zealand; it's accessible, authentic poetry.''
After major events like the Christchurch earthquakes, people reached for poetry, as she herself did during her evacuation experience after Hurricane Katrina in New Orleans in 2005, Dr Morris said.
''You reach for it in a crisis; it's direct, has immediacy and it immerses you in the moment, especially when you are in real emotional strain.''
While poetry might have a reputation as being only for the bookish, that was not the case, Dr Morris said.
''A lot of people hear poetry in its original spoken form before reading poetry.''
The many live events being held these days, many in unusual venues, allowed people to hear poetry, which was important.
''It's much more accessible, not an intellectual pursuit at all. It's like a music event. There is no barrier to entry.''
It was a brave move on the part of young poets to put themselves out there in such a public way.
''It's quite inspirational. There is no band behind them to carry them.''
New Zealand poetry tackled many different forms and subjects and exhibited a wide range of cultural influences.
''It speaks of our experiences, our vocabulary, our idioms.''
More small presses, digital publishing and the ability to share online meant it was much easier for writers to get their work out there. ''There are a lot of new voices out there.''
Award-winning Dunedin poet and editor of arts and literary journal Landfall David Eggleton agrees, saying his job gives him the ''wonderful opportunity'' to sift through thousands of poems to find the ''best of the best'' to publish.
''We have a very healthy literature culture at the moment - amazingly diverse, amazingly strong and amazingly rich,'' Eggleton said.
New work is coming from a variety of directions, including the plethora of creative writing courses, live sessions and the many boutique publishers of books and magazines.
''Landfall is the flagship publication for poets in New Zealand but is surrounded by a huge number of smaller literary magazines doing their bit to support and promote New Zealand poets to get the message out, to allow them to be heard,'' Eggleton said.
The literary culture of the city and in the country in general was strong, he said.
''It goes back to the very beginning. It's very much about heritage and we've had strong tradition of poetry and writers associated with Dunedin that has stayed constant right through for the last 150 years, in fact.''
Some of the most important New Zealand writers such as Janet Frame, James K. Baxter and Charles Brasch, the original editor of Landfall, all lived in or had connections to the city.
''Dunedin's a city of poets because we've had James K. Baxter living here, we've had Hone Tuwhare live here, Cilla McQueen, Brian Turner, all the great names.''
As tonight's poetry event shows we also have a strong current generation of poets such as Emma Neale and Sue Wotton, he says.
''There are 10 poets but we could have had another 10 poets in my view. There is that depth of poetry; such a wealth of writing in this region, town and province. It is a great place for poetry.''
Overlaying the regional depth was the lack of a hierarchy in poetry, which up until the recent past had ruled.
''Thankfully, that has been swept away and now we appreciate all kinds of poems and all kinds of styles and they're all valued for what they are. There is not privileging for one type of poetry over another.
''New Zealand celebrates poetry as part of freedom of expression. New Zealanders really love poetry, they're keen on it, they draw a lot from it.''
Thirty years ago Baxter and Brasch were in a way gatekeepers but now with the variety of outlets for poetry to be published that had broken down.
That development went hand in hand with the development of a national identity in the late 1970s and '80s with the likes of Sam Hunt coming through.
''It is a very important function of poetry to reflect ourselves. We can express our thoughts and feelings, we can be extravagant, we can be playful, we can be generous with language without fearing repercussions. It makes for a very rich culture.''
To see
Decadence: Ten Otago Poets, Dunedin City Library, tonight.
New Zealand Young Writers Festival, Words with Friends with Hera Lindsay Bird, Gregory Kan and Lynley Edmeades, September 1, University Book Shop Dockway.