THE LABYRINTH
Amanda Lohrey
Text Publishing
REVIEWED BY ALEX BLIGH
The Labyrinth is set in an imagined small seaside hamlet named Garra Nalla on the east coast of Australia, near Sydney. There is no shop, pub or petrol bowser, just a scattering of dwellings. The protagonist, Erica Marsden, has moved there to be near her son Daniel who has been imprisoned nearby for a heinous crime.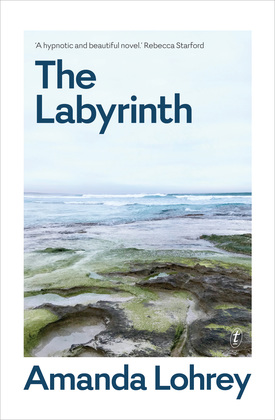 The wild coastal landscape is an apt backdrop for Erica's powerful emotions. She resists trying to tame her environment or improve the basic shack she lives in as they mirror her potent feelings. Amanda Lohrey describes Erica's mental state and memories in a fluid, dream-like way.
Her meandering musings are gradually brought into sharper focus when she decides to set about realising a vivid dream she had of building a labyrinth. Given her tendency to ruminate and lack of technical skill, Erica recognises she needs help bringing her dream to fruition.
She gradually lets the local people into her sphere, and Lohrey delicately describes these characters with an impressive depth. Erica's interactions with the locals at Garra Nalla become more meaningful as time passes and some unlikely friendships are formed.
The pain Erica feels about the path Daniel is now on, and his altered state, is channelled into the creation of this labyrinth. The remoteness gives her the space to be able to imagine an artistic way forward. Her grief is shoe-horned into an act of thoughtful creation as a way of healing.
The labyrinth is a metaphor for Erica's state of mind, and the confusion she needs to tame. Lohrey's novel is beautifully written and compellingly personal.
Alex Bligh is a local lawyer and Dunedin Writers and Readers Festival trustee