ODT books editor Helen Speirs reviews New Zealand picture books for children aged under 5.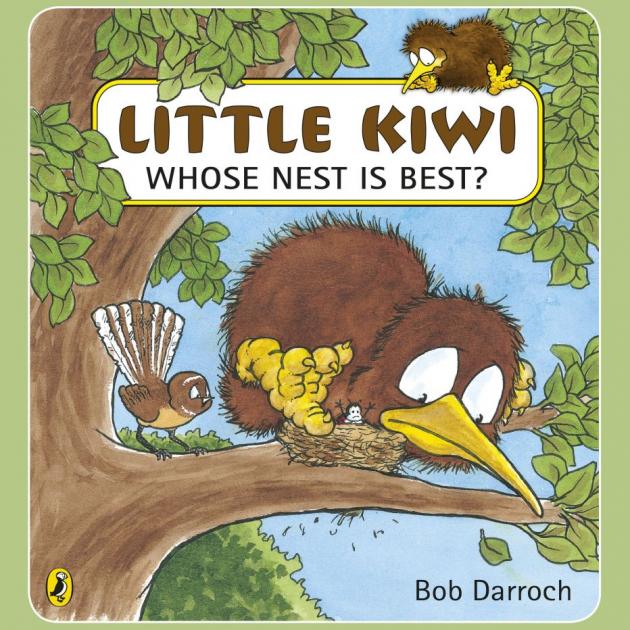 LITTLE KIWI: WHOSE NEST IS BEST
Bob Darroch
Puffin/Penguin Random House
Fifteen years of Little Kiwi books are marked with this latest title. Poor Little Kiwi can't sleep. Dad's snoring and Little Sister is kicking, surely there's somewhere better to get some shuteye? However, it's a rowdy neighbourhood: the little kaka are tumbling and wrestling, it's cold in the mountains with the kea cousins, morepork's nest is too high up . . . suddenly home doesn't seem so bad after all. Short and sweet and another winner.
LITTLE KIWI'S MATARIKI
Nikki Slade Robinson
Duck Creek Press/David Ling
Another little kiwi, and this one's also on a mission. As the moon shines deep into her burrow she senses something is different and rushes to wake Weka and Ruru and Tui and Katipo, who gather on the beach to witness the constellation of Matariki rising. Nikki Slade Robinson's moody night-time illustrations, and her wide-eyed wildlife, are simply stunning. A magical way to tell the meaning of Matariki. I love everything about this book.
THE HOUSE ON THE HILL
Kyle Mewburn & Sarah Davies
Scholastic
''The night was still, cold as a tomb, as two ghosts hastened through the gloom, drawn by the bell, the bell of doom that tolled in the house on the hill.'' The brave little ghosts make their way through the shadows and past all manner of creepy and ghoulish sights . . . and are in for a big surprise when they reach their destination! This is a Gothic, Edgar Allen Poe-inspired tale from the wonderful Kyle Mewburn, of Central Otago. The moody sepia illustrations by Sarah Davies are beautiful, too. Spooky!
THE MYSTERY BOX & FINNIGAN FLYNN
Lucy Davey & Cat Chapman
Scholastic
''When Finnigan Flynn heard the doorbell ring, he found on his doorstep a curious thing: a mystery box, tied up with string . . ." Ignoring the instruction on the label, little Finnigan opens the box, and a whole heap of highjinks ensues! This is a simple but delightful rhyming tale by Wanaka's Lucy Davy, complemented by lovely watercolour and ink illustrations by Aucklander Cat Chapman.
MUDDLE AND MO's WORM SURPRISE
Nikki Slade Robinson
Duck Creek Press/David Ling
Author/illustrator Nikki Slade Robinson's delightful duo of Muddle the duckling and Mo the goat are back - and this time they are going on a picnic. Muddle is preparing the essentials for her ''worm surprise'': big worms, little worms, fast worms and slow worms . . . unsurprisingly Mo isn't so sure. The appeal of the book lies in its simplicity: the illustrations, natural colours and the message. Simply gorgeous
!