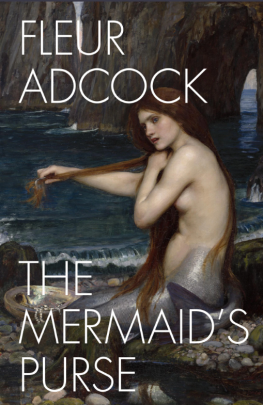 Hamesh Wyatt reviews latest works of poetry.
THINGS OK WITH YOU?
Vincent O'Sullivan
Victoria University Press
This is Vincent O'Sullivan's first collection in five years. A Dunedin resident, but these latest 80 poems hark back to his Catholic childhood in Auckland. Almost, as you would expect, lots of confessional poems.
"Sentimental story" ends:
...this child who knows it is something very different,
the end of the story and the middle are very different,
and the classes marched out in step
from the institutions, their breaths stinking,
their piss-smell clothes, get the weirdest nod
from the cagey infant: Let's bide our time.
O'Sullivan has always been a great observer of people. He is a thoughtful soul whose work still commands attention.
Things OK With You? is a little book full of surprises. He still has inspiration to spare.
THE MERMAID'S PURSE
Fleur Adcock
Victoria University Press
Foreign travels, family memories, deaths and conversations with the dead are the focus of this one.
Katherine Mansfield makes an appearance. Loss and sadness fill the rituals one Holy Thursday.
The last section is dedicated to Roy Fisher.
Back in England, Adcock pens "Election 1945":
The first election I can remember
is the one in which my father and mother
voted Winston Churchill out of office,
and we got the National Health Service –
which gave me an exaggerated view
of what democracy can actually do.
For the fans this is another gold-mine.
TOKU PAPA
Ruby Solly
Victoria University Press
This Ruby Solly's debut collection of poems. She is a young writer, musician and poet. This new work has a sense of place and family, a sense of goodness and peace.
There are lots of dreams in these 80 pages. She dreams of her dad.
"Cut" has this bit
...I tell you what happens and you cut me off with
I love you I love you I love you.
But never cut through to sorry.
Cutting the chord slowly, slowly.
Biting through it to cut my teeth in.
I've got my work cut out for me now.
I've got my work cut out for me...

Toku Papa is full of connection, especially with her hands and heart. This one is full of dignity.
SOMEWHERE A CLEANER
ed. Adrienne Jansen, Te Rongomai Tipene-Matua, Joan Begg, Wesley Hollis, Nicky Subono
Landing Press

A couple of years ago there were almost 39,000 cleaners in New Zealand. It is probably about time an anthology of poetry was put together by these thoughtful workers.
Somewhere a Cleaner is more than 170 pages and features poems in te reo, Samoan and English.
We have just had a year when we have been made hyper-aware of hygiene – an added significance.
This collection is full of songs, delightful poems, small poignant prose poems and even a limerick. Lynn Jenner's experience at Dunedin Hospital is in there too.
There is a note about each writer on the same page as their work. This collection is something to behold.
MAGNOLIA
Nina Mingya Powles
Seraph Press

Nina Mingya Powles, a Victoria University graduate has been living in London and making a splash in the literary world.
Magnolia was shortlisted for the UK's Forward Prize for Best First Collection.
This looks at young love with a sense of longing and beauty. Powles brings together her Pakeha and Malaysian-Chinese influences in what is a stunning debut.
This new voice is going places – and she is one of ours.
THE SETS
Victor Billot
Otago University Press

Dunedin poet Victor Billot has been pretty prolific over the last few years.
The South Pacific Ocean is an oracle of the future and a keeper of our histories. Billot has a mordant wit mixed with compressed rage.
He has the ability to be eloquent, tough, tender, accurate, challenging and fun. He has worked in communications, publishing
and the maritime industry.
"Alternative Book Titles for an Imaginary Airport Bookstore" is lively.
"Autumn in the South" begins:
The first leaves are fallen and the eye of an itinerant gull
returns to flakes of crust scattered at the feet
of lunchtime diners in the Queens Gardens.
Temporary custodians of the daylight world,
marooned on an island encircled
by the bitumen rivers of the one-way system...
I WOULD LEAVE ME IF I COULD
Halsey
Simon & Schuster
Grammy-nominated singer-songwriter Halsey has followed the likes of Lili Reinhart and Lana Del Rey, releasing her first collection of poetry.
This is angry stuff that looks at doomed relationships, family ties, sexuality and mental illness. Halsey takes a flamethrower to all these things. She draws on the eternal themes: love, struggle and death.
She enjoys being loud, crude and irresponsible. I like her rude energy, but it still feels like she is shouting.
"Battles":
Been biting my tongue till it bleeds
cry over things I don't need.
My mother told me
pick your battles wisely
but you made me angry
at the world
so I chase them all.
• Hamesh Wyatt lives in Bluff. He reads and writes poetry