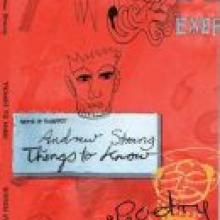 Andrew Strang was the youngest of 10 children, born in Invercargill. When he was six he moved to Dunedin.
He lived in Port Chalmers in the 1990s. Throughout his life he suffered from depression and took his life in 2000.
After Andrew's death several large boxes of poems were found.
Things to Know is a small selection of 45 poems written in the last five years of his life. You can feel the pain.
''Tea as I have never had it'':
if I was
without you
as I am
in the front
room
and everything was the same
but you were
gone
like a favourite
teapot
broken and thrown out
what would I drink
the contemplative cup of
tea
out of
and what could I
contemplate in the absence
of your milk
and
sugar
These poems are extremely personal. They open up a private struggle.
Things to Know contains a sadness, but is also light at its core.
John Dolan has written a thoughtful preface.
• Reviewed by Hamish Wyatt, who lives in Bluff. He reads and writes poetry.