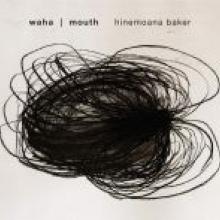 Hinemoana Baker is a writer, musician and sound artist.
She is a good friend of Viggo Mortensen.
On the back of her third book of poems she writes: ''I'd like to think that opening this book to read is like standing at the mouth of a cave, or a river, or a grave, with a candle in your hand.''
Waha|Mouth is a little book full of poems about grief, death, infertility, family and loss.
Yet, among all this, Baker offers a new insight into familiar darkness.
Baker has that ability to make heads nod and give a ray of hope amid scenes full of gathering clouds.
''road train'':
The woodworker puts me on public transport.
The moon is pale in the dark blue morning sky.
I wait on the vibrating bus, a fish with aching gills.
Parked beside us is a truck with other trucks and an army tank on its back.
The word is waha. The local murder makes noise in the nearby trees.
The bus driver boards as a road train thunders past.
No passengers in the front seats his canvas carry-bag is saying.
Baker has performed and read internationally and has released five CDs of music and poetry.
This year she has been writer in residence at Victoria University.
You can hear Baker pleading ''Don't turn away from me'' (''wellington'') and the anger ''The sun comes out like a f... miracle'' (''malady'').
I love Baker's inventiveness.
This is poetry done well - not sophisticated, lofty and weird.
• Hamesh Wyatt lives in Bluff. He reads and writes poetry.