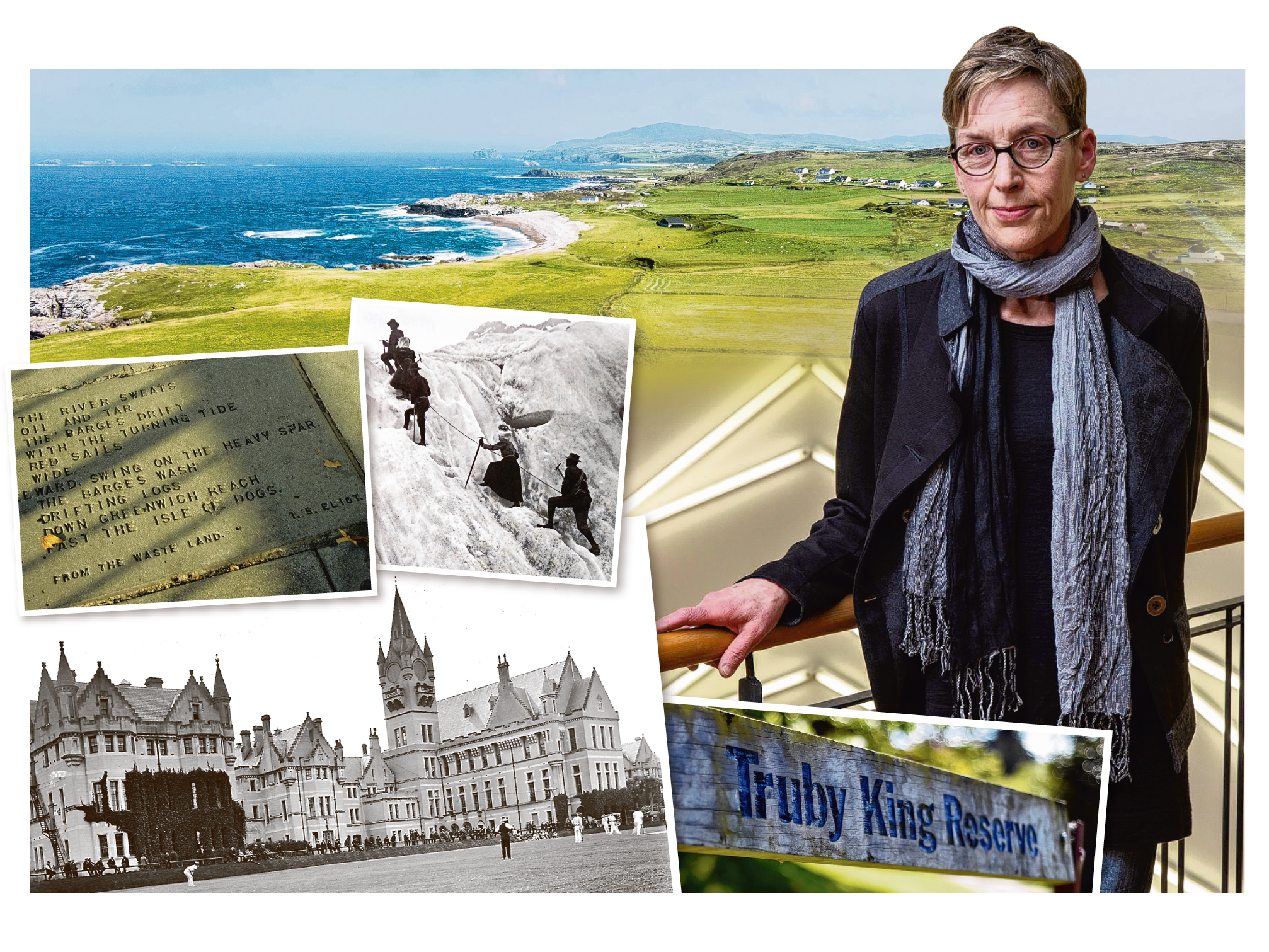 The daunting prospect of having an entire year to just write has been swept away by the need to create, Robert Burns Fellow for 2018 Dunedin poet Rhian Gallagher tells Rebecca Fox.

Having days, weeks, months to write has given Rhian Gallagher a chance to "open up'' to a new approach to her work.
"I've never had this before in my life, a year of just writing poems. A year of that kind of spaciousness, it's just something I've never experienced before.''
While having the opportunity of a full year of writing has been a positive experience, the 2018 Robert Burns Fellow says it has not been without its challenges.
"It can be daunting. It can be paralysing, because you are self-managing your time and structure.
"I've had periods of not producing and that's quite painful.''
She started the year with her "engine running'', as she had a backlog of work waiting to be done based on some historical research she had done as a result of her curiosity about the former Seacliff Mental Asylum.
"I have never done anything like this before. Even the way I have been writing this material has been pushed and shoved around.
"I've had to go outside my comfort zone.''
The manuscript she has been working on this year deals with ideas of relationship to place, notions of instability and home in the first half, and then the second half comes from research she has done on the asylum in relation to Irish migrants.
"Some of the work has led to exploring my own background.''
Gallagher's father is Irish, from Donegal, and some of the work explores her great-grandmother's life as a pieceworker during some of Ireland's tough times.
Her interest in Seacliff came from a chance visit to the site of the asylum while visiting a friend before she moved to Dunedin.
"I didn't know anything about the reserve at that point. There was something about that land that made an impression enough to stimulate curiosity so I did a little delving at that point - then it just kept on coming back.''
Researching the asylum also uncovered its Irish connection, which resonated with Gallagher.
"The Irish were over-represented there so that connection gave me more of an emotional connection or a way of feeling my way in.''
Many Irish migrants arriving on New Zealand shores would have had memories of the famine, the way it broke up families and how almost everyone had lost someone, she says.
"I think we have that thing today that migrants arrive and we want them to fit in and appreciate the opportunity of being here, but if they have been through enormous trauma by coming, it's almost like there is no place for that once they get here.
"That was my feeling of the Irish [that came here then], that they were still carrying the suffering from the famine ... then there was the isolation of New Zealand, the lack of Catholic churches so there was no gathering places, and single women travelling without a husband or a brother were morally suspect.
"It was really tough for women.''
Once she had all these threads of research, she was left struggling as to how to bring them all together.
"I was wandering around a bit not sure how to approach it - I wanted to enact individual voices but wasn't sure how best to do that.''
A lot of her research involved personal letters - the only method of communication in those times - and she drew inspiration from her favourite poets.
She realised the letter poem was a way of getting those individual voices across.
"I'm primarily a lyric poet but the way I was relating to it was not working, it was too tight, so I've gone into a larger piece almost like a prose column.
"I know it's a contradiction, a poem in prose.''
That process has occurred "step by step'' throughout the year but having the luxury of a year to write gave her the opportunity to do it.
"I've got days, I've got weeks, I've got months, so just thinking about that opened up the space inside me.''
For Gallagher, who grew up in South Canterbury and went to school in Timaru, writing poetry is something she has done since she was a teenager, although she puts her interest in the written word down to struggling to learn to read.
"It slowed me down to word by word. When I did learn to read I could never take language for granted; it always seemed to have a slightly mysterious thing about it.''
It was not until she moved to Wellington and "had a go at university stuff'' that poetry began to mean more. She did the Bill Manhire writing course but says she did not make the most of that year, as she was "too caught up in the protest movement''.
She headed off to Ireland with the idea of working there but it was the 1980s and there was not much work around so instead she found herself in London.
There she continued her university education and got involved in the publishing world.
"Being a bit later [in my university studies] was a good thing for me.''
It was in London she got her first real buzz from getting her work published in a magazine.
"I still do get that zing when I get something published in a magazine.''
She also had her first book of poems, Salt Water Creek, published in London. The work was shortlisted for the Forward Prize for First Collection in 2003.
In London she found a workshop at the Poetry Society she enjoyed and became part of the poet community, all while working her day job in publishing.
It was typical of her workplace for staff to also have creative enterprises on the side.
"So it wasn't strange. I was part of other communities too, the gay community.''
But the call of home became too strong and she headed home to Timaru.
"I had a hankering for being in my home territory. It was interesting, but some good things came out of it in the end.''
During that time she wrote Feeling for Daylight: The Photographs of Jack Adamson, a non-fiction biography published by the South Canterbury Museum. "It got me back into my home territory, into the Southern Alps, into the environment.''
Tramping is a precious pastime for Gallagher and she appreciates Dunedin's easy access to the hills.
"It goes back to a childhood love of being outside; now it's channelled into my tramping.''
She believes people's distance from the environment makes it easy for them to cause so much harm.
"We are not separate from nature.
"I got into the environment to be woken up. You do leave things behind but you are also more attendant to everything around you. Whether it is looking at a tree or a bird or just sitting by a river, it's that detail of what we are seeing and experiencing.''
Learning to write about that was something she was still trying to learn.
"I'm trying to find ways of doing that that is not, I suppose, overly romanticising it.''
She loves reading the works of younger poets, as many of them are finding new ways of communicating that are experimental.
Gallagher won a Canterbury History Foundation Award in 2007 and her second book of poetry, Shift, won the New Zealand Post Book Award for Poetry in 2012. It was also included in the NZ Listener Best Books list for 2011.
In 2016, Gallagher collaborated with artist Lynn Taylor and Otakou Press printer-in-residence Sarah Smith to publish poems on the life and activities of Freda Du Faur (1882-1935), the first woman to climb Aoraki/Mt Cook.
She is unsure what her next move will be, as she still has to finish the manuscript before moving on.
"Some bridging time would be good.''
Robert Burns Fellowship
• Established in 1958 by group of anonymous Dunedin citizens
• Commemorated the bicentenary of the birth of Robert Burns
• Shows appreciation of the part played by the related Dunedin family of Dr Thomas Burns in the early settlement of Otago
• Aims to encourage and promote imaginative New Zealand literature Is an annual 12-month fellowship
• Provides an office and a salary of a full-time university lecturer
• Recent recipients include Craig Cliff, Victor Rodger, Emma Neale and Fiona Farrell
Arts coverage
Today is the final Otago Daily Times Arts page for 2018.
The page, along with the Gig Guide, Highlight reel and Take Note, will be back on January 17.
Merry Christmas.