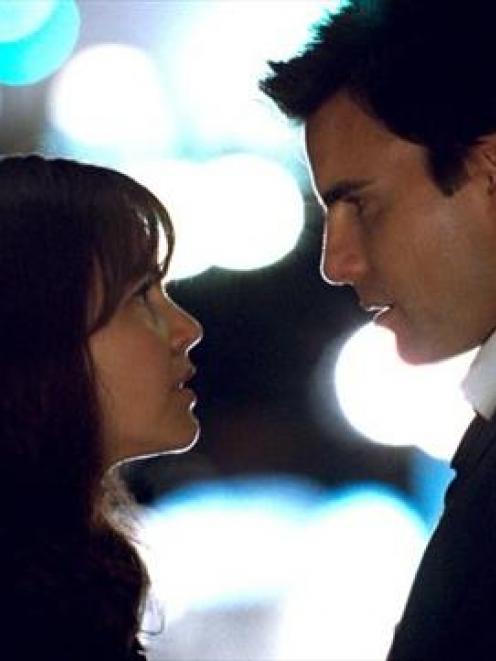 > Something Borrowed
1 star (out of 5)
Director: Luke Greenfield
Cast: Ginnifer Goodwin, Kate Hudson, Colin Egglesfield, John Krasinski
Rating: (M)

Something Borrowed (Hoyts) is supposed to be a cute chick-flick about a girl, Rachel (Ginnifer Goodwin), who starts an affair with her best friend's fiance in the lead-up to the wedding. The premise is that the affair is not cheap and tacky, because they love each other.
Rachel met Dex (Colin Egglesfield) at law school but was too afraid to be anything more than friends and when he met her vivacious bestie Darcy (Kate Hudson), she limply stood aside convinced that no-one could like her more than Darcy. So the affair is not cheap and tacky. Instead it is lame and drippy, a much better outcome.
The funny thing about chick-flicks is that although they are supposed to be pandering to female audiences, they frequently fail to register our interests and obsessions.
I knew we were in bad hands with this one when early on Darcy got tipsy and told Rachel she hated the shoes she was wearing. Nothing wrong with that, we care about other women's shoes, but then in a gross piece of incompetence the so-called ugly shoes never again came into shot, so no-one has any idea if Darcy had a point.
If the film-makers are unaware that matters, then how can we trust their take on personal morality?

Best thing: Considering her normal breezy charm, Kate Hudson has a fair stab at making party girl Darcy unlikable. Why she bothered is another matter.
Worst thing: Where to start? Actually, when even your supposedly likeable characters are jerks it is pretty hard to recover.
See it with: Your best friend and her fiance - or maybe not.
- Christine Powley