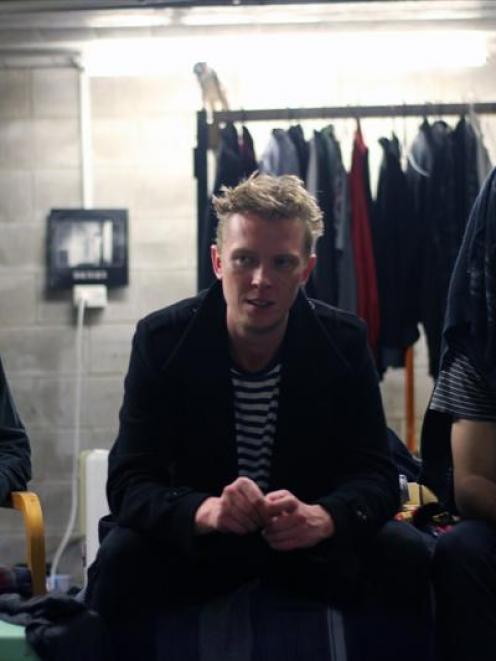 A lot has changed for Auckland trio Popstrangers since Suitable Alternative last spoke with the band.
In February last year, the band had just signed with New Zealand record label Flying Nun Records - part of the label's proposed plan to ''continue to promote new and innovative New Zealand music'' - and were readying their debut album for release in May 2012.
Now, almost exactly a year on, that same debut album, Antipodes, is finally to be released, this Friday, March 1, on American independent label Carpark Records (Cloud Nothings, Toro Y Moi, Beach House). It won't be on Flying Nun Records, as Popstrangers have joined the likes of Dunedin punk-trio Die! Die! Die! in severing their connection with the rebooted label.
''We basically wanted to do different things that [Flying Nun] couldn't help us with at the time, so we went our separate ways,'' guitarist and vocalist Joel Flyger said from Auckland.
It's a familiar story regarding the Flying Nun camp, and one can only assume by ''different things'' Flyger means actually releasing music. In hindsight, ending ties with Flying Nun appears to be a great decision. Their new label Carpark's reach and influence is far greater than their former home. For Flyger, the label's heavy promotion of the album and seeing the band featured on independent music tastemakers such as Pitchfork and Spin still comes as something of a surprise.
''It gets to the point where you've put in so much effort and struggle that you just want to get it out there,'' Flyger says.
''It's weird - when we recorded the album, we were just as prepared for it to be released and no-one to hear it,'' he said.
''Like we'd put it on Bandcamp and just nothing would happen. Everything that's happening is just exceeding my expectations for the record. It's pretty cool.''
It is all deserved attention, of course. Antipodes' two lead singles - Heaven and What Else Could They Do - are both fuzzy pop gems with killer choruses and punkish energy, and the album seems set to deliver plenty of similar joys.
Sonically, Flying Nun still feels present as a musical touchstone. There are shades of the Gordons' debut album and Future Shock EP here, Bailterspace too in its more progressive and melodic moments, and even fellow former label mates Die! Die! Die! in the high-energy bass, drums, guitar punch. It's an influence leading many overseas to call the record very ''New Zealand-sounding'', something echoed in the album's name, Antipodes.
''We're kind of an isolated country so the name just kind of fit the themes of the record and the artwork really well,'' Flyger said. After performing in Dunedin next week, the band will head back to Auckland to open for '90s ''ear-bleeding country'' legends Dinosaur Jr., then embark on an Australian tour before emigrating to the UK later this year.
---
Catch them
Popstrangers' Antipodes Tour visits Re:Fuel on Friday, March 1 with support from Two Cartoons and Males. Start time: 10pm.
Tickets $10 on the door, or $5 with a student ID. Antipodes is released Friday, March 1 at popstrangers.com. It is streaming now at soundcloud.com/carparkrecords/sets/popstrangers-antipodes.
---