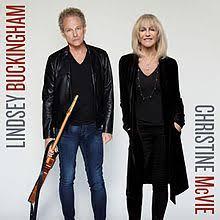 Fleetwood Mac fans as well as casual passers-by will recognise these names.
Yes, two-fifths of the rock colossus has headed to the studio and come up with a 10-song duo album that shows big choruses can almost (but not quite) cover up for occasional by-the-numbers clangers (Too Far Gone). 
Still, inviting drummer Mick Fleetwood and bassist John McVie along for the ride has had its obvious benefits, allowing Buckingham to revel in his guitar technique, an assured hybrid of folk and country fingerstyle and distorted wig-out.
McVie brings the air and lightness of touch, her warm vocals a foil to Buckingham's more gritty delivery (Red Sun and Lay Down For Free are classic Mac).
• Lindsey Buckingham/Christine McVie. Self-titled. Warner Music. 
• Three stars (out of five)
Single download: Red Sun
For those who like: Elton John
— Shane Gilchrist