An audience with Jonathan Lemalu in St Matthew's in the City, Auckland, on April 29 proved to be an exhilarating experience.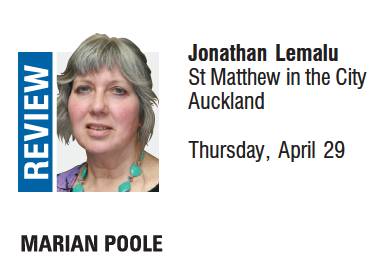 Despite a frustrating year in locked down London with no gigs and no deadline, Lemalu has gained immeasurably in his craft.
The voice has deepened and has greater fluidity, capable of astonishingly rapid articulation.
The breath control has reached a new level of excellence.
Incredibly long lines produced at full volume with apparent ease are followed with equal apparent ease by clipped articulation and whispers.
Lemalu is now, of course, a well-seasoned performer on the world's opera stages, at the top of his game but still exploring greater interpretative freedom, more willingness to bend the line for dramatic purpose and take advantage of aspects of his repertoire unheard before.
The devil is in the detail and, as Lemalu notes, the devil invariably sings bass.
John Drummond's I am a bass and Covent Garden Song, both echoing Gilbert and Sullivan, confront the audience's pretensions but gently, so as not to unstring the pearls.
Well-known solos from four of Mozart's leading basses - Osmin, Musetto, Bartolo and Papageno - are delivered expertly with due reverence to dramatic portrayal and minimal pretension.
Before launching into a thunderous crescendo in Rossini's depiction of the repercussion for those who purvey ''fake news'' - Don Basilio's La Calunnia, Lemalu departed from the programme to introduce two new talented and impressive singers from the recent Auckland School of Music workshop. We wish them well.
The programme concluded with Lemalu's signature coverage of popular classics. Highlights include Ol' Man River, sung a reverberating tone lower than written (because he can), Britten's Bottom from] Midsummer Night's Dream and Stravinsky's Nick Shadow from Rake's Progress.
Lemalu, proudly accompanied by pianist Robert Wiremu, gave a very special and now treasured performance.
 * Jonathan Lemalu is performing in Dunedin this Sunday, May 9, at 2pm at the Dunedin Town Hall.