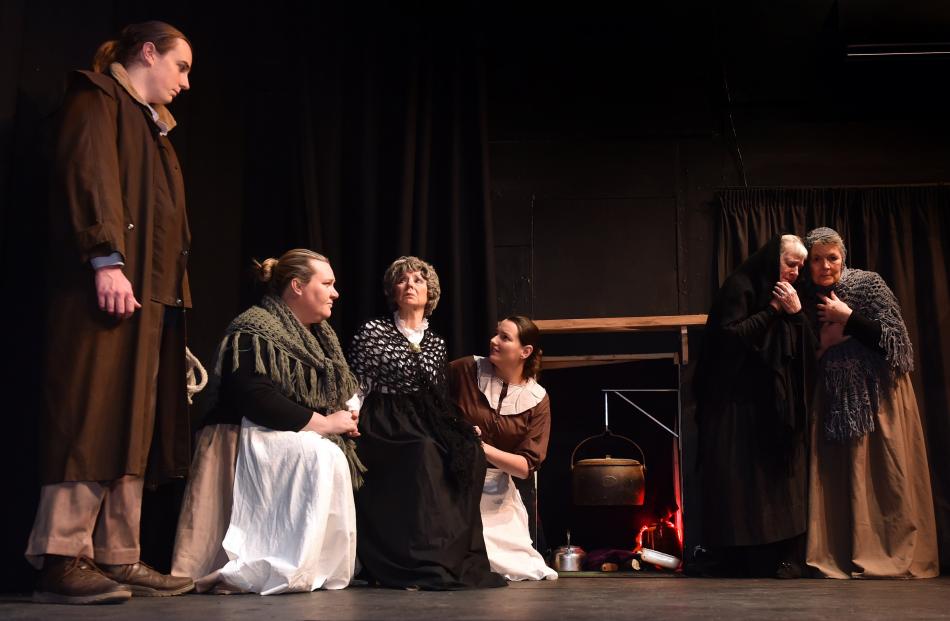 Two very different plays — one classic, one new — hit the stage at the Globe Theatre this month. Rebecca Fox discovers their Irish connection.
Sending your man off to sea, never to return, or competing for the Tidiest Town competition might seem wildly different, but both are strong Irish traditions.
And the trials and tribulations of both have been captured by Irish writers more than a century and a world apart.
Riders to the Sea is a play written by Irish literary renaissance playwright John Millington Synge and first performed in Dublin in 1904, while Emer Lyons' The Green was written in Dunedin in 2016.
Dunedin's Globe Theatre has pulled the two together on one bill for its winter season.
Spokesman Keith Scott said the theatre had always prided itself on reaching out to new playwrights and giving people a chance, as well as staging plays no-one else would do.
For Lyons, it is a chance to have her first play staged after it was workshopped as part of the 4x4 Emerging Playwrights programme at the Fortune Theatre with help from then Robert Burns Fellow Victor Roger.
''We had a rehearsed reading of it in the Fortune.''
With the demise of the Fortune, the Globe has stepped in to provide her with an opportunity to fully stage the show.
''It was such a tragedy, the Fortune, but it is great to have the Globe which for me is such a great community.''
The 15-minute short play is about a small community in Ireland which every year puts its heart and soul into cleaning up its town for the Tidiest Town Competition.
''It's all under threat. It's a comedy.''
The play is being directed by Martin Swann, and Lyons, a contemporary poetry PhD student, is very excited about the production.
''Dialogue comes to Irish people naturally. It is a great counter to Rider on the Sea.''
Lyons is from Cork, Ireland, and has had first-hand experience of the lengths a community goes to for a Tidiest Town competition.
''It's based loosely on my neighbours. They reckon it's hilarious. No-one recognises themselves. It's a heightened version of them. They're very house-proud. Keeping up is a very big thing.''
The actors who did the reading will perform the play - Ruth Wheeler as Cornelia, Sandy Cleary as Doris, Richard Huber as Tob and Emmett Hardie as Peter.
Scott said Synge was known for his major work Playboy of the Western World, but not so well for his shorter works such as Riders to the Sea, which was perfect for the Globe's winter season.
''No-one will have seen this play anywhere else, so it's a chance to see a Synge play. He is up there with all the great Irish dramatists.''
Riders to the Sea director Louise Petherbridge said the play was important for its time as up until then tragedies had been about the ruling classes, not ''poor people''.
''Suddenly, poor people could have tragedies to.''
The play is about a mother and her daughters facing losing the menfolk of the family to the sea.
''It's a very simple story. It's beautifully written, very clever.''
As Synge lived near the sea, she believed he would have had first-hand knowledge of fishermen not coming home.
As Scott says: ''It's a story of loss to the sea, of the womenfolk left behind and how they cope with that.''
''They show incredible stoicism.''
Petherbridge said while it would be easy to fall into sentimentality, she would ensure it did not.
''I had tears in my eyes the other night and we're not even finished it.''
Drama teacher Terry MacTavish plays Maurya, Rosie Dunn Cathleen, Orla Dick Nora, Reuben Hilder Bartley and extras will be played by Yvonne Jessop, Emmett Hardie and Richard Huber.
Lyons said the play was quite timely given recent world events concerning the families of refugees and asylum seekers being torn apart.
She could also see how Synge got this inspiration from living on Inishmaan, one of the Aran Islands, an area where many writers go to write.
''You can imagine at the time the bitterness, being windswept and bleak.''
To add an extra dimension to the ''Irish night'', they had invited Kathryn Olcott's Irish Beat Dancers to entertain between plays.
Olcott said she would join five of her dancers to entertain the audience with a mix of old and new Irish step dances, including a traditional hornpipe.
To see
Globe Theatre Winter Series, An Hour with the Irish,  Fridays until July 1.