It has been six years since Matthew and Benedikte Onarheim-Smith danced together professionally. Now, in a different country and working different professions, the pair have dusted off their skills to revisit and reinvigorate a work for the Dunedin Fringe Festival. They talk to Rebecca Fox about the unexpected nature of their work.

The upcoming Dunedin Fringe Festival (March 18-26) features more than 80 events across 50 venues and, while restricted mostly to New Zealand acts, there is no shortage of the weird, wonderful, creative and experimental.
The last time Matthew Onarheim-Smith performed his upcoming dance piece, he proposed marriage to his girlfriend and dance partner, Benedikte.
At the end of the piece he got down on his knee and proposed with a giant pretend ring.
Benedikte burst into laughter.
The audience did not know what to think. Neither did Matthew. Did the laughter mean yes?
Then it was like what do they do now. Do they bow?
"People didn't know what to think, was it a genuine reaction or was it part of the piece," Matthew says.
While the research work was a play on relationships and they like their dance pieces to be unexpected with each dancer changing things up occasionally, that surprised even Benedikte.
"I didn't know what was going on. It was priceless. After, people didn't know whether to congratulate us or not," she says.
That was six years ago in Norway, where Matthew and Benedikte were both dancers trying out a new concept piece.
But it is a surprise they will not be replicating in the latest version of the work "This Piece Won't Change the World".
"Although we can't go to those lengths this time as we are married, we want to explore what is real or not real."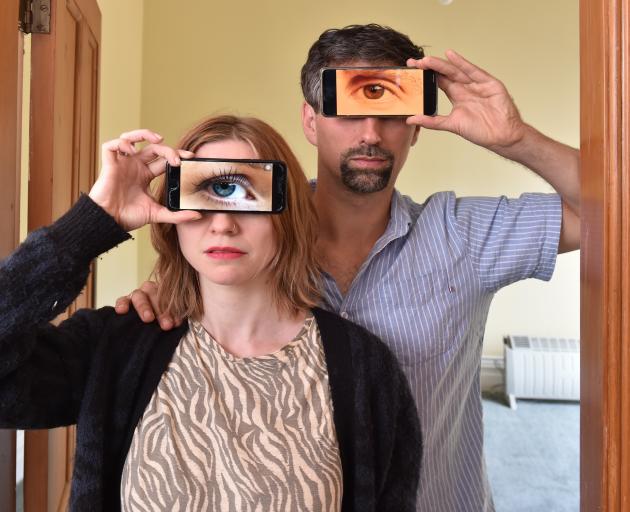 The couple moved to New Zealand five years ago, coming to Matthew's home town Dunedin, and now have two children.
Matthew works as an osteopath and was the 2019 Caroline Plummer Fellow at the University of Otago. Benedikte is a pilates instructor.
They have decided to revisit the piece for this year's Dunedin Fringe Festival.
"We wanted to fulfil the promise of that work," Matthew says.
It is a big commitment to fit around being busy parents and full-time work. It is also a return to dancing in way they have not done in a long time.
"We're older, I've had two babies - that affects things in my body. In the beginning I wasn't sure I could do that any more but a couple of days into it, the body remembers. There's a few aches and pains."
Previously when they did the piece they were professional dancers, now they are doing it as a past-time.
"Now at rehearsals we can be so dead from life, it's a challenge."
They have built a new scene for the piece which Matthew believes parents will recognise and it will resonate with them.
"This Piece Won't Change the World" is a play on relationships where the couple take on different characters, some cliched, some more real, sometimes as themselves.
"Not just us but different characters in relationship to each other. It's playing with all these different levels of truth. The boundaries are blurred."
Each of the three performances in the festival will be slightly different as the dancers make real time decisions on their movements within the structure of the work.
"Someone can choose when something will occur but there are clear scenes to follow."
That meant each dancer had deal with that decision as it happened within the parameters of the characterisation and personalities.
They also use their voices, talking to each other and sometimes singing.
"We sometimes switch roles, it can be really fun. You think, wow I didn't expect that," Benedikte says.
"You might not like what the other person chooses but you have to deal with it. It is part of the challenge — a genuine authentic reaction to what is happening."
They hope it creates a more alive performance.
"When it works it really works," Benedikte says.
As well as developing it into a full-length piece, they have invited designer Martyn Roberts of lighting and sound collective Afterburner to add to the work which is being performed at St Hilda's Collegiate's new performing arts space.
"It's exciting working with Marty with his lighting expertise and ideas," Matthew says.
It was not until after they began work that a friend reminded Roberts and Matthew that they had worked together 20 years ago in the United Kingdom.
"It was so long ago Martyn and I struggle to remember it but it's been nice reconnecting."
Roberts has had to get his head around the new venue and the playfulness of the piece.
"When do I start interrupting either with sound or light. I might displace the light."
This gives another unexpected element for the dancers to deal with.
"We're not going to take it personally when the light suddenly disappears off us," Matthew says.
In rehearsal, Roberts has moved on to the stage to fix lighting.
"I love how that breaks down the barriers. Whether I will or not but the invitation is there."
For Roberts, looking in at the performance, he can see a real tension.
"At any point it could spin out of control a wee bit but they always keep it in control so it'll be interesting for an audience to experience that.
"From an audience perspective, you are always wondering are you looking at the couple or a facsimile of a couple or am I encountering two archetypal figures?"
As the show was being staged at St Hilda's it meant pupils could watch rehearsals and the Onarheim-Smiths could teach.
"It gives us an opportunity to expand young people's sense of what performance can be and hopefully inspire them," Benedikte says.
Matthew switched on to dancing when he saw a Footnote Dance performance at Otago Boys' High School.
"It would be nice to try to do the same."