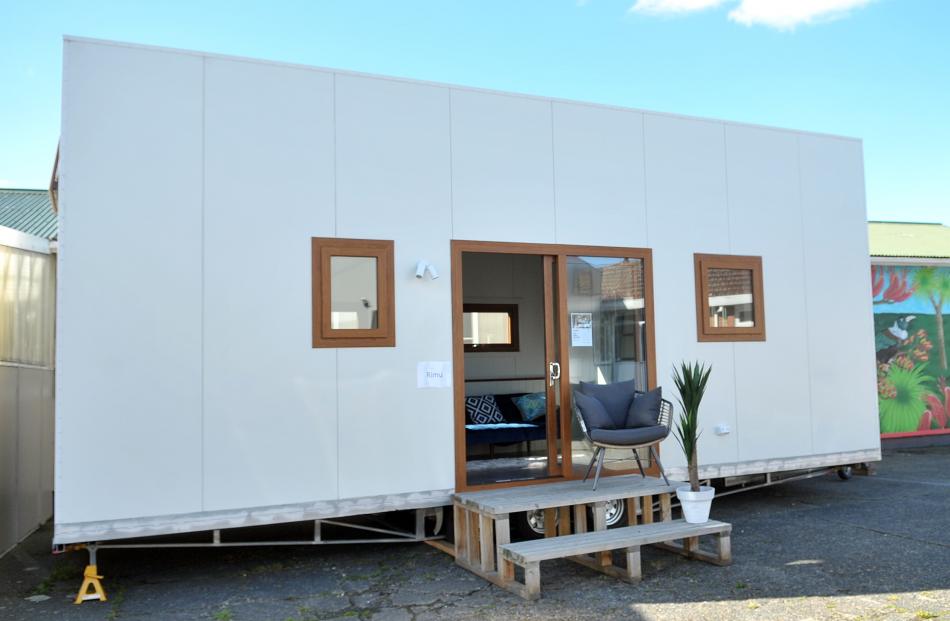 Two tiny homes constructed by Level 3 students at Skillsec are to be sold at auction this month.
Some of the proceeds from the auction will be donated to community groups aligned with the Dunedin training organisation.
Both tiny homes — one matai, the other rimu — have been built by students on the 14-week Level 3 Certificate in Building, Construction, and Allied Trade Skills course.
''After covering costs, some of the proceeds from the Rimu tiny house are going to the community,'' Skillsec owner/operator Leisa Roos says. ''We are donating proceeds to three organisations who have helped us, and they're unsung and need a little bit of support.''
South Dunedin based SuperGrans is one of the organisations. Their volunteers offer practical, real life experience in areas such as cooking, sewing, numeracy, literacy, and communication. SuperGrans work in the community, and have helped Skillsec students.
Another organisation is the Otago Youth Wellness Trust, who look after the wellbeing, and support youth in schools and other institutions. They are long-term supporters of Skillsec.
The other donation will be for an onsite support person for Maori - a position that currently exists in partnership with the Kokiri Training Centre.
''Dunedin is full of support groups that are not well funded and are doing it because they want to give something,'' Skillsec's Norm Roos says. ''We want to support some of them because they're really awesome.''
Leisa and Norm have just celebrated their 30th wedding anniversary. Prior to taking over Skillsec (then the Dunedin Trade Training Centre) five years ago, they farmed in Central Otago.
Although they still do that, the couple felt they'd achieved what they'd wanted to, and were looking for a new challenge.
''It's all about making a difference,'' Leisa says. ''We wanted to give back to the community. We felt we were in a pretty good space and when the opportunity came up to purchase a family-owned business we jumped at it.''
Skillsec are all about education, training and employment, across building and construction, agriculture and horticulture, automotive and mechanical, and aged care.
They also create a supportive environment to wrap around the many youth that come through their doors, and work hard to effectively set them up for the world of working life.
''Our students have to come in on time, put the phone away, communicate with each other, work in a team, all those employability skills,'' Leisa explains. ''We treat this as a workplace because the next step is work. That's what we try and instill in them.''
Tiny home building is a great learning experience for those seeking to work in the building industry. As Norm says, there is going to be a huge demand for labour in that sector over the coming years. There is an opportunity available for those students studying Level 2 building for NCEA to do some work on the tiny homes.
An example of this was someone who came to Skillsec through their contract with the Ministry of Social Development to support job seekers into employment.
''One gentleman came in under that programme looking for work,'' Leisa relates. ''He had some qualifications around carpentry. So from our ReSkill programme he went on to the tiny house Level 3 course. He graduated and we saw the potential and hired him, and he's actually been teaching here now for two months and is doing a really good job.''
• The two tiny homes will be sold at auction on Saturday 17th April at 1.00pm on site, 14 Bridgman Street, Kensington, Dunedin.
If you would like to view beforehand then we have an Open Home on Saturday 10th April, 1.00pm – 3.00pm.
We are also holding an Open Day on Wednesday 14th April from 10.00am – 3.00pm.
Another chance to look through our Tiny Houses but also an opportunity to tour our centre & see how we can help you.
www.skillsec.co.nz or visit Facebook