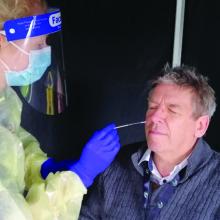 The Gore, Balclutha and Oamaru communities did their bit over the last couple of weeks by getting tested for COVID-19 at pop up testing centres.
Southern DHB Medical Officer of Health Dr Susan Jack has thanked the communities for getting a COVID-19 test.
"It helps us be sure there is not COVID-19 circulating in our region, and means that if we did find it, we're in the best position to stamp it out quickly."
Special thanks to WellSouth Community and the local authorities who co-hosted the events with Southern DHB, and everyone in the community who had a test.
Check out these other Better Health South Stories:
Better Health South - Board Update September 2020
Team effort creates therapeutic garden
Diabetic Foot Clinic rolled out in Southland
Dean of Otago Medical School visits Southland Hospital
New Dunedin Hospital project flying the flag for suicide prevention
Talented hands and big hearts