A putiputi (flower) who has grown into a kowhai tree.
That was the way Kaumatua Mohi Timoko described Aylah Fisher, as the Southland Hospital nurse received a New Zealand Nurses' Organisation (NZNO) Te Runanga o Aotearoa award.
The award recognises Aylah's outstanding contribution to Southern Te Runanga o Aotearoa NZNO in the three years she has been a nurse at Southland Hospital.
Aylah, 24, studied at Southern Institute of Technology, graduating in 2016 with a Diploma in Nursing.
Te Runanga o Aotearoa Southern Chairperson for Te Poari NZNO Matewai Ririnui said Aylah's contribution to healthcare has had an incredible impact on those she provides nursing care to, particularly but not limited to Maori.
"She is welcoming, warm and engages with whanau when they are at their most vulnerable, and sometimes with not a lot of support readily available to them," she said.
The award also recognised her dedicated delivery of indigenised nursing care, whilst maintaining appropriate nursing protocol, she said.
Her colleagues describe Aylah as hard-working, quiet, unassuming and committed.
"You carry a lot on your wee, little shoulders, but you also have your iwi and whānau behind you," visiting Māori nurse Hineroa Hakiaha said.
Aylah said it was important to enjoy work, and she approached every day with a smile on her face.
"I'm absolutely loving my job, and I'm learning every day," she said.
It is believed to be the first time the award has been given in the Southern region.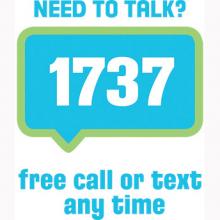 Did you know that there is a phone number you can call free of charge if you need support?

1737 free text/phone number service (www.1737.org.nz) will connect you to a trained counsellor who can help if you have feelings of anxiety, helplessness or just need to talk to someone.

1737 can be reached from landline or mobile phone, 24 hours a day, 7 days a week. It's designed to meet the needs of anyone who 'wants to talk.'
Click on the headlines below to read more: