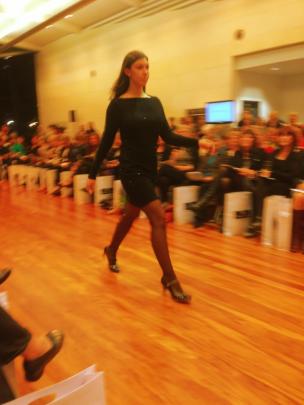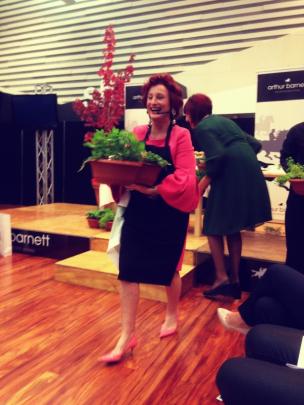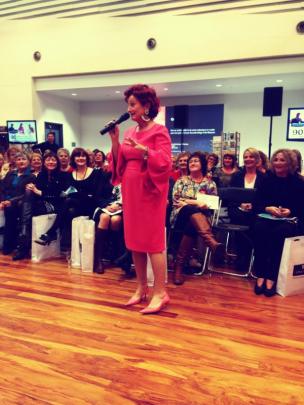 I am standing in a room filled with chrome, shiny surfaces. I see my reflection in the bench top and smile back at myself.
I look great.
Lacy tights and a pair of bright pink high heels. I have a dress on over the top of my tights of course- I'm not a porn star after all. It fits me perfectly.
You know how it is- the type of fabric that you know is expensive just by looking at it. Cinched in at the waist, plunging neckline showing a hint of naughtiness but not to the extent where you would think that I was cheap.
A vintage apron finishes my fabulous ensemble- part of my extensive collection that I have accrued from my travels to multiple countries on cooking tours- Southern France, Italy, India, Morocco. The travel has been exhausting but I know that the satisfaction that I have given my fans has been worth it.
I give myself a little pep talk.
"Keep baking. The people need you. That chocolate self-saucing pudding is the best ever! You owe it to them to share, to teach them."
Action!
I turn around and begin my segment to the applause of a live studio audience. They are sickeningly appreciative. The satisfaction is overwhelming.
I couldn't love myself more right now.
Anyway. Sorry. Where was I???
Oh that's right. I'm sitting in the audience at an Arthur Barnett event remembering I am not Peta Mathias.
Passionate. Energising. Stylish. Confident. Peta Mathias is the woman you really want to be when you grow up. As she sweeps onto the stage, one cannot help but be enchanted by her innate, lusty awesomeness.
As much as she is famous for her food, her fashion savvy is clearly apparent. Dressed in a luxurious pink Trelise Cooper frock, Peta Mathias clearly has it going on. While she had me at her latest book title, 'Beat Till Stiff', it wasn't until she burst into song in fluent French (by audience request) that I really knew I was in love.
An event by Arthur Barnett, 'Fashion and Food with Peta Mathias' was a night of tasters of many descriptions. Models paraded up the catwalk wearing the freshest new season offerings from Trelise Cooper, Ben Sherman, Lola Espelata, Sissy, Noa Noa, RM Williams, Coop and Sandwich.
Guest speaker Penny Gin also spoke of the latest looks from Gregory and Riccochet for the coming season.
"This winter is all about voluminous tops and curvy bottoms. 60's inspired overcoats and narrow legged pants. Texture is also key, an interplay between minimalism and opulence. It's about minimal shapes using luxury fabrics for a look that is cool, modern and chic."
And then there was the food. Amidst a collage of crostini's, sliders (little buns if you don't know), anchovies (not the cheap ones), oils and dips, the ever-sassy Peta pushed back her sleeves, whipped on an apron and proceeded to talk us through the delicate art of speedy dinner party preparation. For people of fabulousness, of course.
"Make sure your cupboards are always stocked," she croons, donning a cheeky smile and grabbing a can of tuna. "When you have spent all day being fabulous and then remember you have invited friends over for dinner you want food that looks like you've made a lot of effort when you actually haven't".
She giggles, leans over and takes a sneaky bite from a morsel on the table. I love her more and more.
Food demonstration over, Peta is back on stage to give us her most sincere fashion advice.
" The ladies before mentioned wearing the right clothes for your body. It's called 'asset management' people," she laughs.
"But in addition to that please, never go to the the gym, and then from the gym (or run) to your favourite café. Go home, take that disgusting spandex off and then come back to the café."
"And, if you are in any doubt as to whether an item of clothing suits you or not, ask your teenage daughter. Teenage girls are merciless."
One can't help but quite agree. Spandex is only for the gifted or the blind.
Janine Tindall-Morice, from Arthur Barnett, was delighted with community reaction to the evening.
"We were thrilled with the public response to this event, with over 300 tickets selling out within days of going on sale.  We believe this demonstrates Dunedin women's interest in fashion, in food and of-course the irrepressibly stylish and hugely entertaining Peta Mathias. 
"This event signals Arthur Barnett's desire to engage with our female customer in a fresh and dynamic new way." 
As for me, well, there's no use waiting. I'm heading out for a bag of sliders and a hard copy version of 'Beat till Stiff'. Quite fabulous I would think.
- By Jane Pike