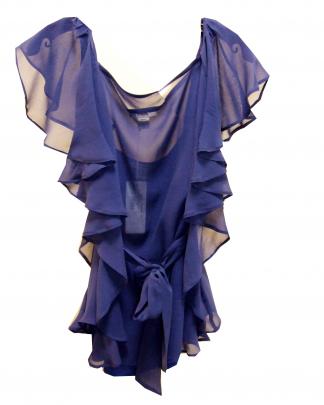 Jude Hathaway goes looking for the latest fashions from the northern hemisphere "summer 2010" ready-to-wear shows and finds Dunedin stores well-stocked.
While New Zealand fashion enthusiasts wait impatiently for summer 2009 to kick in and allow them to give their new-season gear an airing, the northern hemisphere runway shows have already shown the 2010 summer collections of the international design elite.
From the best seen in the plethora of imagery from Paris, Milan and New York, key trends emerged to be quickly reported by top fashion online sites.
This gave rise to the question: are any of the key looks in shops for New Zealand summer 2009 a close match for those of next summer?
In a nutshell - not quite. But the subtle differences may simply be because Australian and, in particular, New Zealand design is individualistic, idiosyncratic and dancing to its own tune anyway.
Much has to do with the fabrics and colours. It is evident that after the mish-mash and muddle of clashing prints and explosions of colour a couple of seasons back, things are settling down a little this summer and in 2010.
Mesmerising patterns and colours are still there, but many of the prints are smaller and less bold, offsetting the floral brights that are coming through in some ranges.
This season's silhouettes, which include everything from pert triangular shapes and classic slimline looks through to long, flowing dresses are also showing next season, which means budget-conscious consumers can shop with confidence now knowing that their more trendy garments will not have lost their edge in summer 2010.
~ Top Trends ~

• FRILLS AND FLOUNCES
Offshore designers such as Marc Jacobs have featured garments lavishly embellished with flirty flounces and frills, which are incredibly girly and pretty. They're here too. Those with less than perfect legs shouldn't go near the shorts or the miniskirts. Stick to the tops for that ultra-feminine rush.
• SHORTS
It's the summer of shorts and although not all age groups will want to climb into the cute little romper styles, with their pleat and gathered details and their banded or rolled-up legs, there are longer just-above-the-knee styles. These come in wide-ranging guises from go-anywhere utility styles through to sleek satin-cotton fabrics that have a luxe sporty aesthetic.
• FLOATY DRESSES
For cool, elegant comfort there is nothing quite like floaty, feminine long dresses, which continue to have a strong showing on northern hemisphere catwalks. They also feature in the ranges of several New Zealand and Australian designers. Depending on the print and the style they can be worn happily at the beach or barbecue, a summer afternoon wedding or pool party.
• ETHNIC AND RETRO PRINTS
Pretty prints, from those with cultural overtones to those that evoke feelings of hippiedom revisited, are peppered through this summer's ranges, as they are in several northern hemisphere summer-2010 collections.
• LACE
Either you love it or you don't, but romantic, timeless lace will endure, luring designers every season with its charm. It is back this summer - and was also seen in the 2010 collections.
• NATURAL TONES
This summer natural tones are to the fore, including "nude" colours, described as "the monochrome base of choice" but possibly not the most flattering to wear unless as undergarments. However, those with darker skin tones can look fabulous. These natural shades also incorporate more flattering soft dove-greys and creams.
• HOT COLOURS
"Mineral" green, which is a slightly darker tone of lime green, is big, as are melon pink, electric blue and vivid red.
• SPORTY LOOKS
It can be in the fabric or the cut, but there is definitely a sporty element insinuating itself into some fashion lines. But these are not for completing the next half-marathon, attending yoga or Pilates classes or for walking the dog. They should be incorporated into the wardrobe to be worn on an everyday basis.