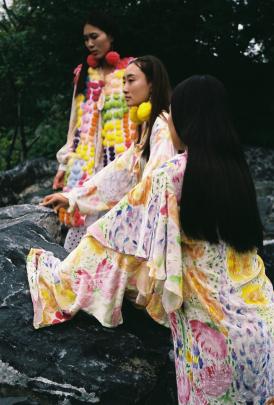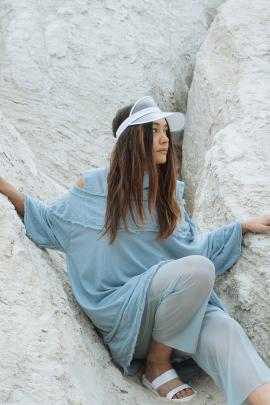 Otago Polytechnic honours fashion graduate and aspiring fashion writer Brittany Pooley has joined the Fresh team to provide an insight into Otago's fashion scene, starting this month with a look at Dunedin students heading to New Zealand Fashion Week.
As the fashion industry eagerly awaits New Zealand Fashion Week (NZFW), three Otago Polytechnic graduates prepare to take their collections to the nation's catwalk.
Laura Bennett, Letitia Powell and Kimberly Ramsey have been selected by Otago Polytechnic to show their graduate collections in the 2017 New Zealand Fashion Week Graduate Show.
The show presents a new generation of emerging designers on New Zealand's most prestigious fashion platform. Bennett, Powell and Ramsey are some of the local design school's highest achieving graduates of 2016.
Otago Polytechnic professor Margo Barton said the trio have been curated to represent the school for their ''overall cohesion from Otago Polytechnic's top graduating students for 2016''.
A condition for entry was to ''expand their collections to meet the required eight outfits for the Fashion Week runway show''.
''This is a wonderful opportunity for these students to showcase their designs and network with the press and industry. Their collections can also be used as a portfolio piece for their futures in fashion.''
As she prepares to take her collection to Auckland this weekend, Bennett says Dunedin is New Zealand's ''largest local fashion hub''.
''The exposure from NZFW to media and industry professionals is incredibly beneficial for us graduates.''
This is the second time a handful of Otago Polytechnic's top graduates have presented at NZFW: last year's selection of emerging designers Ariane Bray (Ariane Bray), Kenya Quin (WINIFRED) and Julia Palm (JPalm) represented the polytechnic at the first NZFW Graduate Show and continue to thrive in the industry.
Now seen as graduate ambassadors for the School of Design, Bennett, Powell and Ramsey say they are grateful to Otago Polytechnic for this opportunity and the ongoing support since graduation.
The polytechnic has financed each graduate for the NZFW event registration and offers their time for one-on-one design and styling sessions, otherwise known as ''crits''.
Ramsay, who graduated with honours, said that without the polytechnic's support, alongside that of friends and family, ''I couldn't be where I am''.
Here's an insight into these designers' collections as they prepare to take on NZFW.
Laura Bennett - A LUCID DISTRACTION
Having won the iD Emerging Designer People's Choice Award, Bennett is no stranger to our local fashion community.
Even so, she felt amazed and humbled by her selection for NZFW.
''In our local industry and as a recent graduate, you can't get much better than being able to show your collection at New Zealand Fashion Week.''
Bennett said there have been sacrifices to get her collection runway ready.
''I've had to significantly cut back my hours at work, and when I'm not working, all my time has gone on to developing new outfits - I really want to make the most of this amazing opportunity.''
Bennett describes her collection as ''an invitation to escape the digital realm into the solace and wonder of nature''.
Her show draws on nostalgia through Bohemian era silhouettes and a bright and buoyant colour pallet.
Bennett added three outfits to her collection, staying loyal to her love for natural fibres and craftsmanship.
This is shown through Bennett's watercolour painting, which is translated into a digital print and washed across the collection.
Bennett's multisensory collection brings a tactile touch with merino wool roving, which is handwoven into her garments.
She explains it as ''different natural fibres, colours and textures combine to express a sense of sophisticated femininity alongside a feeling of wonder''.
With her label Laura Marris, Bennett approaches the New Zealand fashion industry with her philosophy of ''minimalist designs with a maximalist aesthetic''.
Letitia Powell - IMMERSED
Powell's IMMERSED focuses on ''the therapeutic properties of floating in water. Utilising soft tones, layers and organic lines''.
She says it puts an ''emphasis on textile manipulation and a cohesion of raw hems and refined finished blends luxury and deconstruction''.
Powell's show will hit the runway for the second time this year, this time extended, reworked and restyled, ready for the national stage.
After debuting at the 2017 iD International Emerging Designer Awards, Powell recognises the value of prestigious events such as NZFW.
''It's such a great opportunity to be selected to showcase my work in such a recognised space. It was such an honour to find out I had been chosen.''
Powell has immersed herself in her research in preparation for the show, maintaining a consistent mood as she extends her collection.
She describes her design process as ''heading down rabbit holes'' and has built IMMERSED through textile exploration, drape and traditional pattern making, all skills she developed during her time at Otago Polytechnic.
She said of her collection development: ''It is difficult to put yourself back into the headspace you were in, it felt so final at the time, but it's all part of the challenge''.
The workload preparing her collection had been intensive, she said.
''The duration of the process feels really long and things that seem minor end up taking multiple days sometimes but in the end, it's such a satisfying and tangible conclusion.''
Powell said she has a ''great network of friends and family who support me and remind me to eat and sleep, but it is a juggle''.
''I've rekindled my love of caffeine.''
Her interest in fashion came from her awareness of social injustices which take place within the industry and was inspired by the prospect of being involved and informed in the change as it takes place.
Aiming for ''cool, calm and considered'' this emerging designer offers a refreshing, unpretentious approach to fashion.
Kimberly Ramsey - END OF THE BEGINNING
Ramsay's honours collection END OF THE BEGINNING is ''influenced by the versatility of merino wool fibre and its sustainable potential when combined with the handcrafted technique of felting,'' she says.
Her design aesthetic was borne out of the relationship between textile and garment.Ramsay's specialty skills are exhibited by unconventional construction techniques as she translates her felting into contemporary fashion.
Through a mosaic of silks and wools, she delivers innovation to tradition, she says.
After being told of her selection, Ramsey revisited her roots in the Otago Polytechnic textile room to start work on expanding her graduate collection.
She says her focus has been creating more felted textile designs.
''Preparing for the show has taken a lot of time and dedication. I have been working three jobs, so any spare time that I've had has been committed to extending my collection.''
She takes pride in the transparency of her practice.
''The wool fibre used in this collection was sourced and processed all within the Otago region, enabling me to trace the merino fibre's journey from sheep to garment.
''With the majority of New Zealand's wool being shipped overseas for processing, transparency became a leading value.''
Through her sustainable approach to fashion with her label Kimberly Olivia, Ramsey hopes to brings pride to the local wool community as she takes on NZFW.
Follow them
To follow and support these emerging designers, visit their websites:
www.lauramarrisbennett.com
www.kimberlyolivia.com
www.letitiapowell.com
-By Brittany Pooley