Sean Brosnahan finds the connection between a red suede jacket and a Hungarian immigrant.
Coming to New Zealand as a non-English speaking refugee, cut off from your homeland by war and politics, is a significant challenge. It was a common story for many Europeans who made their way here in the mid-20th century.
One who eventually flourished in Dunedin was Zoltan Fias. Born in 1917 at Karcag in central Hungary, Zoltan was a law student when war broke out in 1939 and joined Hungary's merchant navy. But he ended the war in Germany and appears on a United Nations' list of "Foreigners and German Persecutees", probably having endured forced labour.
Five years later, from a refugee camp in Munich and with a German wife and young daughter, he was selected for immigration to New Zealand. Interviewed later in life, he recalled "a sudden fascination with the words 'Maori, Maori, Maori' in his head. He had no idea what this meant but when he was told it was the native people of New Zealand, he went to a Munich book store to find something about the country. All they could give him was a book about Captain Cook's voyage to New Zealand, but that was sufficient to prompt an application to immigrate".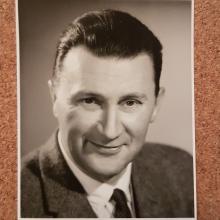 Arriving in Invercargill in 1951, he worked in various jobs, including a law office, as a baker, and as a carpenter. His marriage broke up and he moved to Dunedin. There he stumbled upon an ability to make leather garments, in the 1970s. He set up a small business in Moray Place with a second-hand treadle sewing machine and never looked back. He regarded New Zealand as "the land of opportunity" and was glad he had chosen to live here. He retired from his business in 1991, aged 74, and was killed five years later in a car accident. One of his garments, this smart red suede jacket is on display at Toitu.