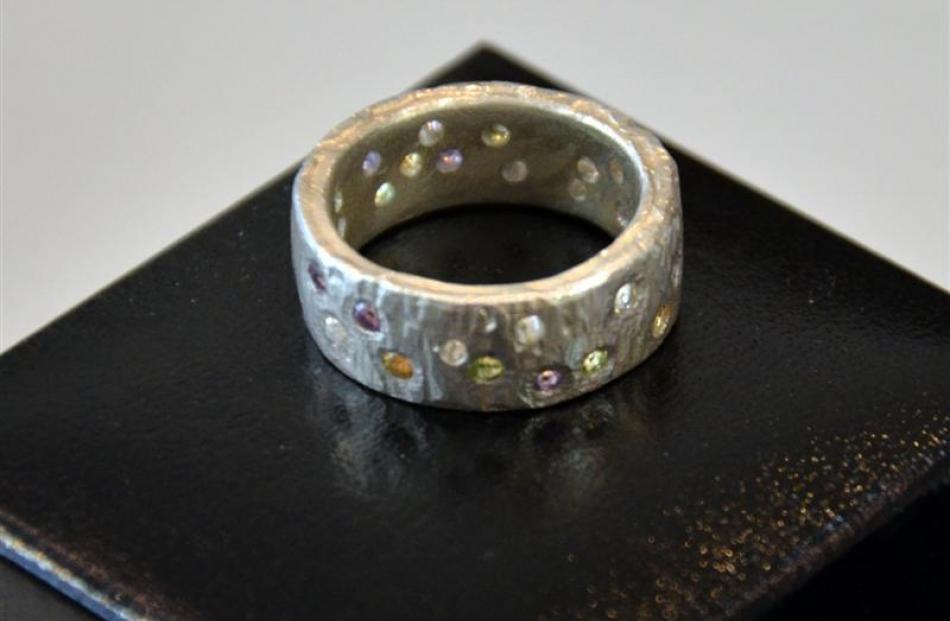 Jeweller Jade Muirhead has a heavy heart and is delighted with it, reports Emily Cannan.
Like a magpie, I'm drawn immediately to its sparkle and shape and even its surprising heaviness. I sigh, realising I don't just want one, I have to have one. The tiny heart swings on the long simple chain around her neck, with an exaggerated point and faceted planes, the silver is bright but in a matt finish, like most of the jewellery in the Darkblack range; quite the contradiction to the brand's ominous sounding name.
"Choosing a name for the label was the hardest thing," says jeweller Jade Muirhead.
"I ended up sitting down and writing everything that I wanted the label to stand for. I looked at who would buy it, what other labels they would wear ... and found that it was very Dunedin-fashion based, where black and dark came up a lot."
Muirhead set up in business in mid-2010 after studying jewellery and metalsmithing at the Otago Polytechnic Dunedin School of Art. There seemed to be demand for her designs, and she was motivated by the idea of working for herself and doing what she loved most, creating edgy and unique jewellery.
"I have always been interested in the arts and after finishing high school, it just seemed right to go to art school.
"I went there to be a painter, but my first unit ended up being jewellery and metalsmithing, and I fell in love with it immediately. It was an amazing course and I had some really inspiring tutors."
Muirhead also went through the Pace Artist Development Agency, run by Antony Deaker, which she says gave her the knowledge she needed to run a business.
"I also joined the Dunedin Fashion Incubator, to help me understand the fashion world. It was also a really beneficial mentoring programme for me. I have gained many industry mentors, both fashion designers and jewellers, which has given me an amazing insight to the fashion world, and helped me deal with any problems I've come across."
When asked why she makes jewellery, the response comes without hesitation: "Because I love it; I love the joy people get from wearing a piece of my work, and I like making people happy."
Muirhead works mainly in silver and gold, with a preference for using high-quality, lasting materials.
"I feel that my customers want quality pieces of jewellery, quality that they can feel, so I don't use any materials that won't stand up to wear and tear.
"Their weight makes them expensive to make, as it's solid silver, but I won't compromise that."
Muirhead's most popular piece is a pen-lid pendant - which is faithfully rendered, complete with bite marks, in a range of colours.
"They started out as a side project at art school but then lots of people were wanting them. They've been a recurring piece through a couple of my collections."
Muirhead aims to release a new collection every year. Her latest collection, "All That Glitters" was launched during the recent iD fashion week, which resulted in good exposure for the young jeweller. The new range includes the "Weight of the Heart" pendant necklace with oversized oval chain.
"This is my favourite piece out of all of my work. This piece was the start of my obsession with hearts. I made this piece to go with a Lou and Ash knitwear collection on the catwalk of iD Fashion Week 2011."
Another piece, a large "Facet Forest" ring also employs faceted planes, and again its solid silver casting is comfortably heavy and oversized on the hand. A "Candy Ring" is set with a variety of gemstones - amethyst, peridot, citrine and topaz - scattered through its roughly finished wide band.
She explains that the solid silver range, which also includes much larger heart pendants, has a great "fall" and movement with the body, almost pendulum like, adding to its ease of wear.
"It must be comfortable to wear and jewellery that makes the wearer feel special. I've purchased jewellery before that turned out to be really uncomfortable and found myself really disappointed. Comfort has to be the most important aspect of my design."
Muirhead shares a studio in the Shed space in the Queens building with Quadrant Gallery owner and jeweller David McLeod, and also works with fellow art school graduate, creative photographer Emily Hlavac-Green.
The jewellery trade requires Muirhead to learn and explore new techniques constantly and she enjoys researching the history of jewellery to expand her knowledge.
"It's really important that I'm also keeping up with the fashion world and the big part that jewellery plays ... I'm always exploring new ideas and ways of making. There are so many jewellery techniques I want to learn."
---
Darkblack
See the full ranges of Jade Muirhead's jewellery collections at www.darkblack.co.nzDarkblack Jewellery collections are priced between $110 and $600. It is already stocked in seven locations throughout in New Zealand including Carlson in Auckland, Rouche in Christchurch, and Salisbury Boutique, Moi, and Quadrant Gallery in Dunedin.
---
-Emily Cannan.