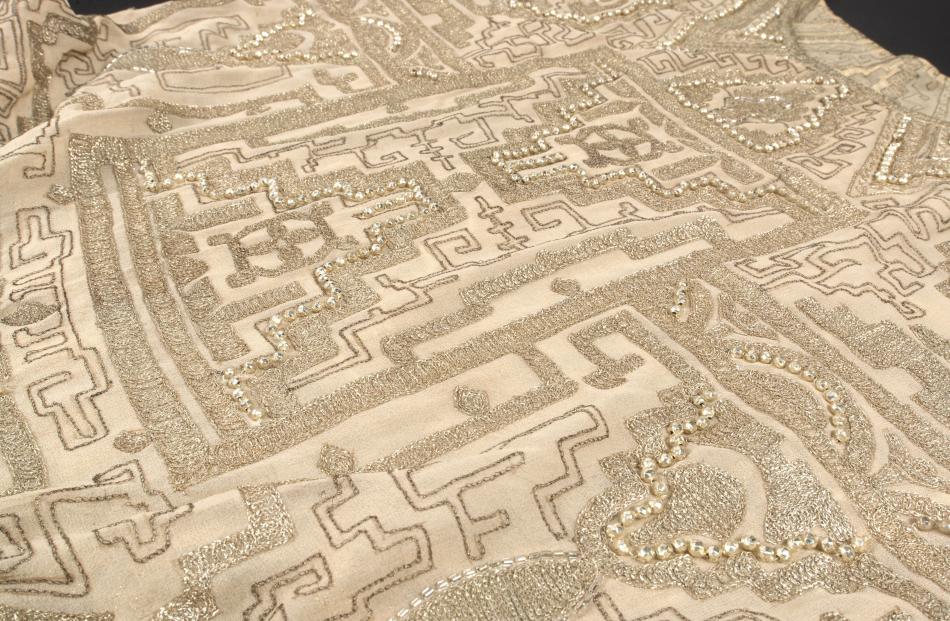 The allure of the unknown and the intrigue of the exotic have been influential in fashion design since the inception of clothing, Amy Parsons-King discovers when talking to Madelyn Shaw, of the Smithsonian Institution, on a recent visit to Dunedin.
Madelyn Shaw works for the largest and one of the most prestigious museums and research facilities in the world.
As curator of textiles at Smithsonian Institution National Museum of American History, Shaw's curiosity about where fashion came from and how it transfers from culture to culture has grown.
She recently shared her thoughts on what she calls ''exoticism'' at a talk at the Otago Museum.
Shaw graduated from Binghamton University with a history degree, unintentionally ''falling'' into theatre costuming after completing her studies.
It was her experience as a costumier which eventually led her to the Boston University Theatre Department where she taught costume, and although many influences led to her interest in the exoticism of fashion, it was working as a costumier that truly ignited her passion for the history of clothing.
''When you're working on making costumes you have to research the history of what you're doing - like how things were cut, the kinds of textiles that were used. I got to be very interested in the area of exoticism.''
While working in Boston, Shaw found herself with some spare time, so decided to volunteer at the Boston Museum of Fine Arts in the fashion and textiles department, where she assisted with an exhibition of 18th-century costume and textiles. The experience prompted her to pursue a career as a curator.
''I thought, You can do this kind of work for a living? This can be a job? Wow! So I went back to graduate school to do a degree in museum studies.''
After completing her second degree, Shaw worked as a curator with fashion and textile collections in New York, Washington and Rhode Island before deciding to work freelance.
She consulted with museums throughout New England and elsewhere in the US before securing her current role as curator of textiles at the Smithsonian, 18 months ago.
It was during her time freelancing that she first began to think through the concepts around exoticism and fashion.
''During those years freelancing I loved it because I got to see so much of what people had in their collections and it got me thinking, 'Where do all these things come from?'. I discovered the transmission of culture and how people relate to other cultures really intrigues me.''
Shaw describes exoticism as the romantically unfamiliar.
''Exoticism means to come from somewhere else. You don't really know much about it and there's a sense of mystery or a beauty that you don't have around you that's somehow intriguing to many people.
''I feel that ever since there have been human beings, there have probably been people saying, 'You know in the next village, the way they braid their string skirts is way cooler than the way we do it. Let's try that because it's novel and might be a little exotic'.''
Exoticism has been evident in clothing almost since the beginning of the written word. Tiny fragments of Indian printed cotton from the 7th century have been found in Fustat, Egypt, indicating there was trade between the two countries in the fabric.
Exoticism goes beyond simply using cultural references. It can also include current events, politics, commerce, conquest, leisure travel and the natural environment - essentially if it has geographical distance, it can be considered exotic.
''To me cowboys aren't exotic, but the Australian drover is because it comes from far away,'' Shaw says. ''The other way may be true also. For an Australian, the drover isn't exotic but cowboy boots are. I think there needs to be some kind of distance to make things exotic.''
Shaw says exoticism is often romanticised because of associated mystique, but she acknowledges it could be seen negatively as appropriation.
''I think you have to be aware of the cultural context of something you use, and I think it's incumbent on everybody to be sensitive to the cultural ownership and patrimony.
''The danger of appropriation is that things lose their connection with their original meaning because they've been over-used.''