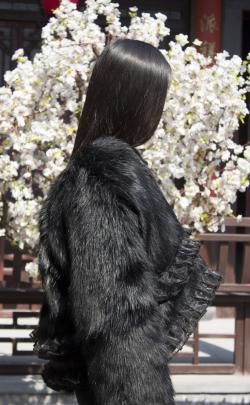 All eyes were on the catwalk recently as seven Otago Polytechnic fashion students showed their finest garments at Shanghai Fashion Week.
The third-year students gained the international experience as a result of a sister city project that sees Dunedin designs taken to China and Shanghai-designed garments shown here.
The project, now in its third year, also involves photography students capturing the collections in each other's countries.
Daniel Kwok, whose red dress features on The Weekend Mix cover this week, says it was an ''amazing'' opportunity.
''We see a lot of big international designers on the internet but when we went to Shanghai, we saw all these young emerging designers who have been graduating the same year as us and doing quite different things to what you would expect ...''
Kwok's cotton and silk organza dress, which he hand-dyed and screenprinted, was a key piece in his ''east meets west''-themed collection.
Born in Hong Kong, he has studied in England and Dunedin for the past eight years and likes to combine Western and Asian elements in a contemporary way. As a result of the trip, his next collection will have ''a bit of a Chinese influence''.
Dr Margo Barton, academic leader in fashion at Otago Polytechnic's School of Design, says the partnership with the Sino-French Institute of Fashion Designers, a department of the Shanghai University of Engineering Science, is one of several ways students have contact with designers from other countries.
''We're right at the bottom of the world and fashion's a global industry so it's really important that students get the opportunity to engage on an international platform.''
''Shanghai, a city of 14.35 million people, and Dunedin, a city of 126,000 people, offer vastly different cultural foundations and experiences for both the students and the staff involved ...
''The project aims to use the language of fashion and fashion photography to develop connectedness and communities of practice across the ocean.''
This year's theme, ''future cultural visionaries'', called on students to reflect on their own cultures and figure out where fashion might go in the future.
Dr Barton says they had to not only deliver on quality and in the time available but present a range of different looks for their group show, which was shown in its entirety on the internet.
Selected by polytechnic staff, the seven designers were among 18 third-year students who began working on their graduate collections at the end of July.
Designs from the Shanghai university students were shown at the polytechnic's annual fashion show last week.
For Kwok, next month's graduation represents a turning point. The 21-year-old has been selling his custom-made bow-ties through the Barkers men's clothing shops and a floral summer dress through Void. Next year he plans to work in retail full-time and produce his own collection under the Kwok's Revolution label that he founded in 2012.
''Finishing my study and being out on my own is quite terrifying,'' he says, ''but at the same time, I have quite high hopes for myself. I just need to [put in] more time and do my best.''
ON SHOW
The bachelor of design (fashion) students showing in Shanghai were Meg O'Connell, Michaela Poots, Duncan Chambers-Watson, Simone Watson, Lucy Anderson, Jessie Wong and Daniel Kwok. The bachelor of design (communication) students who photographed the garments were James Russell and Laura Benjamin