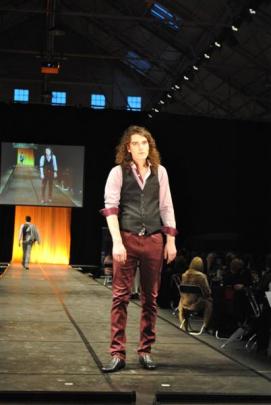 For the 13th consecutive year, the Zonta Club of Metropolitan Dunedin paired up with Dunedin's fashion design and retail sector to raise a substantial amount for charity. Jude Hathaway reports.
The enthusiasm was evident as rain-washed patrons poured in to the Kensington Army Hall in Bridgman St for what for many has become an annual fix of extraordinary fashion.
The Zonta Club of Metropolitan Dunedin once again pulled off an entertaining sartorial event, proceeds from which this year will go to its chosen charity, Endometriosis New Zealand.
The audience of about 350 was primarily there last week for an overview of fresh summer lines served up by Dunedin's astute fashion design and retail fraternity.
As expected, it was a rich serving of women's, men's and children's outfits that were marched down the catwalk by Ali McD models - the children with escorts taken from army ranks.
Since its inception, the show has championed the region's remarkable design talent.
In her summer "Jewel" range, show stalwart Charmaine Reveley showed sleek, sophisticated garments alongside those with a girlish innocence, all reflecting her ongoing love affair with exceptional fabrics, while Tanya Carlson with her "Still Life" summer was in top form with tailored summer suiting through to sundresses, all with that subtle sexiness that sets her design oeuvre apart.
Company of Strangers' Sara Aspinall succinctly describes her exciting "Songs Of Love + Hate" summer collection as being "as much for the whip-smart and worldly as for dreamers and hopelessly romantic".
Right on!
For this show Tamsin Cooper created a pert and pretty presentation by teaming her swathe of new summer accessories with dresses from The Vintage Dress Company.
And from Queenstown, Claire Brinsley's Claire Bloom fashion range, inspired by Italy and the 1960s film La Dolce Vita, exuded her signature soft, feminine styling, this year in vibrant colours interspersed with elegant black and neutral tones.
Marie Strauss' individualistic style shone through in her outfits from her Dada range, these offset by eye-catchers from imported French, Italian and Belgian labels and the New Zealand big names she stocks at her Dada boutique.
Indeed, the tenacity of the Dunedin boutiques was felt across the board.
Garments from a significant line-up of top labels exuded style and quality.
These were shown by longtime Zonta show supporters Waughs, Belle Bird and White By Design, and were matched by European-influenced Deval and newcomer Storm.
The children's store Miracle turned on an entertaining presentation, thanks to the free-wheeling whims of the diminutive models who took little guidance from their patient escorts.
And it was good to see a menswear dynamic in both the Wall Street Mall and Arthur Barnett presentations, along with women's lingerie fashions and footwear.
Once again an inspirational selection from the Otago Polytechnic School of Design intrigued, while Zaibatsu Hair Art's presentation added dramatic notes, the elaborate hairstyling set off by equally splendid outfits.
Jaimee Smith and her Zaibatsu hairdressers and Aliana McDaniel and the Ali McD School of Makeup team prepared the models for the catwalk, while Victoria Muir of Sequel Events and her team ensured, as always, that the show ran with satin-on-satin smoothness.