Christmas is only a few months away - perish the thought - but if you are organised and planning ahead, Dame Alison and Simon Holst's latest book, Cooking for Christmas (Hyndman) is already out.
Recipes range from roast chicken and glazed ham, through several Christmas cakes, a few ways with mincemeat (tarts, filo parcels, muffins) and traditional pudding to treats such as panforte, truffles, baking, sweets and gifts.
• Recipe from Cooking for Christmas by Simon and Alison Holst (Hyndman).
---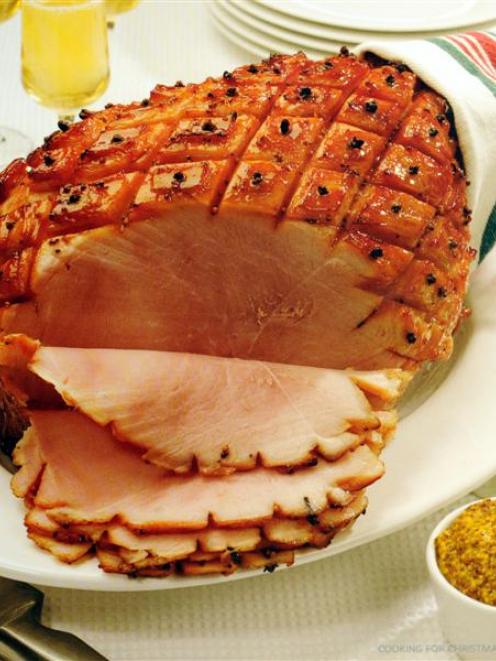 Baked glazed ham
Many New Zealand families buy a ham to eat over the holiday period. Of course, a ham is just fine served "as is", but if you want it to look really special, why not try glazing it?
Ingredients
1 medium-large ham
about 20g whole cloves
Glaze
½ cup brown sugar
½ cup orange or pineapple juice
1-2 Tbsp wholegrain mustard
½-1 tsp ground cloves

Method
Heat the oven to 150degC.
Measure the glaze ingredients into a frying pan or a pot. Heat to boiling then simmer, stirring frequently, until the mixture has thickened a little, then remove from the heat. Place the ham on a clean board.
Starting at the cut end, slide your fingers just under the skin, loosening it from the flesh and fat until you can remove it from most of the surface (leave a little at the shank end if desired). Score the surface of the ham diagonally (cutting just through the fat) in two directions to create a diamond pattern. Press a clove into the centre of each diamond.
Place the ham in a large foil and/or baking paper-lined roasting pan. Brush the surface generously with the glaze.
Put the roasting pan in the oven, with the top of the ham as close to the middle of the oven as size will allow.
Bake for 1-2 hours, brushing the surface of the ham with remaining glaze and/or pan drippings every 20-30 minutes. It may also pay to rotate the pan once or twice for even browning.
If the surface appears to be browning too fast, reduce the heat to 125degC.
Place hot or warm ham on a platter and serve.
Once cooled, refrigerate and store the leftovers as you would an unglazed ham.
---