The end of the year is coming up so fast - with the soil warming up and so much growth happening at the moment, it feels like summer is just around the corner.
I'm really looking forward to catching up with family and friends to toast the end of 2021. It has been a challenging year for many and I think everyone deserves a good dose of socialising and relaxing.
Here on the farm, we plan to make the most of dining outdoors most days. When the sun is shining you've gotta make the most of it! And who wants to be stuck inside watching a pot while others are outside chatting in the fresh air and sun?
Lots of fresh make-ahead salads and pre-prepared desserts are a vital part of my plan to take it easy as much as I can. And using ingredients picked from the garden might just prevent that last-minute dash to the supermarket (in our case that's not so easy).
One of my (and the kids') favourites is fresh strawberries. When they are in full swing we stand by the strawberry patch most afternoons and gorge ourselves with perfectly ripe strawberries still warm from the sun.
If it's a particularly good haul some will make it into recipes, such as the two I've shared below (one sweet and one savoury).
Until next time, I'd like to wish you all the best in the lead-up to Christmas. Here's hoping we can all get together to enjoy it. We deserve it.
Nga mihi nui, Nadia
How to grow strawberries
Eating a juicy, ripe strawberry still warm from the sun has to be one of the best pleasures of the garden. Homegrown strawberries are always far more fragrant and sweeter than supermarket ones — a must for every garden.

• Best grown from runners or small plants.
• Plant June to November.
• Space 30-40cm apart.
• 4-6 weeks from flowering to harvesting.
• Crop rotation: Avoid planting in the same ground as tomatoes, potatoes and capsicums as strawberries are susceptible to the same soil-borne diseases.
• Plant family: Rosaceae.
Growing conditions
Strawberries are one of the easiest fruit crops to grow but how they thrive is dependent on how you grow them. Choose a sunny spot (the more sun while the fruit is ripening, the sweeter the fruit) with free-draining soil. Plant in raised beds or mounds if your soil is slow to drain. Containers are suitable too but choose large pots to allow the root system to spread. If planting in containers, use a good-quality potting mix with slow-release fertiliser mixed in.
In the ground, dig in plenty of organic matter such as compost, well-rotted manure, leaf mould or worm castings to ensure big, fat, juicy fruits. A slow-release fertiliser is beneficial at planting time.
Planting
Dig holes large enough for the roots to go straight down when planting without bending or splaying out. Plant so the crowns sit just above the soil. Check the planting depth after a few days to ensure the plants are at the correct level. Avoid covering the crowns in soil, or they may rot.
Mulching
As the weather warms up, mulching will help keep the soil cool and moist. Straw, bark, pine needles, black polythene, even shredded newspaper are ideal. Mulch keeps the developing fruit from touching the soil and rotting. Rotting strawberries are a drawcard for slaters.
Feeding & watering
Mulch also suppresses weeds, which compete for moisture. Water is an important factor during fruit formation. If lacking, the fruit will be of poor quality, small or misshapen. Provide water regularly and consistently, and the shallow roots will thrive.
While they are getting established, strawberry plants have a higher nitrogen need (organic fertilisers such as blood and bone will help here). Once they start to flower, feed every two to three weeks with a higher potassium (K) fertiliser, such as tomato fertiliser or wood ashes.
Cover your developing fruit with bird netting, or the birds will enjoy more fruit than you will.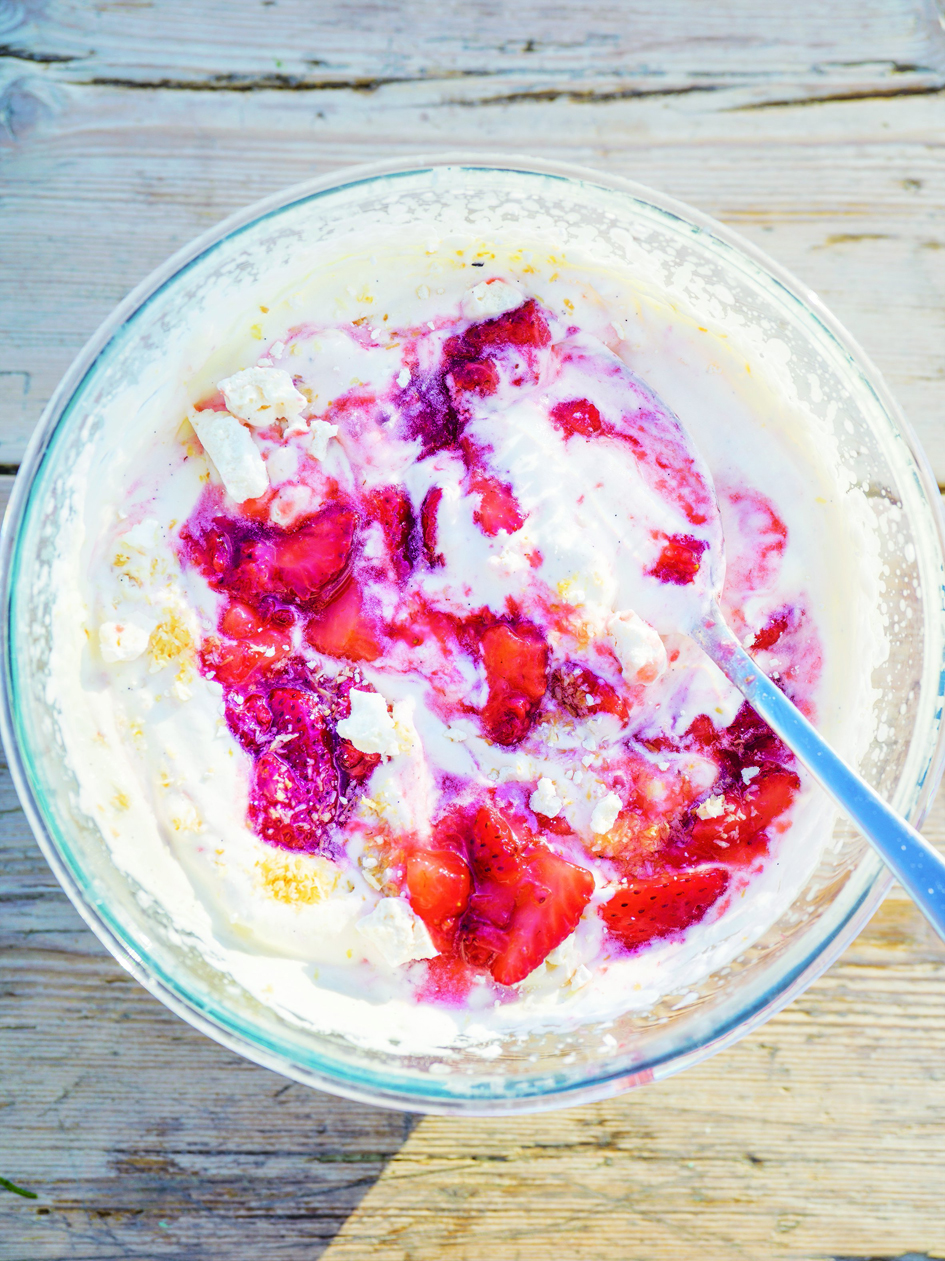 Strawberry & rhubarb coconut Eton mess
This is an easy dessert that can be packed up in components and assembled fresh at your picnic site.
I like layering it in serving glasses or cups (make sure you dip right down to the bottom with your spoon to get a bit of everything).
But you can do the quicker method of gently folding all ingredients together in a large bowl if you prefer.

SERVES 4-5
Prep time: 15 minutes
1 cup cream
¾ cup vanilla coconut yoghurt (Raglan Coconut Yoghurt Vanilla Bean is my pick)
8 small meringues, store-bought
3 cups Orange-Roasted Rhubarb & Strawberries (see recipe below), chilled
2 Tbsp toasted coconut chips or thread (optional)
Method
Whip cream to soft peaks. Fold through yoghurt.
Roughly crumble the meringues and divide between serving glasses or cups. Top with half the yoghurt cream, then half the fruit.
Layer with remaining yoghurt cream and fruit. Sprinkle over toasted coconut if desired.
Strawberry tabouleh
All the ingredients in this dish can be prepped the day before, stored in the fridge, and then combined with dressing just before you're ready to eat.
Serves: 4
Prep time: 15 minutes (plus cooling time)
Cook time: 10 minutes
½ cup cracked bulghur wheat
500g strawberries, stem removed, quartered
1 telegraph cucumber, halved lengthways, thinly sliced
1 bunch curly parsley, finely chopped
1 bunch mint, leaves roughly chopped
3 spring onions, thinly sliced
1 cup roasted almonds, roughly chopped
Dressing:
finely grated zest of 1 lemon
¼ cup freshly squeezed lemon juice
¼ cup extra-virgin olive oil
½ tsp salt
Method
Cook bulghur wheat according to packet directions and allow it to cool.
Make the dressing by mixing all the ingredients in a small bowl.
Place bulghur wheat, strawberries, cucumber, parsley, mint, onion, almonds and dressing in a large bowl and mix until well combined.
Orange-roasted rhubarb & strawberries
Rhubarb and strawberries take well to being roasted, turning soft, juicy and creating a sweet, fragrant syrup.
The mix is divine with a dollop of yoghurt, cream or ice cream, or made into something more special such as a cheesecake or tart, or served with a crunchy biscuit.
SERVES 6
Prep time: 5 minutes
Cook time: 10-15 minutes
4 stalks rhubarb, cut into 3-4cm lengths
400-500g strawberries, hulled, cut in half
3 Tbsp caster sugar
1 orange
Method
Preheat oven to 200degC.
In a baking dish, toss rhubarb and strawberries with sugar. Roast for 10-15 minutes until rhubarb is tender (test with the sharp tip of a knife).
Cut the orange in half and squeeze over rhubarb in the baking dish. Allow to cool.