Soup. There's something about soup in the wintertime that manages to be warming for both body and soul. With toasted bread slathered with butter, there's nothing like it on a chilly evening. 
When I was younger I had the misconception that soups were somehow difficult to make, yet that is far from the case, and now a variety of soups all make an appearance at our dinner table.
I have a similar fondness for braised dishes and ragu at this time of year; a slow cooker can turn a cheap cut of meat into a star, and cooking low and slow allows whatever herbs and spices you use to integrate into the dish. There's a depth and richness to these (and soups) that we almost seem to crave as opposed to lighter dishes that just make so much sense in the summer.
On the wine front, fortified wines in all their guises, which may seem just a bit too full on in the heat of summer, truly come into their own as the temperature falls, making more appearances in my home.
These invariably come with a higher alcohol kick, so when you have scuttled for home on a chilly evening and know that you are in for the night, you can luxuriate in a glass or two of these luscious beauties without worrying about things like driving.
Perhaps the best known of the fortifieds is port, which itself comes in many guises (50:50 white port and soda with lime juice and fresh mint as a summer aperitif perhaps?), but I'd have to say that my favourites are the late bottled vintage ports (LBVs) produced in Portugal. LBVs are a fruit-driven, ruby port.
Classic vintage ports come with a price tag north of $100, while LBVs are in the much more wallet-friendly realm of $40-$60. They don't have the tannic backbone of their big brother, but have a wonderful depth and richness of fruit that is all about flavour with the dial turned up.
LBVs are from a single vintage, often made from years that don't see a vintage port declaration and bottled at four to six years of age. Most commonly, these are fined and filtered before bottling so have no sediment and can be enjoyed upon release. Less common are the unfiltered styles (often with a classic driven cork rather than the plastic-topped t-top cork), which can be aged and will throw a crust.
I enjoy them with slow-cooked braised dishes and the like, but also as a post-prandial glass by itself where I can linger over them and savour them.
2014 Taylors
LBV port
t-top cork
Rating: Excellent
Price: $46.99
Complex nose of toffee, caramel, plums and spice, dark cherry, fruitcake. The polished palate continues the theme with allspice, toffee, Christmas pudding and rich, cuddly fruit hinting at glace fruits, milk chocolate with aeration. Not at all oversweet; depth and concentration with a touch of spirit. In a delightful place to enjoy now.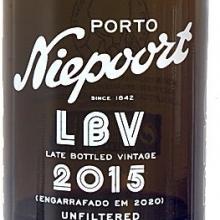 2015 Niepoort
unfiltered LBV port
driven cork
Rating: Excellent to outstanding
Price: $58
Slow out of the blocks but swells with aeration showing "winey" qualities shifting to toffee apple, mixed berryfruit, spices and a wisp of spirit. Crunchy and bright palate with fine tannic grip and bright acidity shows its youthful qualities. Gorgeous texture, supple and rich with masses of berry compote and plum flavours. Lovely complexity and potential too.
2015 Sandeman
unfiltered LBV port
driven cork
Rating: Excellent to outstanding
Price: $46.99
A drier impression, spices, darker fruits, dried herb, berry reduction, floral nuances. Rich, dense and packs a punch flavour-wise with structure and depth to support it and while sweetly fruited this finishes dry. Youthful and with serious concentration, there's real intent here with clear potential. The drier feel to this will make it food-friendly too. Super stuff.
2012 Fonseca
unfiltered LBV port
t-top cork
Rating: Very good to excellent
Price: $54.99
Begins with lift from the spirit, with damson plum, prune and spices, sweet florality with time. A sweet burst of fruit greets the palate, which leads with chocolate, spices and prune notes flowing to baking spices on the attractively rounded finish. Dense and rich with a youthful feel but ready to give lots of enjoyment.