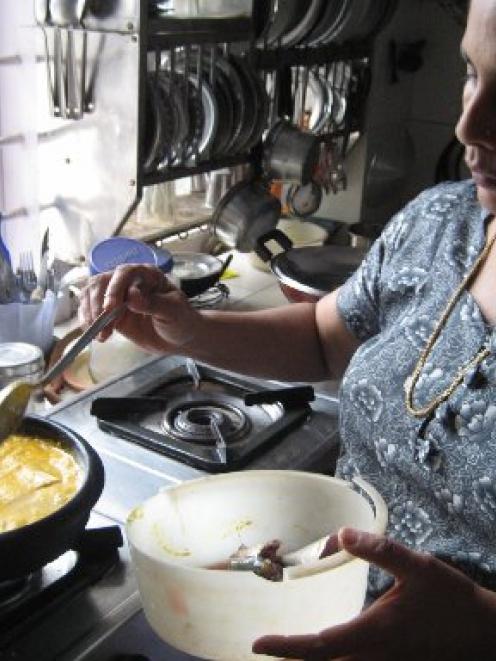 Kerala promotes itself as "God's own country'' and God has been generous here.
Not only with the fertile soils, waterways abounding with fish, and the forested mountains where exotic spices grow, but also many buses and other vehicles have "Gift of God'' or "Gift of Allah'' painted across the front.
Foreigners have been attracted by the spice trade from ancient times and many cultures - the local Malayalam, Arab, Syrian Christian, Portuguese and British - have intertwined over the centuries to create the cuisine.
Jeffrey Matthew, culinary historian and chef at the Brunton Boatyard, a luxury hotel in Fort Cochin, has devised a menu paying tribute to all these origins, from First Class Railway lamb curry from 19th-century British India, to recipes from Syrian Christian families who eat pork and beef, and Arab traders who brought dried dates and apricots to the Malabar Coast.
But most of the dishes are based on local produce. The red Keralan rice with big, fluffy grains and a streak of red; coconuts - oil to fry banana chips and other foods, coconut milk or grated coconut in almost everything; bananas of many varieties, large, small, red, yellow and green; abundant fish and seafood from the Arabian sea and numerous waterways; spices, coffee and tea from the rainforests of the Western Ghats that tower above the plain.
Unlike the north of India where breads like roti and naan predominate and butter and cream are used lavishly, in the south food is steamed, simmered in coconut milk, or simply spread with a mouthwatering masala and grilled or fried in coconut oil.
I visited Leena Sham, who used to run a hotel and later her own restaurant and now offers cooking classes and home-cooked meals in her kitchen in an old Dutch house on Vasco Square in Fort Cochin.
We sat at her big kitchen table and watched her prepare our lunch. Above us was a picture of Leonardo da Vinci's Last Supper, a popular decoration for Keralan dining rooms.
In her kitchen she has three gas burners, a small microwave/grill/oven, lots of metal dishes and plates, and a blender, an appliance that has made a great difference to food preparation.
Before that, all the curry pastes and blends were pounded in a mortar and pestle or in a shallow stone dish with a matching roller.
Chai
We started with a refreshing cup of cardamom tea or chai.
For each cup you need
1/2 cup milk. 1/2 cup water. 1 tsp sugar. 1/2 tsp ground cardamom, pod and all. 1 tsp black tea powder, or cut open a tea bag and use the contents (leaf tea is too strong, she says)
Bring milk, water, sugar and cardamom to the boil, add the tea and simmer for 2-3 minutes.
Pour from one pot to another until it foams, then strain into a cup.
Chai - usually less well spiced - is available everywhere in India, from restaurants down to the chai wallahs who sell a plastic cup of well brewed, hot, sweet chai for 2 rupees (about 3c). Workers like it strong, Mrs Sham says.
Everyone has a favourite spice which can include ginger, cumin, pepper, cinnamon, cardamom and nutmeg.
As we sipped the fragrant tea, Mrs Sham whipped up a couple of banana lassis. Lassi is a popular and filling drink, originally from the north where dairy foods are more common.
It is now found all over India and comes in many flavours. We had these as a cooling dessert after the fish curry.
Banana lassi
For two glasses
2 very ripe bananas, chopped. 2 tsp sugar. 1 glass of plain yoghurt. 1 glass water
Put the bananas, sugar and yoghurt into the jug of a blender and process. Pour into a bowl.
Put a glass of water in the blender to rinse it and stir that into the lassi to thin it. Chill before serving.  Good as a snack, for breakfast, or as a dessert.
---
Malabar fish curry
Then we got down to the main business of learning how to cook a Malabar fish curry - a rich, golden dish rather like a thick soup.
Mrs Sham's recipe is from Dhelassary, a village on the coast where she grew up.
For 3 or 4 people
A thumb-sized piece of ginger (she uses a particular type that smells of mango or you could use raw mango in season instead of tamarind, she says)
2 shallots, peeled
1 tsp tumeric
2 tsp chilli powder (plain, not Mexican)
A piece of tamarind the size of a large walnut
Coconut freshly ground - or 4-5 tbsp dessicated coconut soaked in 6-7 Tbsp hot water to soften
2 tsp salt.
2-3 green chillies cut up
5-6 fresh curry leaves torn up (or twice as many dried)
500g fish, cut into large pieces
Scrape the skin off the ginger, chop and put in a blender along with roughly chopped shallots, tumeric, chilli powder, the crumbled tamarind and moist coconut.
Blend it until the sauce has become thick, like butter. Add half a cup of water and blend - it should now be the consistency of pancake batter.
Pour into a pot with a lid, rinse the blender with a little more water and add to the pot with the chillies, curry leaves and salt (salt is needed to balance the acidity of the tamarind, she says).
Bring the sauce to a simmer - you should have a bit more than two cups. After a few minutes, add the fish and simmer 2-10 minutes or until the fish is cooked.
The curry would keep until the following day when the flavour would have improved, she said.
Mrs Sham had bought three silver mackerel from the fish market near the Chinese nets the previous evening. They were cleaned and scaled, and she cut them into pieces - head, bone and all.
Fish heads were a delicacy; cooking on the bones added flavour and people preferred
not to waste anything, she said.
We had had fish curry before and been bothered by the bones, but then we had been eating it with a spoon and fork.
Mrs Sham taught us how to eat a wet curry and rice with our fingers as locals do. The bones no longer became a problem as you could pick them out with your fingers.
Every restaurant and dining room has a hand basin where you can wash your hands before and after a meal.
---
Cabbage thoran
We often had cabbage thoran in Kerala. It is a dry curry with coconut and mustard seeds and can be made with different vegetables. It is quick and easy and cooks itself.
Cabbage thoran for three or four people
1/2 cabbage, shredded
1/2 tsp whole cumin seeds
1/2 tsp salt
1-3 green chillies, chopped, seeds and all
Fresh coconut (about 6 Tbsp freshly grated or dessiccated and soaked in 7-9 Tbs hot water).
2-3 fresh curry leaves, broken, or twice as many dried
1 Tbsp coconut oil (or canola)
Tbsp black mustard seed
1 small reddish onion finely chopped
2-3 cloves garlic finely chopped
1 tsp tumeric
Mix the cabbage, cumin, salt, chillies and coconut well and dampen with a tablespoon of water. Heat the oil and put in the mustard seeds.
Put a lid on quickly as they will leap out of the pan. When they pop, add onion, garlic and tumeric, and stir until slightly softened. Add the cabbage mix and stir-fry for a few moments.
When it is well-mixed, cover with a lid and leave on low heat for 10 minutes or so until cooked.
This was served with the large-grained, fluffy red Kerala rice and beetroot raita - grated beetroot, onion and chilli in yoghurt and seasoned with cumin and fresh coriander.